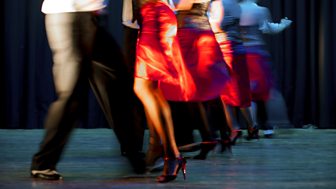 Bad Salsa
Comedy by Kay Stonham that follows three women as they embrace the world of salsa while adjusting to life after cancer.
On demand
This programme is not currently available on BBC iPlayer Radio
On radio
There are no upcoming broadcasts of this programme
Last on
Mon 28 Jul 2014 11:30
BBC Radio 4 FM only
Support Contact Details
Here are some details of organisations which offer advice and support. Some networks and mobile operators will charge for these calls.
Breast cancer support
Breast Cancer Care is just a phone call or mouse-click away, providing specialist support and tailored information to anyone affected by the disease. The charity's clinical expertise and emotional support network help thousands of people find a way to live with, through and beyond breast cancer.
Free helpline: 0808 800 6000
Breakthrough Breast Cancer is determined to stop breast cancer taking the lives of the women we love. Their cutting edge research, focused entirely on breast cancer, is discovering how to prevent breast cancer, how to detect it earlier and how to treat it more effectively. Their website includes information about their work into breast cancer detection, diagnosis, treatment and prevention, as well as an interactive guide to NHS breast screening and award winning health information on breast cancer signs and symptoms, risk factors, and family history.
Phone: 08080 100 200
Breast Cancer Campaign is dedicated to funding world class research into breast cancer and will support research at centres of excellence in the UK and the Republic of Ireland. Their website offers information about breast cancer treatment and diagnosis, signs and symptoms, a monthly breast check reminder, and further information about breast cancer research.
The National Hereditary Breast Cancer Helpline exists to ensure that those worried about their family history have access to full information on all the options currently available, referrals where appropriate, and full peer support for whatever option is chosen, as well as to ensure that those affected have the opportunity to make informed choices. It is also an important role of the helpline to reassure those worrying unnecessarily.
Helpline: 01629 813000 (24 hours a day)
CoppaFeel! is a breast cancer awareness charity which focuses on promoting early detection of breast cancer by encouraging people under 35 to regularly check their breasts. Their website tells you what to look out for, and offers a free reminder service by text, email or app. To spread their message with a personal touch, CoppaFeel! have a team of Boobettes who visit schools, youth groups, and work places to tell their own stories of breast cancer and raise awareness of the importance of regular breast checks. The charity is also represented at university campuses across the country by a dedicated group of Boob Team members who raise awareness of CoppaFeel!'s key messages amongst their fellow students.
Ovarian cancer support
Ovarian Cancer Action strives to stop women dying from ovarian cancer. They fund world class scientific research at the Ovarian Cancer Action Research Centre, Imperial College London. The charity also campaigns to ensure women and GPs know the risk factors, symptoms and treatment options to enable informed and rapid action.
Phone (to request information about symptoms): 0207 380 1730
Email: info@ovarian.org.uk
Target Ovarian Cancer is a national ovarian cancer charity working to save lives and help women diagnosed live their lives to the full, wherever they are in the UK. Their website includes a range of information and support if you, or someone you know, has been diagnosed with ovarian cancer – from symptoms, coping with a new diagnosis and discovering what choices you have, to tips on living with and beyond ovarian cancer.
General enquiries: 020 7923 5470
Email: info@targetovariancancer.org.uk
General cancer support
Macmillan Cancer Support wants to make sure no one faces cancer alone. The charity provides medical, practical, emotional and financial support to cancer patients, their carers friends and family. You can get information from its website, emotional support through its telephone helpline and online community or benefits advice and one-off grants to help with the costs of cancer.
Helpline: 0808 808 0000
Cancer Research UK carries out research to improve understanding of the disease and find out how to prevent, diagnose and treat different kinds of cancer. It also runs a patient information site, CancerHelp UK, which provides easy to understand information to the public. Anyone affected or concerned about cancer can also call their team of specialist nurses.
Helpline: 0808 800 4040 (weekdays 9am-5pm)