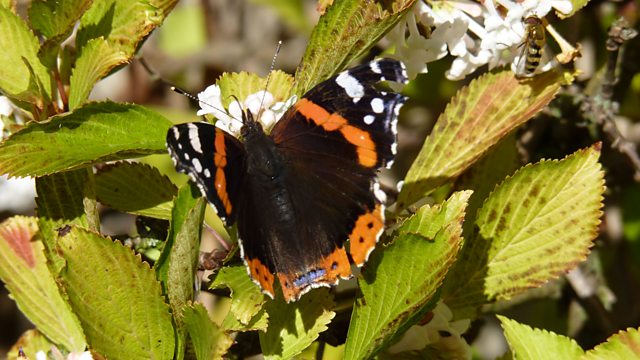 Correspondence at Sparsholt
Listen in pop-out player
Peter Gibbs hosts from the GQT potting shed at Sparsholt College as the panel tackle listeners' questions sent in by post, email and social media.
Produced by Victoria Shepherd
A Somethin' Else production for BBC Radio 4
This week's questions and answers:
Q. Any suggestions for suitable plants to brighten up an office with no natural light and 24-hour air conditioning?
A. With no natural light and only strip lighting, any plant will struggle. You could try using strips of LED lights to improve your chances. Try Mediterranean plants in big pots; Lemon Trees and Olive trees might work. Try Hibiscus, Bougainvillea and Clivia.
Q. I inherited a delicate pink rose from my grandfather. After years of keeping it in a greenhouse, it is eight foot high but struggling to flower and is losing its leaves, which are covered in cobwebs and dusty mould. How can I save it?
A. If it has been growing in a pot, try putting it in the ground. Burst it into growth and then take long cuttings and try those in the ground outside. It might not need to be grown in a greenhouse after all. Keep it well fed and watered and try to identify the dusty mould which can be treated with chemicals. The webs might be down to spider mites, which can cause damage to the plant. Identify and treat all the plant's ailments before taking cuttings.
Q. Why do the Tomatoes, Courgettes and Peppers I grow in clay pots need more watering than the ones I grow in plastic pots? I am based in the Pennines and am growing them in a greenhouse.
A. The clay pots are losing water via evaporation. The best way to grow these plants would be in black plastic posts on good quality capillary matting.
Q. Is it possible to grow Mecanopsis in East London?
A. Anything is possible, but it is very difficult.
Q. What flower seeds can the panel recommend for a woodland garden that is fifteen by twenty meters wide? I want plants that will flower in the later half of the summer.
A. There aren't many annuals that like shade, so try perennials like Martagon Lilies, Japanese Anemones and autumn bulbs like Corchicums. Fox Gloves such as Illumination Pink should work. White Willow Herb grows well in these conditions, as do Herbaceous Geraniums, Laniums, Paniculata Hydrangeas, Golden Philadelphia, Macarisms and Epimediums.
Q. Any recommendations for a climbing plant on a south-facing wall? Something that won't damage the brickwork - and evergreen would be a bonus.
A. Trachelospermums are wonderful plants with beautiful scented flowers. Wall shrubs like Cytisus battandieri (Pineapple Broom) would be great and wouldn't damage the wall. Itea Ilicifolia are graceful wall shrubs. Banksia Roses have amazing flowers and grow tall. Espalier Pears could work well as could Pyracantha or Clematis Armandii.
Q. Why do some Poinsettias survive with little attention and others die despite a lot of work?
A. You can keep them alive, but they will never be quite the same as when you bought them.
Last on
Seven things Prince Charles says you should do in the garden