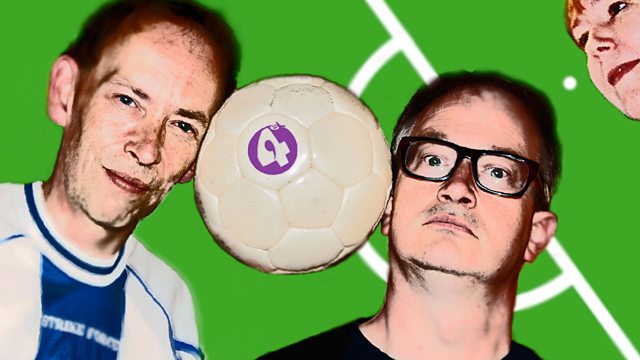 Not the World Cup in Brazil
Some of the top footballers, the highest earners who command admiration on and off the field, are in France for Euro 2016.
But for most players and fans football isn't about glamour. It's the stuff of everyday life.
Like the supporter who has seen his team play every match, home and away for 40 years and the 75 year old who loves the game so much he still ventures out in all weathers three times a week just to score a goal. These people are the beating heart and soul of football, the men and women who are often forgotten as the media keeps its focus on the top players and clubs.
The 6 Music DJ Steve Lamacq co-presents the programme. As a lifelong Colchester United supporter, a club that's just been relegated yet again, he knows only too well the hardships football can bring, a cycle that regularly breaks the hearts of its loyal band of fans. Inexpert analysis comes from the comedian and football sceptic Robin Ince. Can Steve persuade Robin that football should become part of his life?
The programme features the best from the BBC archives, including John Motson. He takes a wry look at Ample Arthur Cartwright, a player whose career was blighted by a love of palaeontology while The Likely Lads Bob and Terry spend a desperate day trying to avoid hearing the result of a game until the highlights are shown on TV later in the evening.
We follow the fortunes of a parks team, hear from the woman who regularly turned out for all male sides and travel to Robben Island in South Africa to meet the men who used football as a way of fighting apartheid.
Not The World Cup In Brazil, which was made in 2014, is a millionaire player and club owner free zone and hears from the ordinary people who believe football is a sport not a balance sheet.