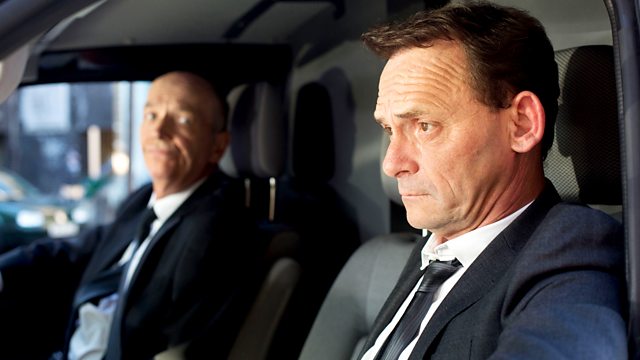 11/07/2014
Mick is wide awake and anxious– he wakes Linda and tells her that Lee has told him he's done something stupid to do with Lucy. Tosh finds a forlorn Lee at the war memorial – he blames his mood on a hangover. Tosh tells Lee that she and Tina are off to visit Jake in prison; they've set a date for his trial. Tosh is adamant that he's innocent. Linda frantically searches the Square for Lee.
Dean runs into Nancy and tells her that he's doing a photo shoot at Blades next week and he's short of a couple of models – would she and Linda be interested? Nancy declines but assures Dean that Linda would definitely be up for it; Dean's pleased. Linda is in a state – she can't find Lee anywhere. As they worriedly discuss him back at the Vic, Lee arrives back, much to Linda's relief. He confesses that he lied to the police about where he was the night Lucy died. Tina and Tosh visit Jake in prison. They try to be positive – the trial will be a chance to clear his name and get him out of prison.
Tosh and Tina desperately try to persuade Jake that the jury will believe his innocence. Jake is at breaking point and breaks down in tears. Back at the Vic, Lee explains that he told the police he was at a party all night, although he wasn't. He panicked and knew that he would have been an easy conviction. He explains that Lucy never showed at the party, so he left. He saw Lucy heading up Bridge Street – she was having a huge argument and he knows exactly who it was with. Nancy tells Lee that he has to go to the police with the information he has but Linda is not so sure; won't it look bad if Lee only goes to the police now?
Tina and Tosh join the family and tell Lee that Jake's in pieces. Mick tells Lee that he will back him whatever he decides. Lee states that he needs to pay a visit to the person Lucy was arguing with before he can make a decision. Tosh and Tina find Lee on Turpin Road – Mick and Linda filled them in and they are going to go with him.
It's the day of Billy's trial at the undertakers and he's nervous. Lola clocks an advert in the newspaper for an assistant at Blades. Les isn't impressed when Billy is late, but hides his annoyance. Lola heads to Donna's stall and asks if she has anything suitable for an interview and chooses a suit. Lola arrives at Blades and tells Dean that she's interested in the assistant position. He bluntly tells her that she's not really what they're looking for and an upset Lola storms out. Billy has had a stressful day with Les, and starts to doubt whether he's cut out for undertaking.
Les takes Billy for some food at the café and tells him he'd be happy to give him some more shifts. Billy and Les discuss family and Les confides that their son died a while ago. Lola is fuming at how Dean has spoken to her and tells Peter what has happened – he seems distracted and admits that it's weird for him seeing Lee back. Back at the flat, Billy is content whilst he tells Lola that his day with Les went well. The doorbell goes and assuming it's the celebratory pizza he's ordered, he goes to answer. Instead he is greeted by a confrontational Lee, Tina and Tosh....
Max and Abi are having breakfast in the café –she's concerned that Max doesn't seem himself and isn't sleeping well. Max tells Abi he'll take her out for lunch but she reminds him that she's going to visit Tanya. She suggests taking Lauren out instead but Max scoffs at the idea – she won't be up for that. Outside the café, Max runs in to Lee who snidely tells him that he heard about him and Lucy. A concerned Abi approaches Lauren who's working at Beales'. She tells Lauren that Max really wants to talk to her.
Lauren reluctantly agrees that she will go to see Max after her shift, much to Abi's delight. Max calls Emma and tells her that he urgently needs to see her and she eventually shows up. Post-coital, Emma goes to leave, but before she can escape Lauren arrives – and so she hastily hides under Max's desk. Max stalls Lauren and tells her that now isn't a good time – she is fuming; she's made the effort and he doesn't care. She storms out.
Last on
Credits
| Role | Contributor |
| --- | --- |
| Billy Mitchell | Perry Fenwick |
| Lee Carter | Danny-Boy Hatchard |
| Tina Carter | Luisa Bradshaw-White |
| Fiona 'Tosh' Mackintosh | Rebecca Scroggs |
| Jake Stone | Jamie Lomas |
| Mick Carter | Danny Dyer |
| Linda Carter | Kellie Bright |
| Nancy Carter | Maddy Hill |
| Dean Wicks | Matt Di Angelo |
| Lola Pearce | Danielle Harold |
| Peter Beale | Ben Hardy |
| Ian Beale | Adam Woodyatt |
| Pam Coker | Lin Blakley |
| Les Coker | Roger Sloman |
| Donna Yates | Lisa Hammond |
| Max Branning | Jake Wood |
| DC Emma Summerhayes | Anna Acton |
| Lauren Branning | Jacqueline Jossa |
| Abi Branning | Lorna Fitzgerald |
| Jay Brown | Jamie Borthwick |
| Janet Mitchell | Grace |
| Executive Producer | Dominic Treadwell-Collins |
| Director | Richard Lynn |
| Writer | Richard Lazarus |