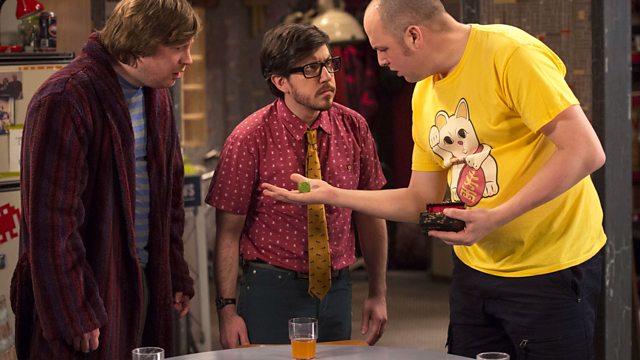 Matthew has a life-changing decision to make and the entire future of the flatmates hangs on a single roll of a mystical dice.
Changes seem unavoidable as Tom, Ben and Matthew each face their own challenge that could potentially see their lives divide in groundbreaking new directions.
Matthew realises that every day in the flat is the same. Each morning at 9.05am Tom returns home from work, goes to the toilet, wakes up Ben, who makes breakfast on the broken cooker. Nothing ever changes.
However, everything has changed at Matthew's office, where tomorrow's surprise tax inspection has sent workers into a panic and prompted Carabine to quietly dispose of a few unnecessary accounts.
Lucy, who Matthew 'doesn't fancy', isn't planning on hanging around and is heading to Fiji to run a cocktail bar. Matthew is stunned by her spontaneity and positively floored by her offer for him to join her. Should he stay and miss an exotic adventure or go and break up the gang forever?
Ben has news as well. After five years doing nothing, the barrel of home brew in Ben's bedroom is ready to be shared with the world. Hopefully it's time to make his fortune selling delicious turnip gin.
Spurred on by his friends seizing the day, Tom wonders if now might be the time to stop going to extreme lengths to avoid the pretty girl from flat 17. He's sure she noticed him under his invisibility cloak, so maybe he should bite the bullet and ask her out.
One roll of the dice, multiple ways it could land. Odds or evens - change seems inevitable.
Last on
More episodes
Next
You are at the last episode
Credits
| Role | Contributor |
| --- | --- |
| Ben | Ben Clark |
| Matthew | Matthew Crosby |
| Tom | Tom Parry |
| Carabine | Jack Docherty |
| Lucy | Katherine Ryan |
| Shopkeeper | Charles Chan |
| Girl from Flat 17 | Roxy Sternberg |
| Aggressive Gary | Steven O'Donnell |
| Director | Gordon Anderson |
| Producer | Izzy Mant |
| Executive Producer | Gavin Smith |
| Executive Producer | Rab Christie |
| Writer | Ben Clark |
| Writer | Matthew Crosby |
| Writer | Tom Parry |