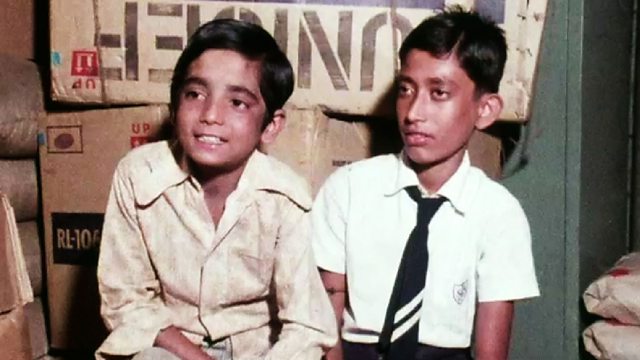 From Trinidad to Australia, Kenya to Barbados, Canada, India and beyond, over the decades film-makers have captured the rich diversity of the Commonwealth. This edition looks at childhood.
Last on
Filmography
Kindergarten
National Film Board of Canada 1962
Dir: Guy L. Coté
A short documentary focusing on one day in a kindergarten classroom.
We watch the teacher encouraging children to turn their curiosity into questions and organising group activities and play periods. Filmed at Van Horne Public School in Montreal.
Watch Kindergarten in full at the NFB site
Schools Out 
Made by the Australian National Film Board 1954
Produced and directed by H. M. Scales.
The film demonstrates some of the activities of school children during their holidays and something of the efforts which have been made by a variety of clubs and societies to keep them from playing on the streets.
This film was screened at the inaugural Sydney Film Festival in 1954.
The World About Us: The Magical Indian Roadshow 
BBC  02/07/1978 
A look at the life and culture of the traditional Indian travelling players.
Living in the Commonwealth: Canada: 1: The Land of the Younger Son 
BBC 24/09/1957
Schools programme about life in British Columbia. This is the first transmission in the new BBC Schools' Television broadcasting service.
Includes National Film Board of Canada film on children going to school by boat. Also featured is a reportage from the NFBC called Classroom on Rails, regarding a railway coach that brings school to children in a logging area of northern Ontario.
The World About Us: Kenya Runner
BBC  14/12/1975
Out of Kenya has emerged a very talented batch of long and middle distance runners - mostly from two tribes from east of Lake Victoria.
We show an extract from the film featuring schoolboy Joseph Chepkwony, who aspires to follow the example of his brother Stephen, one of the fastest 1/4 milers in the world.
Panorama: 169
BBC 5/10/1959   
A special on India, introduced by Richard Dimbleby asks if India can develop successfully under her present system of government, and maintain her non-aligned status.
Our extract shows education of children on the streets of Calcutta. Filmed by German photographer and journalist Rolf Gillhausen.
BBC Man Alive: Profile: Major Dudley Gardiner MBE
BBC 03/04/1975
Profile of Major Dudley Gardiner, who runs a 'meals on wheels' soup kitchen in Calcutta.  
Homelands: 5: Nigeria
BBC 13/07/1990
Extract from a documentary on Chinua Achebe, one of Africa's foremost writers, showing schoolchildren reading his classic novel Arrow of God.
BBC The Inheritors: 7: Australia 
BBC 16/12/1958
From a series on British influence in the Commonwealth. Aidan Crawley visits Australia, continent inhabited almost entirely by people of british origin, and looks at the character of civilisation they have produced. This extract features an outback boy who takes lessons by radio link with his teacher in Alice Springs. 
Jamaica - Schools for All
Overseas Film and Television 1959
From the series Our Government at Work.
Writers and Places: 1: A Kind of Failure
BBC  15/01/1981
Author Anthony Burgess returns to Malaysia after 25 years. He revisits many of the locations he knew as an education officer there before independence and comments on the new Malaysia.
Youngsters from Outback Enjoy Holiday
From newsreel: Australian Diary 1951
The opening of the country children's holiday camp at Portsea.
Malaya: Welfare and Supply
BBC television newsreel 24/09/1953
A public information film on the Selangor children's home which is looking after orphans, most of whom are victims of the insurgency 
Signpost:  West Indies: 3: Come Home with Me to Trinidad
BBC schools programme 09/05/66   
Barbados - Better Safe than Sorry
Overseas Film and Television 1965
Road safety film from Barbados
Credits
| Role | Contributor |
| --- | --- |
| Executive Producer | Caroline Wright |
| Producer | Elaine Shepherd |
Discover the OU's Commonwealth on Film