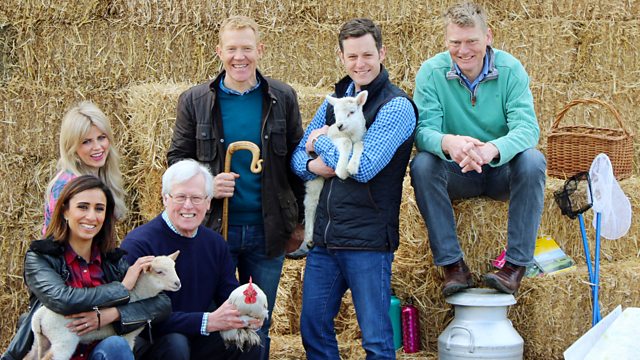 Lincolnshire
Matt Baker and Ellie Harrison visit Lincolnshire, where Matt meets one of the last surviving members of the Dambusters squadron. He takes a turn in one of the few remaining Lancaster bombers and looks at how the old Dambusters airfield is being returned to nature.
Ellie goes looking for a man who is two inches high and pink! The man orchid is one of our rarest flowers, but it thrives in Lincolnshire. Ellie also helps take down the sails on the only eight-sailed windmill in existence.
Meanwhile, Adam is wheeling and dealing for a new white park bull, and John Craven is joined by two new celebrity judges as he launches this year's Countryfile Photographic Competition with its theme 'Animal Magic'.
Last on
Animal Magic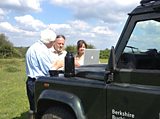 John Craven is joined by comedian & keen wildlife photographer Bill Bailey and zoologist & natural history presenter Dr Charlotte Uhlenbroek for the launch of this year's Countryfile Photographic competition. The theme for the 2014 competition is 'Animal Magic' and John, Bill and Charlotte will be judging your entries later in the year. But, to get you in the mood, the three judges are visiting the former airbase at Greenham Common to try their hand at capturing some wildlife photos of their own. The base was once home to an arsenal of nuclear weapons and the famous women's peace camp. It has now been reclaimed by nature and boasts an impressive array of beasts, bugs and birds. But, as Bill and Charlotte discover, capturing 'Animal Magic' is sometimes easier said than done. 
Details of how to enter the competition are on the Countryfile home page
Heckington windmill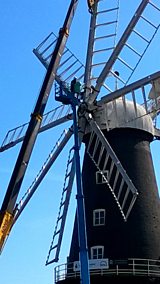 Ellie Harrison visits Heckington windmill, the only eight-sailed windmill still left in the UK - a reminder of the hundreds of windmills that once dotted the Lincolnshire landscape. She discovers how a local invention called the Lincolnshire Cross enabled windmills to have more than four sails, allowing eight-sailed mills like this one to be built. Sixty feet up in the air Ellie helps traditional millwright Neil Medcalf to remove Heckington's sails, ready for the new ones that will replace them. When the windmill is fully operational again it will grind its own wheat and barley for flour. In the meantime Ellie sees how a windmill works at the Sibsey Trader - a six-sailed mill just down the road.
Bomber County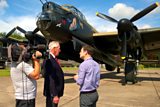 Matt Baker discovers why Lincolnshire came to be known as Bomber County during World War Two. At the time there were more than forty RAF stations and American airbases throughout the flat, open countryside. Bombers were based at most of these. One of the most well known of all the RAF squadrons in Lincolnshire was 617, otherwise known as the Dambusters. Matt meets Wing Commander John Bell, a former bomb aimer, who explains how it felt to fly out on wartime missions from RAF Woodhall Spa, an auxiliary airfield that became home to the squadron 70 years ago. Matt and John have a pint together in the aircrews' wartime local The Bluebell Inn. Matt also find outs for himself how it felt inside the cockpit, when he takes a ride in "Just Jane", one of only three operational Lancasters remaining worldwide. 
Limestone grasslands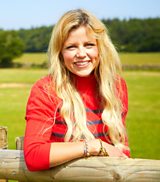 Ellie sets out to discover some of the richest grasslands in the country along Lincolnshire's roadside verges, which contain up to forty species of plant per square metre. In the 1940s the county's grassland was recognised as one of the country's hotspots for biodiversity, but now only an estimated hundred hectares remain. Ellie helps volunteers to propagate local wildflower species as part of their efforts to restore this vital habitat. She also gets a lesson in traditional scything. Ellie enlists the help of Mark Schofield from the Lincolnshire Wildlife Trust who takes her on a hunt for a rare little man who is just centimetres tall. But can they find this mysterious figure?
Woodhall Spa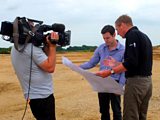 The old airfield at Woodhall Spa feels very different now from its World War Two heyday. Back then waves of Lancasters took off from here on dangerous bombing missions. Since then the former RAF base has been used as a sand and gravel quarry, but now Lincolnshire Wildlife Trust has an ambitious plan to transform the site into a heathland nature reserve. Matt helps Dave Bromwich from the trust to find the centre of the site, where the two main runways once crossed, using wartime maps and plans. In time this will form a memorial to the RAF squadrons based there – skylarks already sing where once aircraft soared overhead.
White Park auction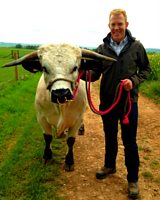 Adam Henson loves his bulls and this week he washes and prepares one of his prized and rare White Parks for a specialist breed auction. Adam is in the market for a replacement bull and before the sale starts he has the chance to check out some likely candidates. However the day doesn't quite go to plan when, come the auction, he buys the wrong animal. But all is not lost, as Adam has a plan!
Credits
| Role | Contributor |
| --- | --- |
| Presenter | Matt Baker |
| Presenter | Ellie Harrison |
| Presenter | Adam Henson |
| Presenter | John Craven |
| Series Producer | Joanna Brame |
| Executive Producer | William Lyons |