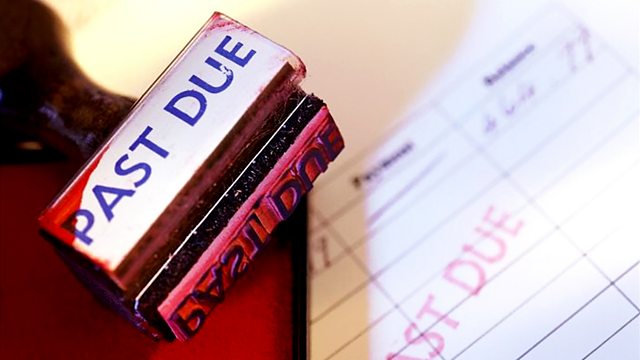 Late Payments
Listen in pop-out player
Last month, in the Queen's Speech, the Government announced a series of measures to support small businesses -- including proposals to deal with the problem of late payment of bills by larger companies.
It follows a long history of horror stories about major high street names leaving suppliers and sub-contractors out of pocket because of delays in settling accounts.
Figures produced by the Department of Business, Innovation and Skills revealed that 85 per cent of small and medium sized businesses said they had experienced late payment in the last two years and that, in total, there was £30bn outstanding to them.
But File on 4 has found that it's not just in private business that serious problems are occurring.
The programme speaks to business owners who say that that ineffective rules and sanctions have left them badly out of pocket on contracts undertaken in the public sector.
Local authorities, the NHS and other Government departments have strict rules about how long they should take to pay their contractors.
But Jenny Chryss reveals how some small firms are having to cut back on staff because bills still aren't being settled promptly.
And she reveals how big contractors who do get paid on time, often delay before passing the money down the supply chain.
So are critics right when they say the Government's proposed new measures still aren't enough to deal with the problem?
Reporter: Jenny Chryss Producer: Emma Forde.
Last on
READ THE PROGRAMME TRANSCRIPT
The government wants to help small businesses by ensuring their bills are paid on time. But can it succeed when even some public sector contracts are leaving companies in trouble?