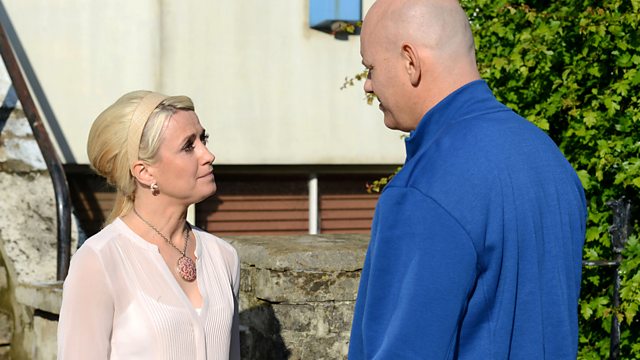 04/07/2014
Carol sits in the Square gardens, contemplating a hospital letter scheduling her mastectomy. Tina's keen to talk about their business venture. Mo gives Bianca the cash she made selling Carol's necklace, explaining she couldn't find Carol at home. Tina asks Carol to pick up more weed with her later, explaining Aunt Babe wants to meet her.
While Bianca searches for Carol, she hides out at Dot's house and seeks advice about doing the right thing, hinting she has more to worry about than her operation. Charlie notes Dot's concern for Carol and leaves them to talk. Carol confides in Dot about their debt problems, revealing she's found a way to earn the cash but admits it's not strictly legal. Dot advises Carol to trust her instincts. Sonia berates Bianca when she blows the money from Mo on McKlunky's for the kids.
At home, Carol finds a miserable Bianca alone and drags her to support Sonia at Fat Blasters. At the Community centre, Sonia leads the women in an exercise class; Linda wishes she'd worn a sports bra and talks turns to her Page 3 past. When Carol arrives with Bianca, Pam commends Carol's bravery, commenting a friend of hers had a double mastectomy; the women are surprised that Carol's having a single. Bianca's upset when Pam reveals her friend died. Carol hotly defends her decision, insisting she needs to do what's best for her family. Later, Carol's about to head off to see Aunt Babe with Tina when she suddenly bolts, insisting she needs to talk to her girls. Bianca and Sonia find Carol sat in the Square gardens, once again contemplating her mastectomy letter. Carol promises not to try to cope alone anymore and decides to cancel her operation and have a double mastectomy.
Roxy gives Tamwar an envelope to give to Aleks, who's spent an uncomfortable night rushing to the toilet. When Phil criticises Aleks, Roxy defends him, feeling guilty that Aleks hasn't seen his daughter because of her. Tamwar presents Aleks with the envelope from Roxy. Aleks rages to Tamwar about Alfie, convinced he hacked his computer; Aleks is about to call the police when he realises Tamwar helped Alfie, and fires him. Later, Aleks confronts Roxy, having opened the envelope – she's booked him a plane ticket to Latvia. Roxy thinks Aleks belongs at home with his daughter.
Aleks insists his marriage is only on paper, but Roxy insists he needs to be with his family. In the Vic, an upset Roxy informs Alfie that Aleks is leaving and is ten times the man Alfie is. Tamwar returns to apologise to Aleks; he's surprised when Aleks resigns. Tina tries to convince Aleks not to go. Meanwhile, in the Vic, Cora thinks it odd Roxy's given up on Aleks without a fight. Aleks returns Roxy's house keys and heads for the tube. Suddenly, Roxy runs after Aleks and begs him to stay, suggesting he divorce his wife. Aleks agrees to stay but refuses to divorce his wife and forces Roxy to make a choice – should he stay or should he go?
In the café, Donna probes an awkward Terry about his date. When Bianca enters, he attempts to discuss what happened last night, but she's preoccupied and tells him to forget it. Alfie crows about the power of his lucky shirt. Resigned, Terry tells Alfie he's chosen Nikki - it makes sense. Alfie wonders if Terry wouldn't rather have a relationship with Bianca that makes him feel alive. Nikki's keen for a quiet night in after a drink in the Vic.
Terry's irked when Nikki gets attention from a group of men and wonders if she misses flying around the world. Nikki insists she'd rather cosy up with Terry at home and is keen to tell the kids they're back together. Donna overhears. At home, Terry and Nikki make awkward small talk over dinner. Terry questions if Nikki would rather be anywhere else. Although Nikki insists she wants a quiet life, Terry decides it's not for him - they both deserve better. Nikki moves out, explaining the Steves asked her to move into their new place. Terry bids Nikki goodbye and watches as her taxi drives away.
Last on
Credits
| Role | Contributor |
| --- | --- |
| Carol Jackson | Lindsey Coulson |
| Bianca Butcher | Patsy Palmer |
| Whitney Dean | Shona McGarty |
| Sonia Fowler | Natalie Cassidy |
| Cora Cross | Ann Mitchell |
| Mo Harris | Laila Morse |
| Pam Coker | Lin Blakley |
| Linda Carter | Kellie Bright |
| Roxy Mitchell | Rita Simons |
| Aleks Shirovs | Kristian Kiehling |
| Tamwar Masood | Himesh Patel |
| Alfie Moon | Shane Richie |
| Terry Spraggan | Terry Alderton |
| Nikki Spraggan | Rachel Wilde |
| Donna Yates | Lisa Hammond |
| Tina Carter | Luisa Bradshaw-White |
| Charlie Cotton | Declan Bennett |
| Dot Branning | June Brown |
| Phil Mitchell | Steve McFadden |
| Executive Producer | Dominic Treadwell-Collins |
| Director | Gill Wilkinson |
| Writer | Kim Revill |