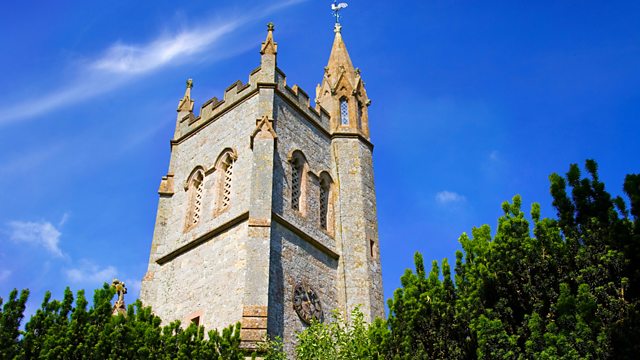 The Collegiate Church of St Mary, Warwick
'Faith seeking understanding'.
Live from The Collegiate Church of St Mary, Warwick.
The Rector of St Mary's, the Revd Dr Vaughan Roberts, reflects on the way God encourages believers to explore and learn from our experiences and the world around us in order to draw closer to God and to gain a greater understanding of how to live more fully as people of faith.
Director of Music: Thomas Corns
Organist: Mark Swinton
Producer: Simon Vivian.
Last on
Faith Seeking Understanding
Please note:
This script cannot exactly reflect the transmission, as it was prepared before the service was broadcast. It may include editorial notes prepared by the producer, and minor spelling and other errors that were corrected before the radio broadcast.
It may contain gaps to be filled in at the time so that prayers may reflect the needs of the world, and changes may also be made at the last minute for timing reasons, or to reflect current events.
Radio 4
Sunday Worship
from
The Collegiate Church of St Mary, Warwick
Sunday 6th July 2014
(0810-0850)
with
Preacher: The Revd Dr Vaughan Roberts, Rector
Leader: Doreen Mills, Reader
The choirs of St Mary's Church, Warwick
Thomas Corns, Director of Music
Organist: Mark Swinton
Producer: Simon Vivian
Radio 4 Opening Announcement:
BBC Radio 4.  It's 10 past 8 and time for this morning's 'Sunday Worship' which comes live from the Collegiate Church of St Mary in Warwick.  The Rector of St Mary's, The Revd Dr Vaughan Roberts, is the preacher and introduces the service, which begins with Charles Wood's introit 'Oculi omnium' – 'The eyes of all wait upon thee, O Lord'.
~ CHOIR: Oculi omnium (Charles Wood)
~ RECTOR:
Good morning and welcome. This year St Mary's is sharing in Warwick's 1100th anniversary celebrations since the town was founded in 914 by Queen Aethelflaed.
St Mary's is a building of great antiquity and history – with solid Norman foundations, the Medieval jewel of the Beauchamp Chapel and a Queen Anne nave which was part of the rebuilding of St Mary's following the great fire of Warwick in 1694.
Between Queens Aethelflaed and Anne, Warwick had many connections with British monarchy not least through the infamous Richard Neville, 16th Earl of Warwick, better known as 'Warwick the Kingmaker'.  Recently, his daughter Anne, who was born at Warwick Castle, featured prominently in the BBC drama The White Queen based on Philippa Gregory's historical novels.
The ways in which we retell the stories from our past continue to shape how we understand the present.  That's true of Medieval and Tudor times, and even further back to Jesus and the prophets of Israel.
Through the likes of exhibitions – photographs of which you'll find on the Sunday Worship webpage – and our choral tradition which draws boys and girls from all over the area, St Mary's uses these stories and gifts we've been given from the past to enrich our worship in the present.  And each Spring we host a series of lectures by such guest speakers as Costa Poetry Award winner Michael Symmons Roberts, Templeton Prize winning scientist John Polkinghorne and broadcaster Richard Coles which seek to explore how Christian faith relates to our contemporary world.  It's that quest which gives our service its theme this morning – 'faith seeking understanding.'
So our first hymn seeks fresh inspiration for this and every Christian community: Be thou my vision, O Lord of my heart.
~ HYMN: Be thou my vision, O Lord of my heart (Slane)
RECTOR:
Leading the service with me this morning is our Lay Reader Doreen Mills.
~ LEADER:
Let us pray:
O God of Heaven and Earth, you call us to share in your work of creation; guide us in our quest for knowledge and wisdom that we may be good stewards of the many gifts you have bestowed upon us; may your Holy Spirit strengthen and support us as we seek to serve all who are in need, and work for the welfare of your world; we ask this in the name of our Risen Lord, Christ our Saviour.
ALL: Amen.
LEADER:
Father eternal, giver of light and grace,


ALL:
we have sinned against you and against our neighbour,
in what we have thought,
in what we have said and done,
through ignorance, through weakness,
through our own deliberate fault.
We have wounded your love
and marred your image in us.
We are sorry and ashamed,
and repent of all our sins.
For the sake of your Son Jesus Christ,
who died for us,
forgive us all that is past;
and lead us out from darkness
to walk as children of light.
Amen.
RECTOR:
Almighty God,
who forgives all who truly repent,
have mercy upon you,
pardon and deliver you from all your sins,
confirm and strengthen you in all goodness,
and keep you in life eternal;
through Jesus Christ our Lord.
ALL:
Amen.
~ LEADER:
Our first reading is from chapter 8 of the Book of Proverbs and it speaks of how wisdom played a fundamental role in God's creative act.  It will be followed by the choir singing Psalm 111 – 'I will give thanks unto the Lord with my whole heart'.
~ READING:
Does not wisdom call, and does not understanding raise her voice?  The LORD created me at the beginning of his work, the first of his acts of long ago.  Ages ago I was set up, at the first, before the beginning of the earth.  When there were no depths I was brought forth, when there were no springs abounding with water.  Before the mountains had been shaped, before the hills, I was brought forth – when he had not yet made earth and fields, or the world's first bits of soil.  When he established the heavens, I was there, when he drew a circle on the face of the deep, when he made firm the skies above, when he established the fountains of the deep, when he assigned to the sea its limit, so that the waters might not transgress his command, when he marked out the foundations of the earth, then I was beside him, like a master worker; and I was daily his delight, rejoicing before him always, rejoicing in his inhabited world and delighting in the human race.
[Proverbs 8:1,22-31]
~ CHOIR: Psalm 111 (Chant: TBA)
I WILL give thanks unto the Lord with my whole heart : secretly among the faithful, and in the congregation.
2. The works of the Lord are great : sought out of all them that have pleasure therein.
3. His work is worthy to be praised and had in honour : and his righteousness endureth for ever.
4. The merciful and gracious Lord hath so done his marvellous works : that they ought to be had in remembrance.
5. He hath given meat unto them that fear him : he shall ever be mindful of his covenant.
6. He hath shewed his people the power of his works : that he may give them the heritage of the heathen.
7. The works of his hands are verity and judgement : all his commandments are true.
8. They stand fast for ever and ever : and are done in truth and equity.
9. He sent redemption unto his people : he hath commanded his covenant for ever; holy and reverend is his Name.
10. The fear of the Lord is the beginning of wisdom : a good understanding have all they that do thereafter; the praise of it endureth for ever.
Glory be to the Father and to the Son and to the Holy Ghost;
as it was in the beginning, is now, and ever shall be, world without end. Amen.
~ LEADER:
Our Gospel reading from Matthew, chapter 11, follows on from a passage in which Jesus has been speaking about himself and John the Baptist.  Now we hear how John's stern call for repentance is met by those who want to make merry, whilst Jesus' proclamation of good news – likened to a wedding celebration – is not thought to be sufficiently sombre.  Jesus speaks about how his actions are the deeds of Wisdom and they exonerate what he is doing and what he is teaching.
~ READING:
At that time Jesus said, 'To what will I compare this generation?  It is like children sitting in the market-places and calling to one another, "We played the flute for you, and you did not dance; we wailed, and you did not mourn."  For John came neither eating nor drinking, and they say, "He has a demon"; the Son of Man came eating and drinking, and they say, "Look, a glutton and a drunkard, a friend of tax-collectors and sinners!"  Yet wisdom is vindicated by her deeds.  I thank you, Father, Lord of heaven and earth, because you have hidden these things from the wise and the intelligent and have revealed them to infants; yes, Father, for such was your gracious will.  All things have been handed over to me by my Father; and no one knows the Son except the Father, and no one knows the Father except the Son and anyone to whom the Son chooses to reveal him.  Come to me, all you that are weary and are carrying heavy burdens, and I will give you rest.  Take my yoke upon you, and learn from me; for I am gentle and humble in heart, and you will find rest for your souls.  For my yoke is easy, and my burden is light.'
[Matthew 11: 16-19, 25-30]
~ HYMN: Jesu, lover of my soul (Aberystwyth)
~ RECTOR:                                                  
The Highly regarded American movie-maker Alex Gibney is probably best known for his documentaries 'We Steal Secrets: The Story of Wikileaks' and 'Enron: The Smartest Guys in the Room' about the bankruptcy of the US energy giant.  His most recent film – to be released in the UK later this year – is a documentary about Fela Kuti, the Nigerian singer, musician and pioneer of Afrobeat who died in 1997.
In Gibney's retelling of Kuti's story, religion plays a significant role.  Kuti was brought up in a Christian household before embracing other forms of African spirituality.  He had his own personal magician or spiritual adviser whose influence in Kuti's life was not seen by all to be beneficial.  As one friend commented: "You stroke a sacred monster, you get your hand bitten off!"  Religion has always been a two sided coin and the sacred can involve the bad as well as the good.
Jesus would certainly have had sympathy with the observation about the risks of stroking a sacred monster.  In our passage from Matthew's Gospel, Jesus suggests there appears to be no way of getting things right for some people: "We played the flute for you, and you did not dance; we wailed, and you did not mourn."  He seems to be saying: we organized a party and you were miserable; so then we joined in the lamentation and that wasn't right either.
Of course his observation doesn't just apply to the world of faith; it's a comment on the contrariness of humanity more generally.  I'm sure we've all experienced or witnessed moments – in everyday life, at work, in politics, or wherever – when people appear to set their faces sternly against something, and no accommodation or compromise is accepted.
As well as being present in the Gospels, these strands of human experience are also reflected in the current interest in historical novels and extend into our continued fascination with imaginary worlds, such as those created by J R R Tolkien and George R R Martin.  The novels and subsequent dramas about The Lord of the Rings and The Game of Thrones, re-cast the social dynamics we recognize from history and our own experience into enchanted worlds of fantasy and make-believe which are populated by characters that are much more vivid and surprising than our real lives.
Speaking personally, I love the simple Game of Thrones flow chart which has one box that says: 'Do you like the character?'  Followed by two, arrowed lines that come away labelled: 'Yes' and 'No'.  Both lines end at a box saying 'They're dead'.  George Martin is renowned for suddenly killing off characters in his novels and it's moments like that when the world of fantasy departs from the world in which we live.  We can't just kill off any characters we encounter for dramatic effect or because we find them frustrating.
Instead we're anchored in the real world of life and living where we need to make sense of the good and the bad that we find in ourselves and in others.
So how do we find a way through all of this?   In our Gospel passage, Jesus suggests one answer: "Yet wisdom is vindicated by her deeds … wisdom is vindicated by her deeds."  There is a strong wisdom tradition in Judaism, which continues to be deeply formative in Christianity.  We saw that tradition in our first reading where Wisdom is described as being a vital part of the divine process of creation.  We heard Wisdom speak: 'Ages ago I was set up, at the first, before the beginning of the earth.  When there were no depths I was brought forth, when there were no springs abounding with water.'  And we can see from our second reading that this wisdom tradition shaped Jesus' teaching and ministry.
Another character from the Gospels who's important here is Thomas the Twin or 'Doubting Thomas' as he's often known.  And last Thursday many churches marked the annual commemoration of his feast day.  Thomas provides a striking example of wisdom being vindicated by her deeds.  Thomas was the disciple who wasn't present when Jesus first appeared to his immediate followers.  Thomas wouldn't take the others' word for it that they'd seen the Risen Christ.  He wanted something much more tangible and to see for himself.
When the encounter between Jesus and Thomas eventually took place, Christ encouraged his disciple to touch him and grasp the reality of his risen presence whilst at the same time commending those who would not see and yet believe.  Thomas wouldn't accept the testimony or wisdom of others; he needed to encounter the incarnate Christ for himself for the testimony of the other disciples to be vindicated.  Of course the question could be asked whether Thomas showed wisdom in disbelieving his fellow disciples – and there's also a question in that thought for each of us.
As far as vindication is concerned, Christianity's not an 'either/or faith' – it's a 'both/and' faith which we see in a phrase like 'faith seeking understanding.'  Faith seeking understanding is particularly associated with St Anselm – philosopher, theologian and Archbishop of Canterbury.  Like St Thomas he walked the way of Christ which believes wisdom and faith can be part of the same journey.
Scripture speaks of wisdom being a gift from God and Jesus teaches it is right to use that gift in the service of faith.  Not only does it help us in the process of discerning truth and understanding and entering the experience of others, it also assists in sifting our everyday experiences of home, workplace and community.
Following the path of wisdom that Jesus commends – bringing our minds as well as our hearts to such encounters – enables us to recognize those deeds which are from the Spirit of God.
This next anthem, sung by the choirs of St Mary's Collegiate Church, is by the Italian Renaissance composer Luca Marenzio, whose work was influential across Europe and particularly in Britain.  It's a setting in Latin of Jesus' response to Thomas, commending the vindication of his disciple's wisdom and those who would follow in the path of faith: "Because you have seen me, Thomas, you have believed.  Blessed are those who have not seen, and yet have believed. Alleluia." (John 20: 29)
~ CHOIR: Quia vidisti me (Luca Marenzio)
~ LEADER:
Let us give thanks and pray to the God of creation, wisdom and resurrection:
~ INTERCESSIONS                                                                 
God of Wisdom, we offer our praise for all your many gifts bestowed upon us: for creation and life, art and music, knowledge and faith; may we be enriched as individuals and communities by all the blessings that you have given to us through your grace.
Risen Christ:
CHOIR: Come, fill our hearts with your song, and renew us with your truth.
God of Wisdom, we pray for those who question and doubt, those struggling with their faith and the challenges of life, and those who are persecuted for their beliefs; may they be enfolded by your Spirit and encouraged by your guiding light.
Risen Christ:
CHOIR: Come, fill our hearts with your song, and renew us with your truth.
God of Wisdom, we pray that your Spirit will direct us and those in authority in using your gifts of knowledge and understanding to be good stewards of the earth, to care for those in need and build your kingdom of love and justice.
Risen Christ:
CHOIR: Come, fill our hearts with your song, and renew us with your truth.
God of Wisdom, give us a sense of peace and hope in all our journeys and explorations; on our pilgrimages may we find shelter in your presence, a staff in your Word, and a welcome in your eternal home.
Risen Christ:
CHOIR: Come, fill our hearts with your song, and renew us with your truth.
We join our intercessions together, by saying the prayer Jesus has taught us:
Our Father,
who art in heaven,
hallowed be thy name;
thy kingdom come;
thy will be done;
on earth as it is in heaven.
Give us this day our daily bread.
And forgive us our trespasses,
as we forgive those who trespass against us.
And lead us not into temptation;
but deliver us from evil.
For thine is the kingdom, the power, and the glory,
for ever and ever.
Amen.
~ RECTOR:
This morning, we've celebrated the role of wisdom in God's creation, in the way of faith and in our daily lives.  And we've given thanks that God is present in the dawn of the world, the resurrection of Christ and our everyday actions.  Our concluding hymn draws those thoughts together, speaking of God's wise and living presence in the greatest and smallest aspects of life.  'Immortal, invisible, God only wise'.
~ HYMN: Immortal, invisible (St Denio)
~ RECTOR:
God of faith and understanding, keep you in your journeys and undertakings; incarnate Lord of resurrection and hope, inspire your deeds and actions; Spirit of Wisdom and truth, strengthen you for all that lies ahead; And the blessing of God Almighty, Father, Son and Holy Spirit rest upon you and all whom you love, this day and forevermore.
ALL:
Amen.
~ ORGAN VOLUNTARY: Komm Heiliger Geist  BWV 651a  (JS Bach)
Radio 4 Closing Announcement:
Sunday Worship came live from the Collegiate Church of St Mary in Warwick.  The service was led by the reader, Doreen Mills, and the preacher was the Rector of St Mary's, the Revd Dr Vaughan Roberts.  The director of music was Thomas Corns and the organist was Mark Swinton.  The producer was Simon Vivian.
Next week, Sunday Worship comes from this year's Eton Choral Course and explores the many gifts and talents people bring to their faith.
And you may like to know that BBC Radio 2 is looking for its Young Choristers of the Year 2014.  The closing date for applications is the end of this month and full details may be found online.