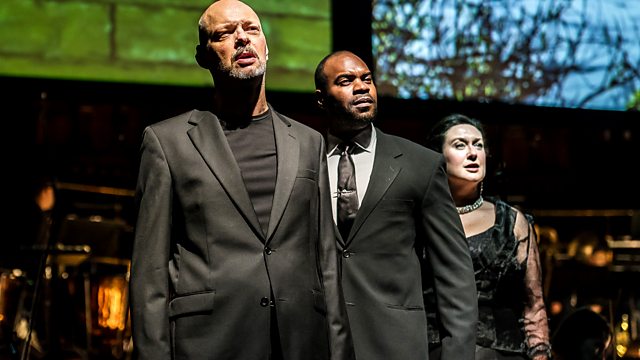 Wagner's Gotterdammerung
Adam Tomlinson introduces a semi-staged performance of Wagner's Götterdämmerung - The Twilght of the Gods - from the Leeds Town Hall, concluding Opera North's highly praised four-year Nibelung Cycle.
In the previous opera in Wagner's tetralogy - Die Walküre - we left the hero Siegfried doting over his new found love Brünnhilde. In Götterdämmerung, that love is tested by bitter betrayal, brought about by the machinations of Hagen, son of the Nibelung Alberich (the one who stole the gold from the Rhinemaidens, fashioned the The Ring, then put a curse upon it plunging the whole world into turmoil and strife). Only Brünnhilde's love and self-sacrifice can bring about redemption for mankind. But the cost will be an end to the days of gods.
The musical and dramatic power of Götterdämmerung is awe-inspiring: it includes Siegfried's Rhine Journey; the mighty chorus of the Gibichung vassals; Siegfried's Funeral March and Brünnhilde's tour-de-force, the Immolation Scene.
In this presentation, recorded last month, Adam Tomlinson is joined by 19th-century opera expert Anastasia Belina-Johnson.
Götterdämmerung is sung in German.
Cast
Brünnhilde ..... Alwyn Mellor (soprano)
Siegfried ..... Mati Turi (tenor)
Hagen ..... Mats Almgren (bass)
Gutrune ..... Orla Boylan (soprano)
Gunther ..... Eric Greene (baritone)
Alberich ..... Jo Pohlheim (bass)
Waltraute ..... Susan Bickley (mezzo)
First Norn ..... Fiona Kimm (mezzo)
Second Norn ..... Heather Shipp (mezzo)
Third Norn ..... Lee Bisset (soprano)
Woglinde ..... Katherine Broderick (soprano)
Wellgunde ..... Madeleine Shaw (mezzo)
Flosshilde ..... Sarah Castle (mezzo)
Opera North Orchestra and Chorus conducted by Richard Farnes.
Last on