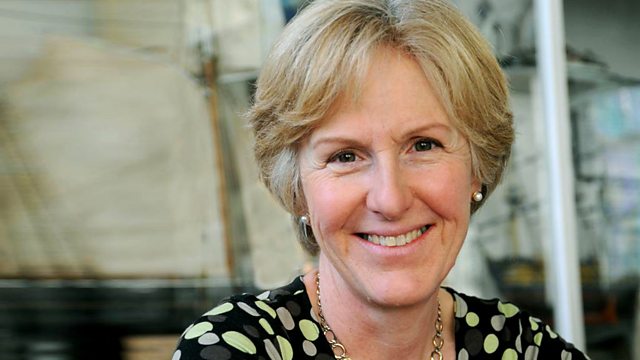 06/07/2014
Vasily Petrenko conducts the Radio France Philharmonic and violinist Sergei Krylov, in a programme of Bartok and Sibelius. Catriona Young presents.
1:01 AM
Bartók, Béla [1881-1945]
Violin Concerto no. 2 Sz.112
Sergei Krylov (violin), Radio France Philharmonic Orchestra, Vasily Petrenko (conductor)
1:41 AM
Bach, Johann Sebastian [1685-1750], arr. Fox-Lefriche, Bruce
Toccata and Fugue in D minor BWV.565 for solo violin
Sergei Krylov (violin)
1:50 AM
Paganini, Nicolo [1782-1840]
Caprice no.24 in A minor (Theme and Variations) for solo violin (Op.1 No.24)
Sergei Krylov (violin)
1:55 AM
Sibelius, Jean [1865-1957]
Symphony no. 1 in E minor Op.39
Radio France Philharmonic Orchestra, Vasily Petrenko (conductor)
2:34 AM
Kuula, Toivo (1883-1918)
Orjan poika (The Son of the Slave) ? symphonic legend for soprano, baritone, mixed choir and orchestra (Op.14)
Suomen Laula Choir, Finnish Radio Symphony Orchestra, Jussi Jalas (conductor)
3:01 AM
Marais, Marin (1656-1728)
Suite No.2 for two viols in G major from 'Pièces à une et deux violes, Paris, 1686'
Violes Esgales: Susie Napper and Margaret Little (viols)
3:40 AM
Lully, Jean-Baptiste (1632-1687)
Suite - Le Roi Danse
Ars Barocca
3:59 AM
Field, John [1782-1837]
1. Aria; 2. Nocturne & Chanson
Barry Douglas (piano & director), Camerata Ireland
4:07 AM
Glinka, Mikhail Ivanovich (1804-1857)
Kamarinskaya (fantasy for orchestra)
Winnipeg Symphony Orchestra, Kazuhiro Koizumi (conductor)
4:14 AM
Scriabin, Alexander (1872-1915)
Sonata No.4 in F sharp minor (Op.30)
Sergei Terentjev (piano)
4:22 AM
Warlock, Peter (1894-1930)
Serenade (to Frederick Delius on his 60th birthday) for string orchestra
Manitoba Chamber Orchestra, Roy Goodman (conductor)
4:30 AM
Dowland, John (1563-1626)
King of Denmark's Galliard
Nigel North (lute)
4:32 AM
Dowland, John (1563-1626)
The Lady Cliftons spirit for lute (P.45)
Nigel North (lute)
4:35 AM
Franck, César (1822-1890)
Offertoire in G major
Joris Verdin on the grand orgue Cavaillé-Coll in the Cathédrale de St Brieuc
4:42 AM
Duparc, Henri (1848-1933) [text: François Coppée 1842-1908]
La Vague et la cloche ? for voice and piano
Gerald Finley (baritone), Stephen Ralls (piano)
4:48 AM
Wagner, Richard (1813-1883), arr.unknown
Pilgrims Chorus from 'Tannhäuser' (arr. for organ)
David Drury (William Hill and Son organ of Sydney town Hall, Australia)
4:54 AM
Saint-Saëns, Camille (1835-1921)
Sérénade d'hiver (Henri Cazalis)
Lamentabile Consort: Jan Stromberg & Gunnar Andersson (tenors), Bertil Marcusson (baritone), Olle Sköld (bass)
5:01 AM
Shostakovich, Dmitry (1906-1975)
Festive Overture (Op.96)
Edmonton Symphony Orchestra, Uri Mayer (conductor)
5:07 AM
Mahler, Gustav (1860-1911)
Adagietto from Symphony No.5 in C sharp minor
Concertgebouw Orchestra, Willem Mengelberg (conductor)
5:15 AM
Tippett, Michael (1905-1998)
Five Spirituals from 'A Child of our Time' for chorus
BBC Singers, Stephen Cleobury (conductor)
5:27 AM
Delius, Frederick (1862-1934) ed. Eric Fenby
La Calinda ? concert version for orchestra from 'Koanga'
BBC Concert Orchestra, Stephen Cleobury (conductor)
5:31 AM
Harrison, Lou (1917-2003)
Harp Suite (1952-1977)
David Tanenbaum (guitar), William Winant (tuned water bowls, finger cymbals and sistra), Scott Evans (tuned water bowls and drums), Joel Davel (drums)
5:47 AM
Raychev, Alexander [1922-2003]
Sonata-Poem for violin and symphony orchestra
Boyan Lechev (violin), Bulgarian National Radio Symphony Orchestra, Vassil Stefanov (conductor)
6:07 AM
Rachmaninov, Sergei (1873-1943)
Sonata No.2 in B flat Minor (Op.36)
Aldo Ciccolini (piano)
6:26 AM
Grainger, Percy (1882-1961)
Hill-Song No.1
Melbourne Symphony Orchestra, Geoffrey Simon (conductor)
6:40 AM
Scriabin, Alexander (1872-1915)
Le Poème de l'extase for orchestra (Op. 54)
Royal Concertgebouw Orchestra, Antál Doráti (conductor).
Last on