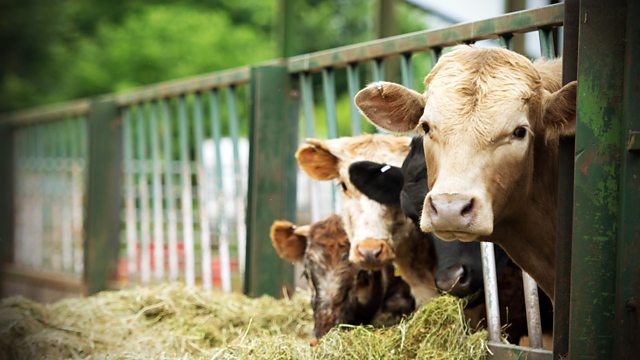 04/07/2014
David's preoccupied with the Echo article, which features a photo of Ben holding David's guy. There's a quote that names Ben as well, although it was clearly David's handiwork. Jennifer has written her feature. It looks good, but Ruth's surprised Jennifer went so far. Jennifer's annoyed at the by-line from her editor - Brian feels well and truly stitched up.
Charlie confronts David over the Echo piece. David's genuinely sorry about the guy, but not about anything else. They argue and David warns Charlie not to come between a farmer and his land.
Christine keeps Peggy company over a game of scrabble. Christine tries to cheer Peggy up by suggesting she gets another cat or a kitten. Peggy opens up to Chris. She feels she doesn't have a role anymore - will anyone miss her when she's gone?
Charlie visits Brian, who has to defend himself over Jennifer's article. Jennifer interrupts them, on the phone and shouting at the kitchen people - she's furious about yet another problem and demands to have everything sorted right away. With her blood up, Jennifer vehemently tells Charlie that she's proud of her article, putting him in his place in no uncertain terms.
Last on
Credits
| Role | Contributor |
| --- | --- |
| Writer | Joanna Toye |
| Director | Julie Beckett |
| Editor | Sean O'Connor |
| Jill Archer | Patricia Greene |
| David Archer | Tim Bentinck |
| Ruth Archer | Felicity Finch |
| Kenton Archer | Richard Attlee |
| Jolene Archer | Buffy Davis |
| Tony Archer | David Troughton |
| Pat Archer | Patricia Gallimore |
| Helen Archer | Louiza Patikas |
| Brian Aldridge | Charles Collingwood |
| Jennifer Aldridge | Angela Piper |
| Christine Barford | Lesley Saweard |
| Neil Carter | Brian Hewlett |
| Susan Carter | Charlotte Martin |
| Shula Hebden Lloyd | Judy Bennett |
| Elizabeth Pargetter | Alison Dowling |
| Fallon Rogers | Joanna Van Kampen |
| Rob Titchener | Timothy Watson |
| Roy Tucker | Ian Pepperell |
| Hayley Tucker | Lorraine Coady |
| Peggy Woolley | June Spencer |
| PC Harrison Burns | James Cartwright |
| Charlie Thomas | Felix Scott |
| Ursula | Carolyn Jones |