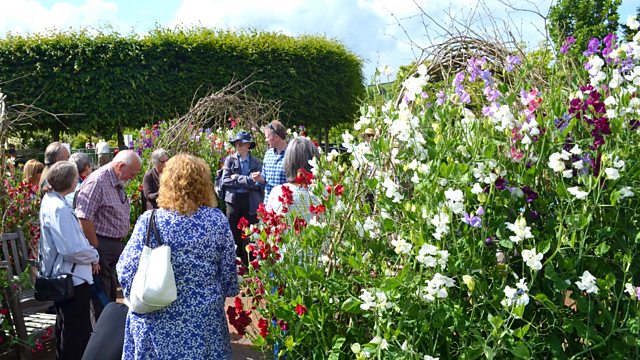 GQT Summer Garden Party 2014, National Botanic Garden Wales
Listen in pop-out player
Eric Robson is joined by Bob Flowerdew, Bunny Guinness and James Wong to answer questions at the gardening event of the year, the GQT Summer Garden Party 2014 at the National Botanic Garden Wales.
Produced by Howard Shannon.
A Somethin' Else production for BBC Radio 4.
This week's questions and answers:
Q. Why grow roses alongside grapevines?
A. They enjoy similar conditions. Roses show disease before other plants and so serve to warn gardeners to deal with mildew etc. before it begins to damage the grapevines.
Q. How should I look after my lemon tree?
A. Use an ericaceous, well drained potting mix and add grit or vermiculite. You can even buy ready-made citrus potting mix if you prefer. Use a high potash fertilizer during the summer, something like tomato or liquid rose feed. Choose the brightest location possible as light is more important than heat to a lemon tree. The Eureka variety of lemon tree can be tricky to grow. Make sure the plant is in a terracotta pot so it can lose moisture more effectively and don't worry if the plant is pot-bound, as this will encourage more flower growth.
Q. Can the panel recommend a plant that can be used as a barrier in a boggy garden?
A. Willow will grow well as will Bog Myrtle.
Q. I purchased an 'unusual' Hosta. It looks pot-bound and has now developed brown patches on the leaves. What should I do?
A. Seeing as most of the leaves are brown, it is probably best to dig it up and take it back to the supplier who should refund you. You don't want the disease to spread to the rest of your garden.
Q. I'm planning to plant an olive tree in ashes, what's the best way to do this -in a planter or in the ground?
A. If you want to restrict the size of the plant, use a planter but it will also grow well in the ground. Olive trees are very hardy; so long as they don't get too wet they will do well. Veronique and Frantoio are both good varieties.
Q. What method of slug repellent do the panel find most effective?
A. Garlic spray is a good way of repelling slugs, as is copper tubing around beds and pots. Calcium spray can also be used. Some find sheep's wool and pellets effective while carpet paths in the garden can trap slugs well. Nematodes can be used as biological control and simply removing the slugs by hand can effectively reduce the slug population.
Q. How should I maintain a perfect croquet lawn? The lawn is quite acidic with a PH of 5.8.
A. You can grow fine-leaved grasses that like acidic soils and over sow to encourage dense growth. You must cut the grass regularly but use a cylinder mower rather than a rotary mower. Stay away from lime but feed the lawn regularly with blood, fish and bone meal. You could also use a roller to achieve a level surface.
Q. If your garden were on fire, which plant would you save?
A. Bob would save the plants he has bred himself - yellow-leaved Comfrey, creeping Thyme, Cape Gooseberries with an enhanced flavor. Bunny would save her Home Oaks. James would save his Oxalis Deppei.
Last on
Panelists take to the performance stage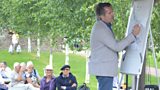 From the Gardeners' Question Time Summer Garden Party 2014 at the National Botanic Gardens of Wales
Party-goers ask their questions in our Potting Shed sessions.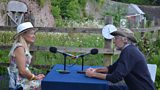 From the Gardeners' Question Time Summer Garden Party 2014 at the National Botanic Gardens of Wales.