Excellent Development
Alison Bell presents The Radio 4 Appeal for Excellent Development.
Registered charity No. 1094478 (England and Wales).
To Give:
- Freephone 0800 404 8144
- Freepost BBC Radio 4 Appeal, mark the back of the envelope ' Excellent Development'.
Last on
Excellent Development: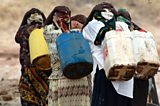 Every day, women and girls in rural drylands - places of severe water scarcity - spend up to 12 hours just collecting enough water to live.
This all-consuming task prevents families from growing food. It withholds girls and young women from school. And it traps people in poverty.  Excellent Development is bringing clean water to within 30 minutes of homes, thereby transforming lives. Alleviating the burden of water collection is creating the opportunity for families to grow enough food to eat, store and sell, and for girls to go to school.  They do this by supporting people to build sand dams – the greatest, but little known, solution to water scarcity in drylands.
Solving water scarcity: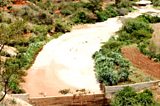 Sand dams look just like a river of sand. But, within that sand, are millions of litres of water – protected from evaporation, contamination and disease. These cheap and simple structures provide clean water for life. But, it's not a hand out: a community contributes 40% of the cost through their labour in providing locally available materials and supporting construction.
This is a sand dam in southeast Kenya. Nearby communities are making the most of the opportunity to grow enough food for their families to eat, store and sell.
Transforming lives: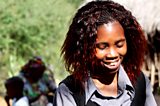 Excellent Development has supported 480,000 people to have clean water close to their homes. People like Pauline, who was able to go to school because, with Excellent Development's support, her father mobilised his community to build a sand dam.
Pauline said: "My family was very poor and so I was not seeing any hope, though I was working hard… You changed my life."
Now, she is studying at Nairobi University and wants to follow in the footsteps of Nobel Peace Prize winner, Wangari Maathai.
Realising the potential: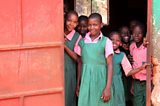 In rural drylands, sand dams are the opportunity people need to work their own way out of poverty with dignity. It is an opportunity that 3 in 4 of the world's poorest people still do not have.
These are pupils at the Kambili primary school in southeast Kenya. Many of them are girls who, without Excellent Development's support, would have to spend most of their time collecting water, instead of getting an education.  Excellent Development's vision is that millions of the world's poorest people's lives will be transformed through sand dams. We need your help to achieve this.