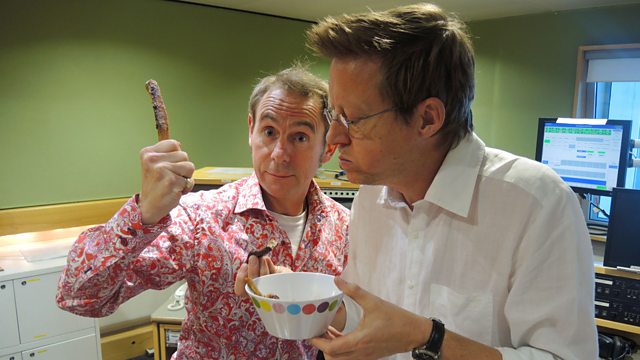 Nigel cooks Salt and Chilli Ribs for Foody Thursday
We speak to Sanjeen, writer of the best ever Confession that isn't a Confession (see text in yesterday's show, get your hankies ready).
In the homework we learn if giraffes can swim. And if hippos can as well.
And ahead of three UK stages of Le Tour De France, we speak to Tim Moore about the strength of British cycling.
Last on
Salt & Chilli Ribs
by Cyrus Todiwala & Tony Singh from The Incredible Spice Men (BBC Books)
Serves 4
Prep time:  30 mins
Cooking time:  2½ hrs
Ingredients
1 kg (2lb 4oz) pork ribs
1 tbsp vegetable bouillon powder
1 tbsp garlic purée (Nige says you can easily make your own from freshly pressed garlic)
300ml (½ pint) white wine
1 tbsp chilli bean sauce (toban)
½ jar char siu sauce
corn oil, if deep frying
For the dry spice mix
½ tbsp white peppercorns
1 tbsp Sichuan pepper
4 star anise
3 tsp salt
1 tsp chilli flakes
1 tbsp five-spice powder
½ tbsp crushed black pepper
½ tbsp caster sugar
½ tbsp vegetable bouillon powder
For the batter
2 tsp salt
1 tsp garlic purée
½ tsp chilli powder
6 tbsp custard powder
6 tsp plain flour
2 tbsp sesame oil, if deep frying
2 tbsp vegetable oil or rapeseed oil, if pan frying
For the garnish
1 tbsp rapeseed oil or vegetable oil
8 spring onions
3 red chillies
½ red pepper, seeds removed
½ yellow pepper, seeds removed
Method
1.    Preheat the oven to 180C/350F/Gas 4.  Arrange the pork ribs in a single layer in an ovenproof dish.  To create a braising liquor, put 600ml (1 pint) of water in a medium pan, add the bouillon powder, garlic purée, white wine, chilli bean sauce & char sui sauce, & bring to the boil.
2.    Pour the braising liquor over the ribs, cover the dish with a double layer of aluminium foil, & cook in the oven for approximately 2½ hrs, basting a few times throughout.
3.    Meanwhile, make the dry spice mix.  Heat a small frying pan & dry-fry the white peppercorns, Sichuan pepper & star anise until they release theiraroma.  Crush them with a pestle & mortar, then mix with the remaining ingredients.  Store in an airtight jar.
4.    When the rib meat is soft yet still well attached to the bone, remove from the oven & leave to cool in the braising liquid.  Once cool remove from the liquid to a tray to dry out.  Discard the braising liquid.
5.    If you have a deep fryer, heat the corn oil to 165-170C (330-340F), & mix together all the batter ingredients to a batter/paste.  Ensure the ribs are dry, then cover them with the batter.  Deep fry in batches for about 30 seconds or until golden brown & crispy.  To pan-fry the ribs instead of deep frying, mix together all the batter ingredients except the sesame oil to create a dusting for the ribs – dust the ribs with this.  Heat the vegetable or rapeseed oil in a large frying pan & fry the ribs in batches.
6.    To make the garnish, finely dice the spring onions, chillies & peppers.  Heat the oil in a frying pan & briefly sauté all the remaining garnish ingredients.  As soon as the ribs & garnish are ready, mix them together in a large bowl.  Sprinkle with the reserved dry spice mix to taste.  Serve the ribs with extra dry spice mix alongside for sprinkling.
Today's Most Popular Tracks
Most added tracks from this show