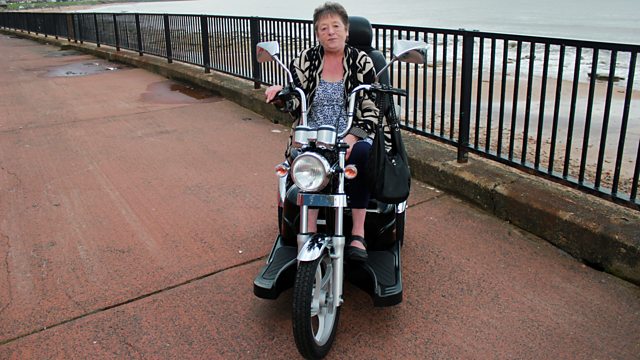 The Trouble with Mobility Scooters
With around 330,000 mobility scooters on our roads and pavements, Britain has more mobility scooters than any other country in Europe - and the numbers are growing fast.
For owners, scooters are a lifeline offering freedom and independence, but for some road users they can cause chaos. The number of accidents with mobility scooter drivers is increasing, and there's very little regulation, as mobility scooter drivers don't need to pass a proficiency test and insurance is not compulsory. Even being registered blind doesn't legally stop you being allowed to drive one.
With access to South Yorkshire Police's mobility scooter driving school, this warm-hearted, engaging and informative documentary follows the lives of scooter users in South Yorkshire, Derbyshire and north Wales. We meet those living their twilight years to the full with the help of a four-wheeled friend and also hear the stories of those who have fallen foul of the mobility scooter phenomenon.
With failing health a common theme, the documentary is as much about mortality as it is mobility.
Credits
| Role | Contributor |
| --- | --- |
| Producer | Tom Williams |
| Director | Tom Williams |
| Executive Producer | Cat Lewis |
BBC News: Campaigners plea for mobility scooter training