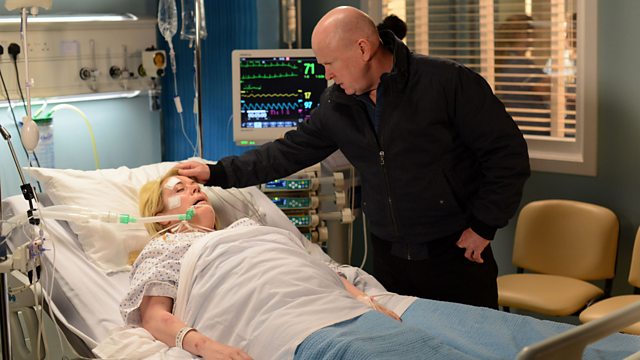 18/06/2014
Phil watches grimly as SOC officers take evidence from the Albert. In hospital, Sharon's still unconscious; a nurse explains they removed her spleen during surgery. Phil strokes Sharon's hair, murmuring that he's sorry. Ian arrives, closely followed by Dot. Back on the Square, Phil finds Shirley sat in the Square gardens; she's disgusted with him – what was he thinking?
At Phil's house, Roxy, Billy and Lola question Phil about the attack at The Albert. Phil explains the intruders didn't take anything and the police can't do anything until Sharon regains consciousness. Unable to handle their questions, Phil tells them all to go. Phil makes a phone call to meet someone in the Arches and orders Jay to take an early lunch, violently slamming a car bonnet in anger. Worried, Jay tells Shirley that Phil needs her. At the Arches, Shirley bursts in to find Phil with the two men from the Albert break in, holding one man over the pit, shouting that they weren't supposed to hurt Sharon. One man protests that Sharon attacked first and refuses to leave without payment. Shirley tries to calm Phil and tells the men to return later.
In the park, a calmer Phil explains the bouncers were supposed to scare the intruders off – he only wanted to frighten Sharon and is fed up of having no say in how The Albert's run. Shirley's unimpressed but when Phil despairs that he doesn't know what to do, she promises to sort things out, and makes an anonymous tip off to border control about two suspicious men hanging around the Arches. Shirley takes Phil home, sends him for a shower and irons him a clean shirt. Phil's grateful for Shirley's kindness and tenderly caresses her face – if Shirley wasn't here he doesn't know what he'd do. Shirley blurts that she loves Phil, just as Jay enters with the news that the hospital's phoned – Sharon's been rushed into surgery.
Johnny determines to tell Phil the truth. Linda begs him not to make life hard for himself. Johnny feels awful when Tina commends him on his heroism and sets out for the Albert. He feels even worse when Roxy warmly thanks him for helping Sharon and pleads to be allowed to help clean up the bar. In the Vic, Dot berates Cora for leaving the Launderette unattended while she visited the hospital. Cora, Stan, Dot and Patrick discuss Sharon's condition; Stan wonders why the intruders didn't go for Johnny. Linda claims it was just a break in that went wrong - Johnny was upstairs cashing up and didn't hear anything.
Linda snaps at Mick on learning he let Johnny go to the Albert. Stan and Cora head to the Albert to question Johnny about the attackers' appearance. Johnny stammers, unable to answer. Mick arrives, explaining Linda thought Johnny could do with some help. Fed up of Linda interfering, Johnny storms out to help Dean at the salon instead. Later, in the Vic, the Mitchells bristle as Cora speculates that Sharon was attacked to get at Phil. Stan continues to press Johnny for details. Linda stands up for Johnny, declaring to the pub that he sensibly hid upstairs out of harm's way and she's glad he's not in hospital too. Johnny storms out, humiliated.
Mick's proud that the Carters are taking over Walford; Dean pointedly reminds Mick he's a Wicks. As he helps Dean unpack boxes for the salon, Johnny wonders why neither sinks nor electricity have been installed. Later, Dean shows Stan a new authentic barber's chair. Stan enquires why Dean hasn't contacted his friend about ordering the salon sign. He's touched when Dean claims he wanted to run the name by him first – Stan's. Later, Dean makes a phone call - the final delivery arrives tomorrow and he wants cash.
Peter misses his alarm clock when the electricity meter runs out in Billy's flat. Ian's flustered by a call from Rainie. His mood isn't helped when Les Coker enquires about settling Lucy's funeral bill. Peter hotly informs Pam that Les should come to him instead of haranguing Ian. Noting how tired Peter looks, Denise offers to babysit Lexi to give him and Lola a night off. Ian gets a text message from Rainie. He empties the café till and heads off with no explanation, to Peter's bemusement. When Peter and Lola drop Lexi off, Ian assures Peter he's paid the funeral bill. Denise can't help but smile as she watches Ian feeding Lexi. In the Vic, an apologetic Les agrees to give Ian extra time to settle his debt, and Peter realises Ian lied.
Last on
Credits
| Role | Contributor |
| --- | --- |
| Jay Brown | Jamie Borthwick |
| Roxy Mitchell | Rita Simons |
| Shirley Carter | Linda Henry |
| Stan Carter | Timothy West |
| Ian Beale | Adam Woodyatt |
| Denise Fox | Diane Parish |
| Peter Beale | Ben Hardy |
| Linda Carter | Kellie Bright |
| Mick Carter | Danny Dyer |
| Phil Mitchell | Steve McFadden |
| Sharon Rickman | Letitia Dean |
| Johnny Carter | Sam Strike |
| Tina Carter | Luisa Bradshaw-White |
| Dean Wicks | Matt Di Angelo |
| Cora Cross | Ann Mitchell |
| Dot Branning | June Brown |
| Patrick Trueman | Rudolph Walker |
| Lola Pearce | Danielle Harold |
| Billy Mitchell | Perry Fenwick |
| Les Coker | Roger Sloman |
| Pam Coker | Lin Blakley |
| Nurse Sarah Michael | Ann Akin |
| Executive Producer | Dominic Treadwell-Collins |
| Director | Nic Phillips |
| Writer | Matt Evans |