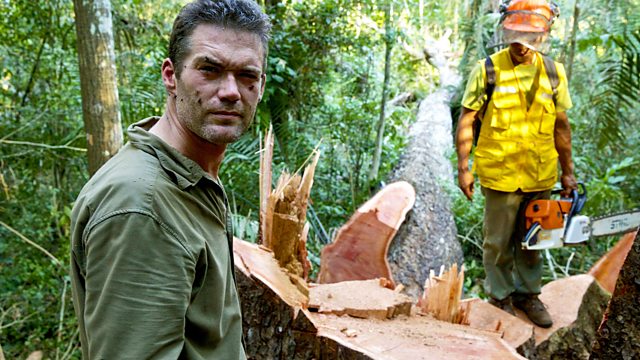 Wildlife cameraman Charlie Hamilton James has bought 100 acres of Peruvian rainforest situated on the borders of the world famous Manu National Park. Charlie's original aim was to ring-fence the whole area to prevent illegal loggers from entering the park. But four months on and his grand scheme has hit the buffers. His rainforest turned out to be little more than scrub and a squatter called Elias is still occupying the land. Charlie wants to evict the squatter, but Elias keeps delaying his departure - something Charlie suspects is little more than a cover for illegal logging.
With morale at rock bottom, Charlie's wife Philippa flies out from England to raise his spirits and to see how he has spent their money. Keen to remind him of the original aims of protecting the park, Philippa persuades Charlie to take her in search of one of his favourite animals, the giant otter.
When Philippa returns to the UK, Charlie decides that he needs to take a leap of faith and get involved with the locals and their way of life. Invited into the rainforest with Beto and Modesto, they head off on a four-day mission to illegally fell a giant hardwood tree that Beto was saving to pay for his daughter's education. Torn between his love of the forest and a growing awareness of how hard life can be, Charlie's loyalties are dramatically split.
But logging is not the only threat to the Peruvian Amazon. Its rivers are being poisoned by illegal gold miners who use mercury to help them extract the gold. Charlie decides to go to the source of the problem and meets Erazmo, a mine owner who has spent 30 years trying to strike it lucky. The harsh working conditions and 16 hours shifts are brutal reminders to Charlie that both the rainforest and its inhabitants pay a high price for the bullion propping up the world banking system.
On his return to the land, Charlie vows to force Elias out. But when he meets Elias's wife Ennis and their daughter Heidi for the first time, he has a profound encounter.
Last on
Credits
| Role | Contributor |
| --- | --- |
| Director | Gavin Searle |
| Series Editor | Simon Sykes |
| Presenter | Charlie Hamilton James |
Discover more with The Open University