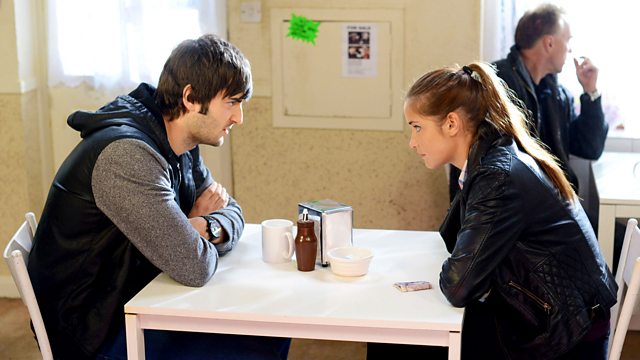 13/06/2014
DC Summerhayes leaves Max's after spending the night with him, trying not to be seen by anyone. Later, Summerhayes skulks back to his house where Max returns her watch she left behind. She explains to Max that what happened the previous night is not something she usually does. She tells him she is concerned about her job being on the line. As she goes to leave, Max tells Summerhayes that it was his fault and she shouldn't feel bad about it. He whispers to her that it was nice talking to someone who didn't judge him. As he opens the door to let her out, she closes it and they share a kiss.
Peter tells Ian that Lauren thinks that Max could be lying about seeing Jake and Lucy together on Good Friday. Peter is adamant that they need to discover the truth but Ian explodes – telling Peter to 'stop banging on'; nothing is going to bring Lucy back. An uneasy Denise arrives back from Spain – much to Ian's pleasant surprise. Peter wants Lauren to call the number that she has for the cabbie who claimed he'd seen Lucy and later, Lauren heads to Joanna's café to meet Arsim Kelmendi – the driver.
He tells Lauren that he can't remember what he saw. When she pleads, he relents and tells her the man she was with was so drunk that he fell out of the cab. Lucy asked him to help her help him inside but he refused and drove away. Lauren offers to pay Arsim more if he can remember anything else. He offers to drive Lauren home and will see what he can remember. Peter is on the next table, overhears this and lets rip at him, suggesting that he may have lured Lucy in in the same way. Lauren reminds Peter that Arsim wouldn't be backing up Jake's story if he was guilty.
Dwelling on seeing Aleks hand Ronnie a package the previous day, Roxy heads to his flat. Aleks clocks her buzzing his door. Roxy scours Aleks' room for the package he was handing Ronnie, pretending to Tosh that she is looking for her keys. Aleks walks in on Roxy rifling through his drawers. He hands Roxy the envelope of money and admits that Ronnie was paying him to date her. Roxy is devastated and leaves the flat. Roxy goes to see Ronnie at the boxing gym – Ronnie insists that she was trying to make Roxy happy. Roxy is fuming; it was not Ronnie's choice to make. She firmly tells Ronnie to back off and storms out. Roxy heads round to Aleks', who maintains that he was trying to give Ronnie the money back – but Roxy says that she does not have time for lies.
Aleks confesses that he is surprised to have fallen in love with someone like her. Aleks and Roxy have a calmer chat. He admits that he is ashamed that he ever took Ronnie's money. When he tells her that he hopes the next man who falls in love with her will treat her right, she takes his hand and gives him a look of forgiveness. Later, post coital, Roxy gets ready to leave. As she goes, Aleks receives a Skype call. It is his daughter who tells him, 'mummy says you come home now? Does Aleks has a secret family away from Walford?...
Billy is nervous about his first shift at Beales' but Lola assures him that he's going to be great. Peter and Lauren reassure a worried Billy that they'll be over to the restaurant to help out later. Billy heads to Beales' to set up alone. Later, Ian enters the kitchen and sees a flustered Billy surrounded by burnt burgers. Billy runs to the Vic and finds Masood – Ian wants him to do a shift and Billy will give him free chips for a week if he does, to which Masood agrees.
Phil and Sharon are discussing Sharon's cocktail-making night at the Albert.
Phil suggests two guys for security on the door, Sharon initially agrees but rips up their business card as soon as Phil has gone, which he sees. Johnny enters the Albert and is surprised to see two tough-looking men helping themselves to drink, who turn out to be Phil's bouncers. Phil tells Sharon that he called the bouncers himself because she was busy. As he exits, Phil tells the men that they are his eyes and ears.
Tina tells Shirley that she and Tosh want to have a baby. Shirley attempts to make Tina see that it's just that Tosh has told her that is what she wants, but Tina claims she has her own mind. Tina is adamant that this is different from when she had Zsa Zsa and reminds Shirley that her relationship has nothing to do with her.
Last on
Credits
| Role | Contributor |
| --- | --- |
| Aleks Shirovs | Kristian Kiehling |
| Roxy Mitchell | Rita Simons |
| Fiona 'Tosh' Mackintosh | Rebecca Scroggs |
| Tina Carter | Luisa Bradshaw-White |
| Shirley Carter | Linda Henry |
| Masood Ahmed | Nitin Ganatra |
| Billy Mitchell | Perry Fenwick |
| DC Emma Summerhayes | Anna Acton |
| Ian Beale | Adam Woodyatt |
| Denise Fox | Diane Parish |
| Peter Beale | Ben Hardy |
| Lauren Branning | Jacqueline Jossa |
| Max Branning | Jake Wood |
| Ronnie Mitchell | Samantha Womack |
| Phil Mitchell | Steve McFadden |
| Sharon Rickman | Letitia Dean |
| Johnny Carter | Sam Strike |
| Arsim Kelmendi | Tomasz Aleksander |
| Gary | Gary Finan |
| Executive Producer | Dominic Treadwell-Collins |
| Director | Piotr Szkopiak |
| Writer | Carey Andrews |