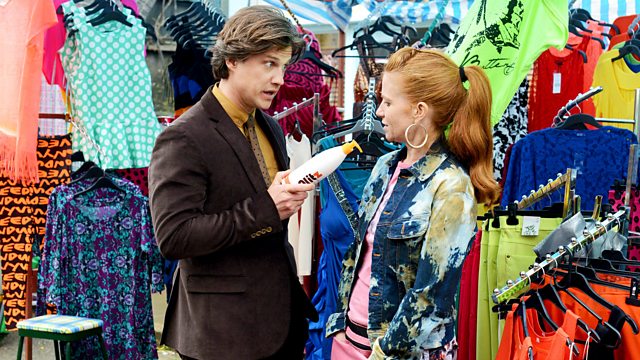 09/06/2014
Lauren and Peter are phoning cab companies in pursuit of anyone who might have seen Lucy on the night she died. Peter has to leave as he is late for work. He tells Lauren not to carry on without him – it isn't safe. Lauren promises that she won't. Abi asks Lauren what her and Peter were up too. When Lauren explains, Abi is confused as to how Lauren thinks finding the cab driver will help.
Lauren tells her that the driver will know whether Jake was too drunk to have killed Lucy or not. Lauren tells Abi that she went to visit Jake in prison and now she doesn't think that he is guilty. Cora arrives home and overhears the tail end of the girls' conversation. After Abi fills her in on what Lauren is up too, Cora visits Peter on his stall. She tells him that Lauren has gone, alone, on the hunt for the cab driver.
Peter agrees that it's wrong and later rings Lauren. She doesn't pick up and so he leaves her a voicemail stating that they should leave it to the police. When Lauren fails to answer her phone a second time, Peter reluctantly heads to Max's and informs him that Lauren is on her own, searching for the cab driver. Lauren arrives at the Vic much to Abi and Cora's relief. Max and Peter arrive at the Vic and are surprised to see Lauren. Max and Lauren argue.
He accuses her of going on the hunt for the cab driver as a way of getting Peter's attention. Max and Cora bicker over who Lauren should live with but Lauren insists she's not going anywhere and storms out of the pub. Later, at Cora's flat, Max tells Lauren that he saw Jake and Lucy together on Good Friday. If she wants a witness, she's got one...
Tosh arrives back at the flat from a night shift and deliberately makes conversation with Tina about Sonia. Roxy comes out of Aleks' room having stayed the night and Tosh snaps at her asking if she ever sees her daughter. Roxy is irked that Aleks doesn't stick up for her. Tosh heads to the café and lies to Sonia, telling her that Tina has told her about Sonia and Tina's kiss. Tina arrives at the café – oblivious to the conversation that has taken place. Sonia asks Tina whether she's told Tosh about their kiss and when Tina says she hasn't, Sonia tells her that Tosh knows.
A panicked Tina runs out of the café, after Tosh. Tosh tells Tina that she overheard Sonia and Bianca in the Vic toilets talking about the kiss. Tina tells her that she was drunk and that Sonia was upset; they got confused. Tosh admits that she wanted to start a family with Tina – but now it doesn't matter.
Tosh packs Tina's bags and tells Tina that she has a family already and doesn't need her. Tina begs her to change her mind, telling her she loves her. Tosh gets angry at everything Tina has thrown away and shoves her into the doorframe.
Sonia tells Bianca that she is disappointed as it is her and Martin's anniversary today but that she has not seen him that morning. Bianca is concerned that Dot may have said something about Tina and Sonia's kiss, but Sonia reassures her that she hasn't. On the stall, Aleks catches Bianca flogging her fake tan. He tells her that he wants that rubbish off his market – now. When Bianca reminds him of Carol's illness, Aleks relents and allows Bianca to continue selling the fake tan; if he can have a 35% cut of the takings.
Aleks brings Roxy a necklace to apologise for not sticking up her in front of Tosh that morning. He also offers to take her out for dinner. Whilst there, he spots that she has bought some of the dodgy fake tan off of Bianca's stall. He removes it from the house without her seeing and chucks it in the bin outside.
Sharon takes a call – a delivery at the Albert has arrived early and so Phil is left alone with Dennis whilst she sorts it. Later, Phil arrives at the Albert to talk about her leaving him with Dennis, but she is too engrossed in making a work related phone call.
Lola tells Jay that she is worried that they are spending a lot of time together. Later, Jay approaches Peter on his stall and informs him that Lola is upset about him spending so much time with Lauren. Later, Lola tells Peter he can go back and see Lauren if he wants – but he reassures her that it's her who is his girlfriend.
Last on
Credits
| Role | Contributor |
| --- | --- |
| Lauren Branning | Jacqueline Jossa |
| Max Branning | Jake Wood |
| Peter Beale | Ben Hardy |
| Abi Branning | Lorna Fitzgerald |
| Cora Cross | Ann Mitchell |
| Jay Brown | James Borthwick |
| Lola Pearce | Danielle Harold |
| Billy Mitchell | Perry Fenwick |
| Phil Mitchell | Steve McFadden |
| Sharon Rickman | Letitia Dean |
| Roxy Mitchell | Rita Simons |
| Aleks Shirovs | Kristian Kiehling |
| Tina Carter | Luisa Bradshaw-White |
| Fiona 'Tosh' Mackintosh | Rebecca Scroggs |
| Sonia Fowler | Natalie Cassidy |
| Bianca Butcher | Patsy Palmer |
| Dennis Rickman | Harry Hickles |
| Executive Producer | Dominic Treadwell-Collins |
| Director | Piotr Szkopiak |
| Writer | Anya Reiss |