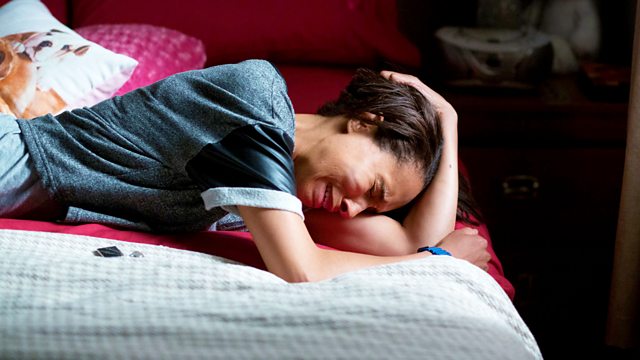 10/06/2014
Lauren questions Max about why he hasn't gone to the police as a witness previously about seeing Lucy and Jake together on Good Friday. Max tells her that not only did he see Jake and Lucy together on the night she died; but that he saw them getting out of the cab and Jake was sober.
Lauren threatens to call the police but Abi stops her, saying it'll look bad on Max, as he has waited so long to speak up. Cora firmly asks Max to leave. Abi tells Lauren that if she rings the police on Max, she will never speak to her again or forgive her. After Lauren leaves the house, Abi finds her at the café. Lauren questions why Jake would lie about being drunk. Abi points out that it's the only reason that Lauren thinks he's innocent.
Lauren finds Cora in the Vic and tells her she is going to tell the police about what Max said he saw. Cora warns her that doing so could leave Max in a cell. Lauren takes a call while she is at work and is given the number of someone who says that they saw Lucy on the night she died. Abi is in Max's house washing up. He asks how her exam went – she tells him she couldn't concentrate. Max asks Abi to come home but she tells him to leave it.
Abi's concerned when she discovers that Lucy hit her head in the car lot office and bled. She heads there with Max to help clean it up – she doesn't want him taking any chances. Cora sees what is going on through the Car Lot window. Later, Cora rings the police and tells them that she has new information for them…
Tina sits forlornly in the kitchen nursing her cut from where Tosh pushed her. After chucking Tina some frozen peas to use on her face, Tosh runs into the bedroom and breaks down in tears. Tina hovers outside the door and tries to apologise. When she doesn't get a response, Tina knocks on the bedroom door and tells Tosh that she wants to take her out to Beales' that evening. In the Vic, Stan sees the cut on Tina's head and questions it.
Tina swears it was just a fall but Stan doesn't buy it and knows exactly what Tosh has done. Later, Stan sees Tosh in the Vic and approaches her. She tells him that Tina's cut was an accident. Bianca asks Sonia what she and Martin are doing for their ten year anniversary. Sonia tells her that they are off to Beales' and Bianca tells Sonia to come over later - she will make her look a million dollars. Bianca does Sonia's make up at the Butchers'. Sonia is nervous and hopes that it won't be awkward with Martin.
Sonia sits alone in Beales', waiting for Martin. Lauren tells her that there are delays on the tube – Sonia tries to convince herself that this is why he hasn't turned up yet. She is seated near Tina and Tosh and on seeing Tosh in a mood she calls over and apologises. Tosh angrily leaves and Tina goes to sit with Sonia. Tina acknowledges that Martin has stood Sonia up. Tina suggests they go for a drink while Tosh calms down. Sonia instead tells Tina to tell Tosh that the kiss meant nothing and to tell her how much she means to her.
Tina returns home to Tosh and tells her that she does want a family too. Tosh forgives her. Sonia returns to the Butchers' and confides in her that Martin didn't show up. Bianca tells her that she deserves better.
Aleks and Roxy are dining in Beales'. Roxy's fake tan that she purchased from Bianca's stall starts to develop – it is bright orange. Roxy can tell that Aleks is looking at her strangely and so heads to the toilets to see what's wrong. Roxy is fuming – shouldn't Aleks be stopping dodgy produce on the stall? Aleks deliberately spills some water on his trousers so that he can be embarrassed too, before the two of them leave for home.
Sharon apologises to Phil for landing Dennis on him and for letting the bar take over their relationship. She tells Phil she can get Johnny to cover for her at the bar that night, so that they can spend the evening together. Phil walks in on Sharon cooking dinner for them. Shortly after, Sharon's phone persistently rings. When she sees its Johnny calling, she answers. She has to disappear to the Albert to deal with a large booking. On her return, much to her disappointment, Phil has left.
Last on
Credits
| Role | Contributor |
| --- | --- |
| Cora Cross | Ann Mitchell |
| Abi Branning | Lorna Fitzgerald |
| Max Branning | Jake Wood |
| Lauren Branning | Jacqueline Jossa |
| Roxy Mitchell | Rita Simons |
| Aleks Shirovs | Kristian Kiehling |
| Fiona 'Tosh' Mackintosh | Rebecca Scroggs |
| Tina Carter | Luisa Bradshaw-White |
| Sonia Fowler | Natalie Cassidy |
| Bianca Butcher | Patsy Palmer |
| Stan Carter | Timothy West |
| Phil Mitchell | Steve McFadden |
| Sharon Rickman | Letitia Dean |
| Executive Producer | Dominic Treadwell-Collins |
| Director | Piotr Szkopiak |
| Writer | Anya Reiss |