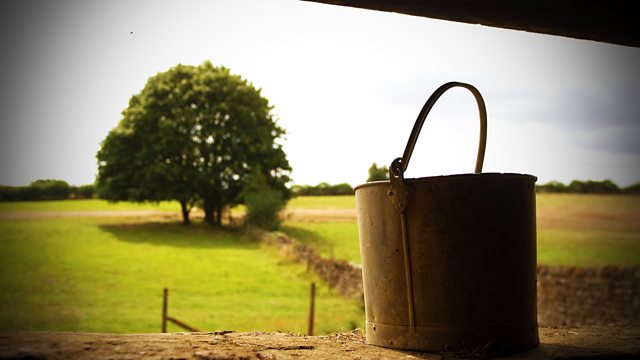 20/06/2014
Ruth's busy trimming a cow's hoof. She and David worry about Peggy's reaction to the loss of her cat Ben. David suggests a 'bring-your-own' barbecue for the Midsummer Eve bonfire on Lakey Hill. He will ask Kenton if they can borrow the Bull's portable grill. They've plenty of wood to make a fire.
David takes Ruth to the Bull for a birthday drink. They are appalled that Charlie Thomas is not only there but actually forces them into a conversation. Charlie says he understands their concerns about the road scheme. He holds no brief for it - he's a farmer himself. But he thinks they are missing wonderful opportunities.
Compensation could give them a chance for major investment. But Charlie's words have the opposite effect. David and Ruth determine to carry on the fight.
At Greenbury Fields, Elizabeth and Roy are full of ideas for Loxfest. But they agree to forget about work and have some fun. With the atmosphere and a few ciders kicking in, Elizabeth loses her inhibitions and enjoys some wild dancing and laughter with Roy.
Returning to the campsite, Elizabeth stumbles over a guy rope. Roy catches her, and it becomes a passionate kiss. As Elizabeth makes her way to bed, Roy points out that she's crawling into his tent. Elizabeth knows.
Last on
Credits
| Role | Contributor |
| --- | --- |
| Writer | Keri Davies |
| Director | Julie Beckett |
| Editor | Sean O'Connor |
| Jill Archer | Patricia Greene |
| David Archer | Tim Bentinck |
| Ruth Archer | Felicity Finch |
| Ben Archer | Thomas Lester |
| Tony Archer | David Troughton |
| Pat Archer | Patricia Gallimore |
| Helen Archer | Louiza Patikas |
| Brian Aldridge | Charles Collingwood |
| Jennifer Aldridge | Angela Piper |
| Lilian Bellamy | Sunny Ormonde |
| Matt Crawford | Kim Durham |
| Ed Grundy | Barry Farrimond |
| Alistair Lloyd | Michael Lumsden |
| Adam Macy | Andrew Wincott |
| Jazzer McCreary | Ryan Kelly |
| Elizabeth Pargetter | Alison Dowling |
| Freddie Pargetter | Jack Firth |
| Fallon Rogers | Joanna Van Kampen |
| Rob Titchener | Timothy Watson |
| Roy Tucker | Ian Pepperell |
| Hayley Tucker | Lorraine Coady |
| Peggy Woolley | June Spencer |
| Charlie Thomas | Felix Scott |
| Harrison Burns | James Cartwright |
| Annabelle Schrivener | Julia Hills |
| Buddy | Gavin Brocker |