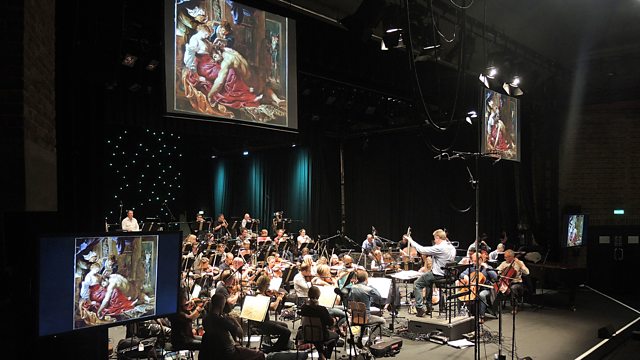 Pictures at an Exhibition
A unique Friday Night Is Music Night, tying in with the National Gallery's exhibition, 'Making Colour' Presented by Ken Bruce.
In tonight's concert, the sixty piece BBC Concert Orchestra and star singers, conducted by Stephen Bell present their own 'Pictures at an Exhibition' with the National Gallery.
Listeners will be able to see the pictures via the Friday Night Is Music Night page on the Radio 2 website at the same time as the audience see them in the concert hall. Among the works we'll hear tonight, Mussorgsky's 'Pictures At An Exhibition', Dvorak's 'Song of the Moon, Offenbach's 'La Vie Parissiene', Delius 'Summer Evening', Puccini's 'O Soave Fanciulla' from La Boheme ... And among the pictures:- Monet's 'The Water Lily Pond', Pissarro's Montmartre at Night, Turner's 'The Fighting Temeraire', Rubens ' Samson and Delilah' and Van Gogh's 'Sunflowers' ... Classic music and the greatest paintings from the world's most famous artists. All part of Radio 2's 'Colour Season'' which was originally broadcast in June.
Last on
see the paintings that formed Friday Night is Music Nights special celebration of art
See the paintings inspiring Friday Night is Music Night's 'Pictures at an Exhibition'.