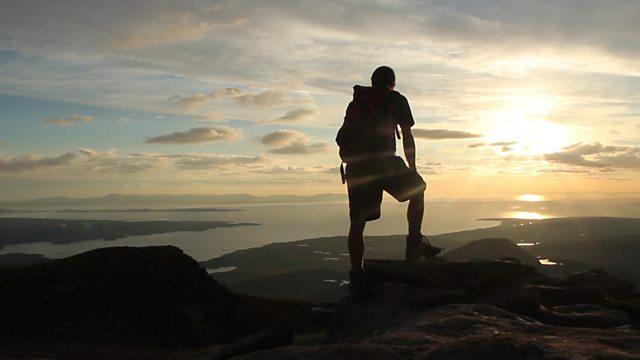 Dha mòran a tha a' dìreadh beanntan ainmeil Rothaich na h-Alba - 's e a bhith gan dìreadh air fad amas air am biodh iad a' miannachadh fad am beatha. Dha cuid ge-tà tha sin caran furasta. Chuir Caoimhinn Woods à Glaschu a tha bliadhn' thar fhichead dùbhlan Rothaich sònraichte roimhe fhèin san t-Samhradh 2013 - na Rothaich uile a dhìreadh - sin 282 beinn - taobh a-staigh 100 là.
Many people who climb Scotland's iconic Munro mountains aim to bag them all over their lifetime. 21 year old Kevin Woods from Glasgow took the challenge to another level in the Summer of 2013 as he set out to climb all 282 mountains in 100 days, and Trusadh followed him on this remarkable journey.
From the snow covered remnants of a landscape that had been battered by a hard winter, and the wind and rain of early summer, to exhausting mid summer heat, it wasn't without its difficulties. The journey over these famous mountains saw Kevin travel over rugged, steep peaks and remote plains and through truly stunning scenery.
A trip of highs and lows as he travelled the length and breadth of Scotland in his attempt to complete this extraordinary feat. Munros legend, Hamish Brown, who was the first person to complete the Munros in a single round in 1974, gives his take on Kevin's endeavours, and we also hear from fellow climbers and Munro enthusiasts.
Trusadh: Two-Eight-Two - the story of a remarkable personal challenge in a stunning yet brutal landscape.
Last on