Campaigning against hate crime; The Amber Trust
Siobhan Meade was the subject of several incidents of hate crime as a result of her blindness and decided to set up her own 'Respect' campaign to raise awareness of a crime which is on the increase.
The Amber Trust was founded by Adam Ockelford almost 20 years ago to help fund and support blind and partially-sighted children with their musical aspirations and talents, inspired by savant Derek Paravicini, who is now a celebrated pianist.
One of the current beneficiaries of the fund is 13 year old Anna Foo, who plays the flute and piano. Anna and her mother Laura tell Peter White about the problem of acquiring Braille music and also teachers who are prepared to teach a pupil who is unable to read print manuscripts.
Last on
Anna Foo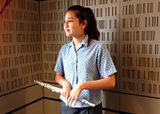 13 year old Anna Foo talks about her love of music & the problem she faces acquiring Brailled manuscripts to play.