Radical Bookshops, Philip Hensher
Philip Hensher's novel The Emperor Waltz draws together stories about a man who founds the first gay bookshop in London, a young painter who joins the Bauhaus and a woman fascinated by a Roman cult. He joins Matthew Sweet in the Free Thinking studio. Radical bookshops are also discussed by the poets Linton Kwesi Johnson and Anthony Joseph and the co-founder of New Beacon Sarah White.
New Generation Thinker Daisy Hay looks at the Victorian practice of keeping hair as a personal memento.
The Sheffield documentary festival has just premiered a film called "Peter De Rome Grandfather of Gay Porn - Matthew Sweet has been to meet him.
John La Rose's New Beacon project was the focal point of a black radical publishing industry that emerged in the UK in the late sixties. Its aim was to give a platform and voice to a post-independence generation of Caribbean writers whilst nurturing homegrown work by Britain's growing black population. As the Black Cultural Archives settles into its own home in Brixton and The George Padmore Institute makes New Beacon's archive available, Matthew Sweet asks if this period is now consigned to history or are such small, vibrant, personality led spaces as important as ever for diversity and the enrichment of the literary voice?
Producer: Jacqueline Smith.
Last on
New Beacon Books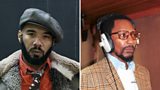 George Padmore Institute has published online Dr. Ruth Bush's research into New Beacon Books which can be viewed here: New Beacon Books - the pioneering years
Image above: Book launch for The Poetry of Nicolas Guillen in the New Beacon Bookshop, March 1976. © Julian Stapleton (New Beacon archives. 
You can find out more about Anthony Joseph on his official website.
You can find out more about Linton Kwesi Johnson on his official website. 
Images: Left: Anthony Joseph  © Anthony Joseph / Bonuggy.  Right: Linton Kwesi Johnson recording A Caribbean Evening for BBC Radio 3 © BBC.  
Philip Hensher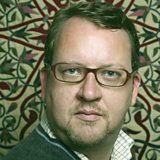 The Emperor Waltz by Philip Hensher is available in hardback and ebook from the 3 July 2014. 
Photo: © Eamonn McCabe 
New Generation Thinkers 2014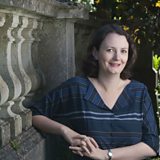 Credits
| Role | Contributor |
| --- | --- |
| Presenter | Matthew Sweet |
| Interviewed Guest | Philip Hensher |
| Interviewed Guest | Daisy Hay |
| Interviewed Guest | Linton Kwesi Johnson |
| Interviewed Guest | Anthony Joseph |
| Interviewed Guest | Sarah White |
| Interviewed Guest | Peter de Rome |
| Producer | Jacqueline Smith |
CLICK to LISTEN & SEE all programmes from the Free Thinking Festival 2018: The One and the Many
CLICK to LISTEN & SEE all programmes, images, clips & features from 2017's festival