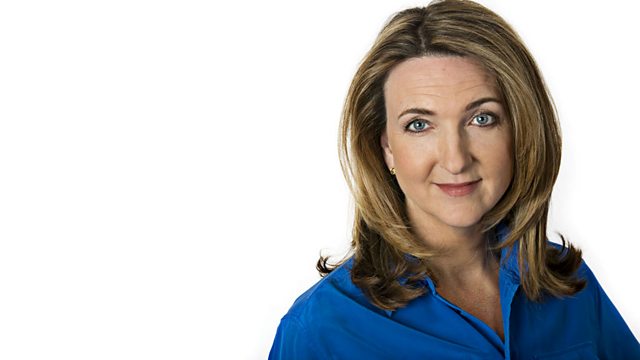 10/06/2014
Throughout the programme, we pay tribute to "Rachel" - a friend of this programme, and an alcoholic in recovery. Rachel died several weeks ago. Her family wanted time to grieve privately but have now given us permission to share what happened. Before Easter, she began drinking again, briefly, before stopping. Just under 48 hours later, 'Rachel' died in her sleep. We hear moving stories from our callers who were inspired to stop drinking after listening to Rachel's story. Plus we hear from the father of a British boy who has finally escaped the civil war in Syria.
Last on
Supporting Organisations
Drinkline is the National Alcohol helpline. If you're worried about your own or someone else's drinking, you can call the free helpline in complete confidence. They can put you in touch with your local alcohol advice centre for help and support.
Helpline: 0300 123 1110
Alcoholics Anonymous
If you seem to be having trouble with your drinking, or if your drinking has reached the point of where it worries you, you may be interested to know something about Alcoholics Anonymous and the A.A. programme of recovery from alcoholism. The only requirement for membership is a desire to stop drinking.
National Helpline: 0845 7697 555
www.alcoholics-anonymous.org.uk
Drinkaware provides consumers with information to make informed decisions about the effects of alcohol on their lives and lifestyles. The charity aims to reduce alcohol misuse and minimise alcohol-related harm in the UK.  The website includes information about alcohol units, how alcohol affects us, drink driving and the legal alcohol limit, advice on how to cut down and much more.
FRANK provides a confidential, free service to anyone wanting information,  advice or support about any aspect of drugs.
Helpline: 0300 123 6600
Minicom: 0300 123 1099
Text a question: 82111
Online chat facility (available between 2-6pm throughout the week)
Addaction is one of the UK's leading drug and alcohol treatment charities. It has services throughout England and Scotland, that help people (and their families) recover from addiction and substance misuse problems. The charity has services for both adults and young people.
Their website allows you to search for a service that best fits your needs in a location near you.
Service finder
http://www.addaction.org.uk/service-finder.asp?section=98&sectionTitle=Service+finder
Action on Addiction works across the addiction field in treatment and rehabilitation, research, prevention, support for families and children, professional workforce development and professional education. They offer support for anyone struggling with addiction to alcohol and drugs (including prescription drugs), and their loved ones.  They can also offer support for other addictions, such as gambling.
Helpline: 0300 330 0659 (weekdays 9am-5pm)
GamCare
If you are concerned about your gambling, or the gambling of friends or family you can contact the national problem gambling charity GamCare for confidential support, advice and free counselling.
Helpline: 0808 8020 133
Big Deal – information and advice for young people
Gam-Anon is a fellowship of men and women who are husbands, wives, relatives or close friends who have been affected by someone else's gambling. If you are seeking a solution for living with this problem, Gam-Anon meetings can offer you a new way of life.
Phoenix Futures provides support for people with substance misuse problems in community, prison and residential services across Scotland and England. Get in touch by phone or visit them online to find a service in your area
Phone: 020 7234 9778
Al-Anon Family Groups provide support to anyone whose life is, or has been, affected by someone else's drinking, regardless of whether that person is still drinking or not. They believe alcoholism affects the whole family, not just the drinker. They hold regular meetings where members share their own experience of living with alcoholism. Al-Anon does not offer advice or counselling, but members give each other understanding, strength and hope.
Confidential Helplines (10am-10pm)
England, Scotland & Wales: 020 7403 0888
Northern Ireland: 02890 68 2368
Republic of Ireland: 01 873 2699.
Alateen is part of Al-Anon, and is for teenage (12-17) relatives and friends of alcoholics. For information about Alateen meetings phone the General Service Office on 020 7407 0215
http://www.al-anonuk.org.uk/alateen
Nacoa (The National Association for Children of Alcoholics) is a charity that supports the needs of children growing up in families where one or both parents suffer from alcoholism or a similar addictive problem. Whatever your age, if you've been affected by a parent's drinking and would like talk to someone, call the helpline or get in touch by email.
Helpline: 0800 358 3456
Email: helpline@Nacoa.org.uk  
Adfam works to improve the quality of life for families affected by drug and alcohol use. They provide a range of support options especially for the families of drug and alcohol users, including local support group across the UK.
General enquiries: 020 7553 7640 (please note Adfam does not operate a helpline)
COAP, Children Of Addicted Parents And People is an online charity with a peer led online support network for young people affected by someone else's drug misuse, alcohol misuse or addiction to some form of behaviour such as gambling. COAP provides a place for young people to share their experiences, support each other and to receive support from mentors who live with or have lived with someone else's addiction.
The Wales Drug And Alcohol Helpline is a free and bilingual telephone drugs helpline providing a single point of contact for anyone in Wales wanting further information or help relating to drugs or alcohol.  The helpline will assist individuals, their families, carers, and support workers within the drug and alcohol field to access appropriate local and regional services.
Helpline: 0808 808 2234 (24hrs 7 days a week)
Alcohol Focus Scotland is Scotland's national charity working to reduce the harm caused by alcohol. Their website includes information about low risk limits for alcohol consumption, how to recognise problem drinking and how to help someone with a drink problem, as well as details of local and national support organisations.
www.alcohol-focus-scotland.org.uk
ASCERT is a charity in Northern Ireland providing support services to young people, adults and families who are affected by drugs or alcohol. Phone: 028 9260 4422
AddictionNI has been working since 1978 to provide support and treatment to people affected by alcohol or drug addiction. They provide tailor-made treatment programmes for people with drug or alcohol problems, delivered in community settings. They also give confidential support for people affected by someone else's drinking or drug use.
Phone: 02890 664434
FASA – The Forum for Action on Substance Abuse & Suicide Awareness provides a range of services in Northern Ireland aimed at helping those impacted directly or indirectly by substance misuse, poor mental health, suicide or self-harm. To access FASA services you can be referred by other agencies, health professionals or alternatively you can make a self-referral
Phone: 028 90803040
Scottish Families Affected by Alcohol & Drugs provides information and support to anyone who is concerned about someone they care about who is misusing alcohol or drugs. They can provide information on local services including family support groups, or simply listen if you need to talk.
Helpline: 08080 10 10 11
Email: helpline@sfad.org.uk