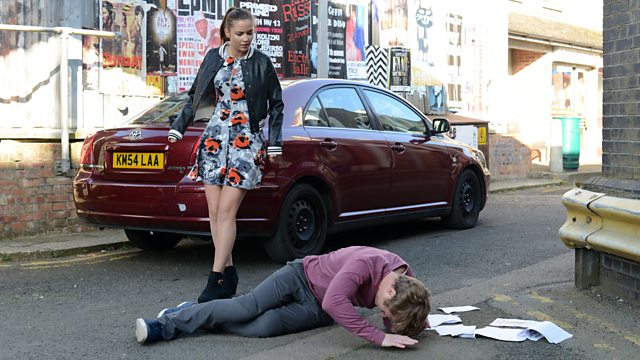 06/06/2014
After an uncomfortable night sharing a bed with Dean, Tina cooks Tosh an apology breakfast. Tosh's cold with Tina and storms off to the gym – she missed her station winning the 'Team of the Year' award at the ball last night. Linda plans to unveil her new Queen Vic sign this afternoon. Mick's anxious that the sign's cost £500 and urges Tina and Shirley to spread the word about the unveiling.
Tina heads off, a plan forming. She recruits Dean's help and he reluctantly heads to the gym; Tosh's unimpressed to see him. Dean tells Tosh she's a bully, while discreetly swiping her phone. Tina picks up Tosh's dress from the Launderette and invites Sonia to the Vic later. Later, Tosh accuses Tina of taking her phone and Tina hints she should come to the Vic. Outside the pub, a furious Tosh arrives as Mick and Linda unveil the new Vic sign – Linda gasps in horror to see an image of Tosh's face has been stuck over Queen Victoria's.
Tosh bursts out laughing and hugs Tina. Tina promises to put Tosh first from now on and Tosh's delighted when her workmates enter the Vic with their award. Sonia watches Tina and Tosh, wistful. Bianca confronts her in the Vic toilets, suspicious that she's upset about Tina. Sonia insists their kiss was just a one off. She's horrified when Dot comes out of a toilet cubicle. Dot chastises Sonia for risking her marriage and bustles out. Bianca tries to assure Sonia Dot won't tell anyone. Meanwhile, closeted in a toilet cubicle, Tosh seethes - she's heard everything.
Jay and Lola have been ringing Billy all night with no answer. Phil's confident Billy won't have gone far. On the market, Roxy teases Aleks with new skimpy knickers. Lola's horrified when Honey arrives early and wildly lies that she has a surprise for her at Phil's house. They walk in on half-dressed Roxy and Aleks. Phil discovers his car's missing from the Arches and traces Billy, William and Janet to a hotel room, smirking that there's a tracker on the car.
Roxy, Lola and Aleks try to stall Honey. Phil's amused when Janet tells him Billy was taking the kids to stay on Gary's boat – Billy can't swim! Phil convinces Billy to see sense – Honey could involve the police and he might never see the kids again. Back on the Square, Billy swears the kids to secrecy. Meanwhile, Honey confesses she's considering leaving Janet in Walford - it wouldn't be fair to uproot her.
Aleks commends Honey on such a noble gesture. Billy returns with the kids, and Honey fills Billy in on her plan. He's delighted, but then William blabs that Billy wanted them to live on a boat. Billy apologises profusely, but just wants to be there for his kids. Honey knows Billy nearly did a stupid thing, but he put the kids first and came back. Aleks presents Honey with a tablet so she can talk to Janet every day. Honey bids Janet and Billy goodbye - she's glad she had her babies with him. Honey and Billy share an awkward kiss, and the taxi pulls away, leaving Janet and Billy waving.
Terry arrives back from a night shift with Peter in his taxi, having found him hanging around unlicensed taxis handing out flyers about Lucy. Peter calls on Lauren – he needs her help. Lauren apologises about Max and Lucy. Peter begs Lauren to visit Jake, desperate to know if he's telling the truth. At the prison, Jake gives Lauren a frosty reception and wonders why she's here if she's certain he's guilty.
Lauren claims she's here for Peter's sake. Jake demands she look him in the eyes and tell him she thinks he did it, but Lauren can't. Outside the tube station, Peter gets in an argument with a taxi driver and cuts his head. Lauren has to admit she's not sure if Jake's guilty. Peter determines to continue his search for the taxi driver and Lauren agrees to help
Carol gives Sonia a letter from her oncologist to take to her work disciplinary hearing. Bianca receives a delivery of gear from Alfie's contact. Carol overhears her with Alfie and misunderstands, worrying that it's drugs - but it's fake tan. Sonia's let off with a warning from her disciplinary hearing. Bianca gets a text message about a loan repayment due on June 14th.
Last on
Credits
| Role | Contributor |
| --- | --- |
| Fiona 'Tosh' Mackintosh | Rebecca Scroggs |
| Tina Carter | Luisa Bradshaw-White |
| Sonia Fowler | Natalie Cassidy |
| Bianca Butcher | Patsy Palmer |
| Carol Jackson | Lindsey Coulson |
| Terry Spraggan | Terry Alderton |
| Alfie Moon | Shane Richie |
| Billy Mitchell | Perry Fenwick |
| Phil Mitchell | Steve McFadden |
| Shirley Carter | Linda Henry |
| Mick Carter | Danny Dyer |
| Linda Carter | Kellie Bright |
| Dean Wicks | Matt Di Angelo |
| Aleks Shirovs | Kristian Kiehling |
| Roxy Mitchell | Rita Simons |
| Jake Stone | Jamie Lomas |
| Jay Brown | Jamie Borthwick |
| Lola Pearce | Danielle Harold |
| Peter Beale | Ben Hardy |
| Lauren Branning | Jacqueline Jossa |
| Dot Branning | June Brown |
| Executive Producer | Dominic Treadwell-Collins |
| Director | Sophie Lifschutz |
| Writer | Lynne Dallow |