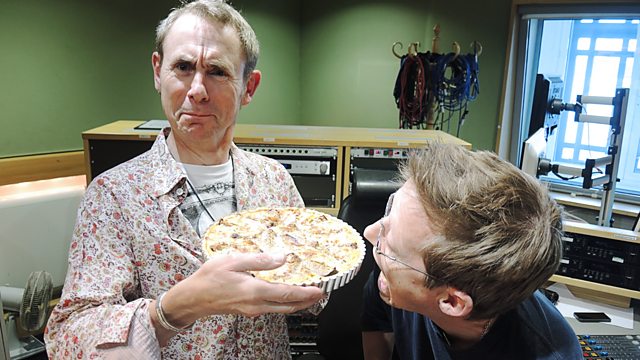 Another Foodie Thursday with Nigel Barden
Resident Chef Nigel Barden dished up a delicious Fig and Serrano Ham Tart! Laura Weir, fashion journalist with the Sunday Times, transported us back to the sixties talking about flares and Afghan coats whilst today's Confession involved a Bad Dad's Bilious Blooper. Rebecca spoke to Christian Schulz, European Economist at the Germany Bank Berenberg about the ECB decision to lower interest rates into negative territory and the RAC's Simon Williams about reducing diesel prices. Matt's big sporting guest was TT motorcycling legend Philip McAllen and Sally Traffic kept us updated with all the latest Travel News.
Last on
Fig and Serrano Ham Tart
Fig & Serrano Ham Tart
By Lindsey Bareham from The Trifle Bowl (Bantam Press)
It's hard to beat the time-honoured match of perfectly ripe figs with Parma or Serrano ham.  This sublime combination of honeyed, juicy fruit with sheets of even pinker soft, salty ham was the inspiration for this tart. The creamy filling is flavoured with Parmesan & the surface is dredged with more cheese that cooks to a thin golden crust.  Perfect for any occasion.
Serves 4-6
Prep: 30 min
Cook: 35 min
Ingredients
For the pastry:
200g plain flour plus a little extra
50g lard
75g butter plus a little extra
3-6 tbsp ice-cold water
For the filling
3 large eggs
250ml soured cream
75g grated Parmesan
280g ripe figs
7 slices of Serrano ham
Method
1.Heat the oven to a 200C/gas mark 6.  Sift the flour into a mixing bowl.
2.Cut the fat in chunks directly into the flour.  Rub the fat into the flour with your fingertips until it resembles breadcrumbs.
3.Add 3 tbsps of cold water & quickly work into the flour, adding more water if necessary, so you can form a soft ball.  Cover & chill for 30 mins.
4.Rub the extra knob of butter over a 23cm flan tin with removable base.  
5.Dust with flour, rolling the tin round in your hands to completely cover.  Tip out any excess flour.  This, incidentally, makes it non-stick.
6.Roll out the pastry to fit, pressing it down gently into the base edges.
7.Leave a decent overhang in case of shrinkage.  Place on a baking sheet & loosely cover with foil.
8.Cover the base with baking beans, or rice (to stop the pastry rising) & bake for 10 mins.  
9.Remove the foil & cook for a further 10 mins, until light golden.
10.Whisk the eggs in a mixing bowl, then stir in the cream & 50g of grated Parmesan.  
11.Quarter the figs lengthways.  Arrange the figs in the pastry case.  
12.Tear the ham into 5 or 6 pieces a sheet & drape between the figs.  
13.Season lightly with salt & pepper & pour over the egg custard.  Sprinkle the remaining cheese over the top.  
14.Bake for 25-35 mins, until the custard is almost set & the Parmesan is crusty & golden.  
15.Use a knife to cut away excess pastry, then stand on a tin to remove the collar.  
16.Slip onto a plate & serve hot, warm or cold.
Nigel's Top Tip
You can buy a ready-made, butter rich short-crust pastry.
Today's Most Popular Tracks
Most added tracks from this show