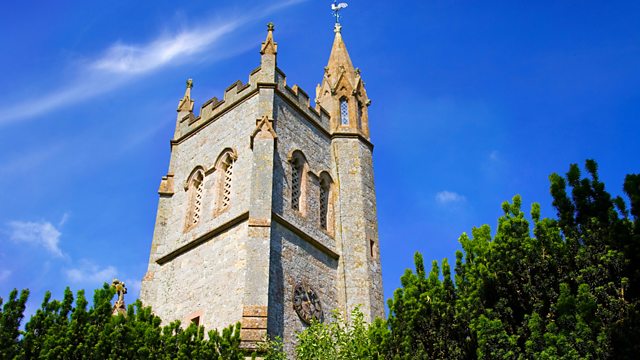 Panning for Gold
Adrian and Bridget Plass lead a service from Scargill House in the Yorkshire Dales examining ways of identifying the true gold of Christian experience. With the singing group Celeste, the Revd Phil Stone (Director of Scargill), Anna Weister Andersson and other members of the Scargill Community. The music is directed by Andreas Andersson and Simon Lole. Producer: Stephen Shipley.
Last on
Scargill House 01/06/2014
Please note:

This script cannot exactly reflect the transmission, as it was prepared before the service was broadcast. It may include editorial notes prepared by the producer, and minor spelling and other errors that were corrected before the radio broadcast.

It may contain gaps to be filled in at the time so that prayers may reflect the needs of the world, and changes may also be made at the last minute for timing reasons, or to reflect current events.
Music: Saxophone intro
Phil StoneA very warm welcome to Scargill House, a conference and holiday centre set in beautiful Wharfedale, a world of curlews and lambs and rather too many moles! It's my privilege and quite often my joy to lead the international community here.
Our first hymn is 'Jesus calls us here to meet him'
Music: Jesus calls us here to meet Him (Blaenwern)
Phil
: Here at Scargill we run a variety of programmes and retreats. This weekend is for writers, and its title 'Panning for Gold' is also the theme of our service this morning. I'm going to ask Adrian Plass, who's leading the programme with his wife Bridget, to explain what it's all about.
Adrian: Panning for gold involves placing a mix of materials into your gold pan and shaking it under water so that the gold, which is heavy, will work its way down to the bottom, while the lighter, worthless materials move up to the surface and can be swept away. Eventually, only the heaviest materials, gold and heaviest black sand are left. Using this process as a metaphor we have been using this weekend to explore the recording of individual spiritual journeys. A number of interesting questions have arisen. In terms of experiences, how do we differentiate between genuine and false gold? Are some gifts from God, the unsigned ones in particular,??difficult to recognise as real treasure? How much of our precious metal has kept its sparkle over the years? And in the darkest times, is it still possible to detect some reassuring, tiny specks of gold? Our service this morning picks up and explores some of these themes.
Bridget
: introduces 'Glimpses of Heaven'
Music: CELESTE – Be still for the presence of the Lord
Phil
: Many thanks to Celeste, five former cathedral choristers who came together as a singing group two (?) years ago and have joined us this morning.
We've chosen two very different readings today to show that the true gold of God comes in varied and sometimes quite alarming forms. In Matthew's Gospel we hear how Mary, the mother of Jesus, received a message from Simeon about her little son and his future that must have been very hard to hear. But they were true words from God. Genuine and valuable.
Steph
: Now there was a man in Jerusalem called Simeon, who was righteous and devout.He was waiting for the consolation of Israeland the Holy Spirit was on him.It had been revealed to him by the Holy Spirit that he would not die before he had seen the Lord's Messiah.Moved by the Spirit, he went into the temple courts. When the parents brought in the child Jesus to do for him what the custom of the Law required, Simeon took him in his arms and praised God, saying:
"Sovereign Lord, as you have promised,
you may now dismiss your servant in peace.
For my eyes have seen your salvation,
which you have prepared in the sight of all nations:
a light for revelation to the Gentiles,
and the glory of your people Israel."
The child's father and mother marvelled at what was said about him.Then Simeon blessed them and said to Mary, his mother:"This child is destined to cause the falling and rising of many in Israel, and to be a sign that will be spoken against, so that the thoughts of many hearts will be revealed. And a sword will pierce your own soul too."
Adrian:
It was always going to be tough for Mary. She must have known that from the very beginning. When she was still a teenager an angel turned up and announced to her, 'Mary, you are greatly blessed,' and immediately, the Bible says, 'she was deeply troubled.' So there we are. Greatly blessed and deeply troubled. The ongoing pattern for Mary, and for just about every other serious follower of Jesus who has ever lived. It was ever thus, and it will ever be so. And to anyone listening who is continually blessed and never troubled, can I just say, 'Congratulations - please stay away from me.'
So, here is Mary now, in the temple, carrying her little darling in her arms, and, as usual, the news from God, via the prophet Simeon this time, is sounding extravagantly good, and bewilderingly negative. Apparently, this tiny person is going to be a light for revelation to the Gentiles, and for glory to your people Israel. You don't get career guidance like that nowadays. Fantastic! Bring it on!
The other side of the prophetic coin? Oh, dear. Not so good. He's going to cause the falling and rising of many, he'll be a sign that will be spoken against, and a sword will pierce his mother's heart. What! He's just a little boy. Is he really going to cause all that havoc? And his poor mum! A sword. Heavy stuff. Where are we going to find the gold in that lot?
The answer, of course, is that the whole thing is pure gold. Simeon's prophecy is a timely reminder to nervous, comfortable western Christianity that coaxing people into believing that suffering, and tough obedience, and a serious determination to think right outside the religious box are not necessary components of Christian living, is a very bad idea indeed.
Every genuine communication from God, welcome or otherwise, has precisely the same value. We might be lucky, of course. The spectrum of the will of God definitely begins with a gin and tonic in the bath, but it ends with martyrdom. God being God, we might even be allowed a gin and tonic just before we set out for our martyrdom. But this is serious stuff, if that is, we really do want to follow Jesus. Everything - every single thing on that spectrum, nice or nasty, is completely acceptable to God, as long as we accept and are obedient to whatever it is he wants us to do. Wonderful. Scary. Valuable beyond measure. Pure gold.
Hymn:Blessed be your name
Phil
: Mary stored these things in her heart, a heart that was to be pierced, just as Simeon had predicted. But she was also to learn the staggering truth that her obedience was part of God's plan to save the world. In the second reading, brought to us by Bishop Chris Edmondson, Chair of our Trustees, we're told, through the parable of the Prodigal Son, that, because of Jesus, there are golden experiences promised by God to those who return home to him.
Bishop Chris:
When he came to his senses, he said, 'How many of my father's hired servants have food to spare, and here I am starving to death!
I will set out and go back to my father and say to him: Father, I have sinned against heaven and against you.I am no longer worthy to be called your son; make me like one of your hired servants.'
So he got up and went to his father.
But while he was still a long way off, his father saw him and was filled with compassion for him; he ran to his son, threw his arms around him and kissed him.
The son said to him, 'Father, I have sinned against heaven and against you. I am no longer worthy to be called your son.'
But the father said to his servants, 'Quick! Bring the best robe and put it on him. Put a ring on his finger and sandals on his feet. Bring the fattened calf and kill it. Let's have a feast and celebrate.For this son of mine was dead and is alive again; he was lost and is found.' So they began to celebrate.
Music: CELESTE – Abba, Father  Adrian
: Familiar Bible passages can be like pictures on our sitting room wall that become almost invisible because they are part of the background of our lives. Then a visitor says, 'Ooh, I love your picture!' and suddenly we remember why we bought it in the first place.
The Prodigal Son story illustrates God's promise of a twenty-four carat golden experience offered to all who make the journey home to a Father who passionately loves them. That's what the story is about. We know that. But perhaps it has been, as it were, 'hanging on the wall' for rather a long time.
It's become fashionable to look at this tale from the point of view of just about everybody except the two central characters. The elder brother, the servants who worked in the Father's house, a fly who happened to be sunbathing on a wall of the house when the younger son returned, and, of course, the fatted calf, the only one with anything to really complain about. Some even crossly claim that this story should actually be known as 'The parable of the failed father'.
I guess Jesus might say, 'Look, it's a parable - right? It's not a modern psychological novel or an episode of Eastenders. It's a parable about God being really, really excited about the people he loves coming home. Right? A parable! Got it?'
Okay, so if we do get back to the heart of this iconic story, here's a question. Why do many Christians speak so sadly about not knowing the love of God in their lives. Where's the ring? Where's the cloak? Where's the fatted calf? Where's the party? The answer? Well, a string of useless platitudes are available if you want to use them. The trouble is, they don't work.
I'd like to say just two things. First, I truly believe that this golden experience is available for everyone. Secondly, I know that many, many of us prodigals have been, as it were, ambushed on our way home to the Father, finding ourselves trapped in what we might call 'Mime churches', and it can happen in any denomination or style of churchmanship. The ring, the cloak, the party, all of these things happen in a metaphorical or ceremonial sense, but in our heart of hearts we know that they are without substance. Glittering falsehood. My advice? Move along up the road. Take a bit of a risk. Tell the Father you're on your way. Get excited. Go for gold.
Hymn: How deep the Father's love
 Phil: Speaking to God is at the very heart of everything we do here. I'd like to invite three members of our Community gathered from all over the world to pray for us now. After that we shall be joining together in the Lord's Prayer
Community Prayers – 3 biddings The Lord's Prayer (in different languages) Our Father, who art in heaven…..
Music: CELESTE – Be thou my vision
Adrian:
This morning we've been panning for gold, searching for shining flecks of evidence that God is present in our lives.
Bridget:
We've learned that the precious metal of God's love does not necessarily come to us in a form that is easily recognisable. Light and shade are both important aspects of the Christian walk, and we need to accept and understand the value of anything that God asks us to do.
Adrian:
We need to be wary of false gold, hollow religion that mimics the truth and leaves us without hope. Only the real thing will do.
Bridget:
The purest and most precious gift from our heavenly Father is his invitation to be with him forever, a gift that has been made possible by the death and resurrection of Jesus. This is the greatest treasure of all.
Music: ANNA
-
Never forget the love of Jesus
Phil:
Thanks so much to Anna Weister Andersson, a member of our community.?? When visitors leave Scargill we like to send them on their way with a blessing that is important to all who love this place taken from the Northumbria rhythm of prayer. We would like to offer that blessing now to each other, to our visitors, and of course to our listeners.
Community Blessing:
May the peace of the Lord Christ go with you wherever he may send you. May he guide you through the wilderness, protect you through the storm, may he bring you home rejoicing at the wonders he has shown you.
May he bring you home rejoicing once again into our doors.
Hymn: Great is thy faithfulnessSaxophone improvisation
Poem - A little bit of heaven
We asked our writers to think about a moment in their lives when they experienced a little bit of heaven and to contribute a line each for this poem.
It made me gasp, this glimpse of gold
Those mountain scapes of fold on fold
From shattered ridges to summit bare
Clothed in white and sunset flare
Precious images that move and hold
It made me gasp, this glimpse of gold
Joyful  gambolling of happy cows on soft grass
Partridge in the garden against the sunset
Throaty chuckle of a tickled child
Fresh shoots in spring
That knowing look between friends
It made me gasp this glimpse of gold
Mother, not knowing me for 10 years,
Dying says 'I love you'--
Watchful red kites hover,
Crimson poppies waft in  gentle breeze
I close my eyes ,expect a frown
I open them, she smiles
A well timed cuppa, in a chunky mug
It made me gasp this glimpse of gold
Tiny  plover family nesting on a shingle beach
The feel of a toddlers hand in mine
Dew on a spiders web
A twinkle of recognition in my old Dads eye
Two children born they said we couldn't have
A dream about a lion in the garden
It made me gasp this glimpse of gold
In my allotment, mud, planting with my grandaughter,
Emerging sunbeams transform Freshly rain soaked trees
Deafened by a blackbird with my new hearing aid
Rainbow above Tarn Hows - Wordsworth without words
A Seriously handicapped man decorates a mission hall
Eight thousand people draw in a breath-together
They made me gasp, these glimpses of pure gold