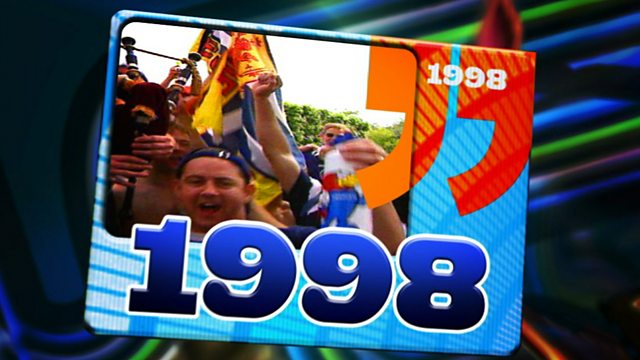 Sealladh air na sgeulachdan a bh' anns na naidheachdan ann an 1998 cuide ri taghadh de cheòl na bliadhna.
Am measg na thachair: sealladh air dreach togalach ùr Pàrlamaid na h-Alba, drochaid a' fosgladh eadar Sgalpaigh agus Na Hearadh agus sgioba ball-coise na h-Alba aig farpais Cuach na Cruinne anns an Fhraing. Am measg nan taghaidhean ciùil tha Dance the Night Away bho The Mavericks, Ray of Light bho Madonna agus Angels bho Robbie Williams.
Experience some of the stories hitting the headlines in 1998 through archive footage and the year's chart hits: the design for the Scottish Parliament building is unveiled, a bridge between Scalpay and Harris is opened and the Scottish football team head to the World Cup in France.
The year's chart hits include Dance the Night Away by The Mavericks, Ray of Light by Madonna and Angels by Robbie Williams.
Last on