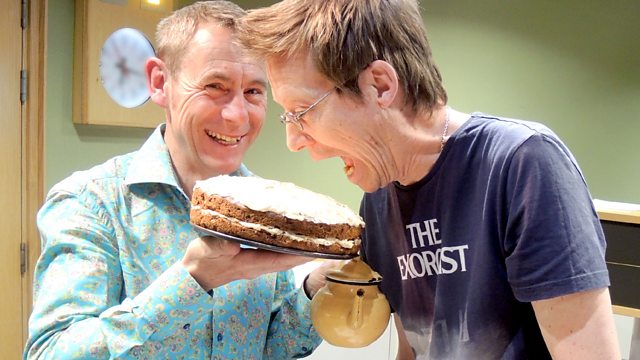 It's Foodie Thursday!
Nigel Barden dished up a delicious Apple and Olive Cake for Foodie Thursday- if you'd like to try out the recipe you can find it at the bottom of this page. Martin Hughes-Games of Springwatch gave the inside track on Slugs, there was a somewhat sweaty confession from a former student, Author and Astronomer David Whitehouse helped out with Homework Sucks and Matt's special sporting guest was football writer and broadcaster Ben Lyttleton. Rebecca was on the money and Sally Traffic gave all the latest travel updates.
Last on
Apple and Olive Oil Cake with Maple Icing
Apple & Olive Oil Cake with Maple Icing
by Yotam Ottolenghi & Sami Tamimi from 'Ottolenghi The Cookbook' (Ebury Press)
The olive oil gives this cake extra depth & intensity. The complex flavours mature over time, so consider wrapping the cake in cling film & refrigerating it, ready to ice & serve, for up to 3 days. Somewhat less festive (& less calorie laden), this is still very satisfying without the maple icing. Just dust lightly with icing sugar.
Serves 6-8
Prep time 45 mins
Cooking time 1½ hrs
Ingredients
80g sultanas
4 tbsp water
280g plain flour
½ tsp ground cinnamon
¼ tsp salt
½ tsp baking powder
1¼ tsp bicarbonate of soda
120ml olive oil
160g caster sugar
½ vanilla pod
2 free-range eggs, lightly beaten
3 Bramley apples, peeled, cored, & cut into 1cm dice
grated zest of 1 lemon
2 free-range egg whites
Icing sugar for dusting (optional)
Maple Icing:
100g unsalted butter, at room temperature
100g light muscovado sugar
85ml maple syrup
220g cream cheese, at room temperature
Method
 Grease a 20cm springform cake tin & line the base & sides with baking parchment. Place the sultanas & water in amedium saucepan & simmer over a low heat until all of the water has been absorbed. Leave to cool. Preheat the oven to 170°C / Gas Mark 3. Sift together the flour, cinnamon, salt, baking powder & bicarbonate of soda & set aside. Put the oil & sugar in the bowl of a free-standing electric mixer fitted with a paddle attachment (or use a whisk if you don't have a mixer). Slit the vanilla pod lengthways in half &, using a sharp knife, scrape the seeds out into the bowl. Beat the oil, sugar & vanilla together, then gradually add the eggs. The mix should be smooth & thick at this stage. Mix in the diced apples, sultanas & lemon zest, then lightly fold in the sifted dry ingredients. Whisk the egg whites in a clean bowl, either by hand or with a mixer, until they have a soft meringue consistency. Fold them into the batter in 2 additions, trying to lose as little air as possible.  Pour the batter into the lined tin, level it with a palette knife, & place in the oven. Bake for 1½ hrs, or until a skewer inserted into the centre comes out clean. Remove from the oven & leave to cool in the tin. Once the cake is completely cold, you can assemble it. Remove from the tin & use a large serrated knife to cut it in half horizontally. You should end up with 2 similar disks. If the cake is very domed, you might need to shave a bit off the top half to level it.  To make the icing, beat together the butter, muscovado sugar, & maple syrup until light & airy. You can do this by hand, or preferably, in a mixer, using the paddle attachment. Add the cream cheese & beat until the icing is totally smooth. Using a palette knife, spread a 1cm thick layer of icing over the bottom half of the cake. Carefully place the top half on it. Spoon the rest of the icing on top & use the palette knife to create a wave-like, or any other pattern. Dust it with icing sugar, if you like.
Nigel's Top Tip
Sami & Yotam love cooking with maple syrup, as it isn't as dominant as honey & doesn't need to dissolve like sugar, so can easily be mixed into cold sauces & dressing.  Hot pastry soaked with maple, smell & taste glorious straight out of the oven.