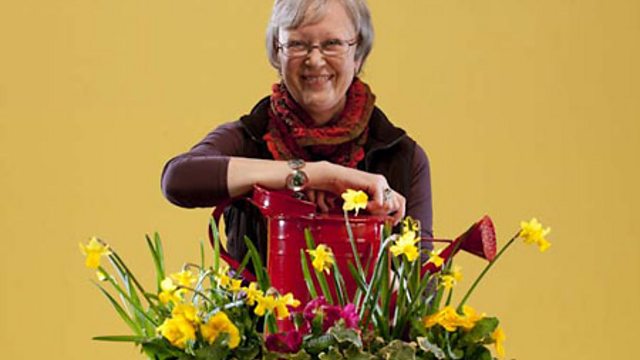 10/05/2014
Cherrie McIlwaine presents the weekly programme for keen gardeners with the latest advice, news and visits to gardens large and small around the province.
Last on
Cherrie's Notes
May truly is a magical month, isn't it?
As Klaus Laitenberger, one of the visiting speakers at this year's Garden Show Ireland put it, "in May everything wants to grow".
With Easter behind us and spring on the wane we are in that lovely optimistic place between seasons, as buds fatten and herbaceous plants seem to stretch and grow before our very eyes.
Spaces and places in borders where there was bare earth have all but disappeared, "magic-ed" away by soft canopies of perfect new leaves and the promise of flowers to come.
If you love plants, it is of course completely impossible to resist acquiring a few more at this time of the year.
Judging by the processions of plants making their way out of the grounds of Antrim Castle over the weekend, lots of people visiting the garden show felt the same way.
So good luck to you all at finding that perfect spot for your new peony, foxglove,  sweet-pea tower, geranium, bamboo, lavender, primula, rose or whatever lovely piece of creation has wormed it's way into your heart and your garden.
And if you acquired a coop for quails or a pen for goats, good luck to you too!
Alongside the growers were the experts with barrel loads of knowledge and ready answers for all manner of gardening questions and this year they included Helen Dillon, Bunny Guinness, Alys Fowler, Geoff Stebbings and Klaus Laitenberger.
The distinctive grounds of Antrim Castle with their own very particular horticultural heritage made the perfect setting for a celebration of plants and gardens and all around were stalls and marquees filled with the practical, the pretty, the handy and the magical.
The Growers Pavillion is always the beating heart of any garden show and it was packed with tantalising plants on display, while outside in the open the show gardens transformed the parkland and sent us all home with great ideas.
In the run up to the show for this week's programme, we met up with some of the designers and growers and also with Chris Hodkinson, chairman of The Friends of Antrim Castle Gardens, a group of volunteers who meet regularly to work in the courtyard gardens and who were looking after the plant creche.
They also care for a lovingly maintained vegetable garden and have plans to introduce some heritage varieties to the planting scheme.
It all looked neat as a pin in the harmonious formality of a well ordered vegetable garden, so I booked us in for a return visit sometime to meet the rest of the team and hear more about their plans for the future.
Till next time happy planting and good gardening.