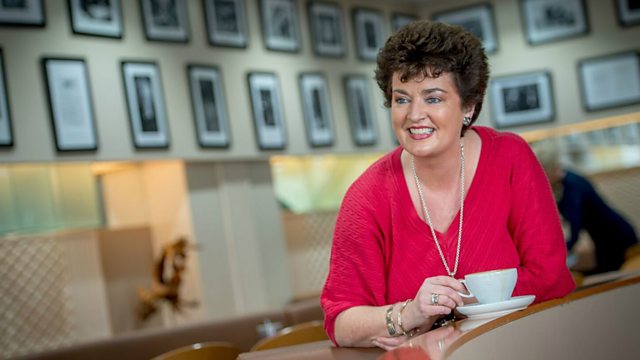 10/05/2014
Anne Marie McAleese with the people, places and stories that make Northern Ireland unique.
Last on
Giro D'Italia comes to Cushendall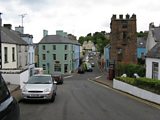 We're broadcasting live from the Curfew tower in the heart of the heart of the Antrim Glens, in the bustling coastal town of Cushendall. We'll be soaking up the atmosphere as the streets gear up for the Giro D'Italia, passing through the Antrim coast on Saturday afternoon. 
If you want to join the fun, there's a street party in Cushendall main street from 12pm. To keep an eye on the traffic situation visit http://trafficwatchni.com/giro
The Pink Horse of the North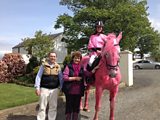 The Causeway coast is of course McDonnell country - from beyond the grave, ancient chieftain Sorley Boy McDonnell is granting safe passage to all the riders in the Giro with help from Danny McKinley of Sheans Horse Farm in Armoy and 40 of his horses, who graze at the foothills of Mount Orra. Anne Marie went to meet Bán the horse, painted pink in honour of the Giro, and hear Sorley Boy tales from Danny.
Lighting the way for cyclists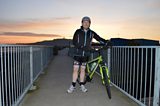 Naturally it would take a someone called McAleese to come up with an invention that might just revolutionise cycling! Originally from Newtownards, Philip McAleese lived in Singapore for years - and that's where he got the idea to invent a new type of bike light, called See Sense. He came back home to develop and launch his new invention, so Conor McKay went cycling with him on the coastal path, at the north end of Strangford lough, right under Scrabo Tower to hear the light story.
A bicycle made for two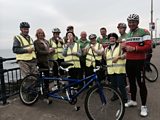 Tandems open a world of cycling wonder to the visually impaired, as Helen Mark discovered when she joined the Causeway Cycling Club and  members of the Blind and Partially Sighted Cycling Club, Coleraine. Blind and Partially sighted cyclists can join forces with a rider who is not visually impaired, and just being on a tandem makes for a fun experience in itself! 
For more information about the Coleraine Blind and Partially Sighted Tandem Cycling Club contact Raymond Thompson or Tina Campbell at the RNIB NI office at 37 Abbey Street, Coleraine on Tel: 028 7032 0333 – for general enquiries the RNIB head office is 028 9032 9373
Tales of the Glens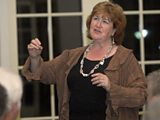 The nine Glens of Antrim are steeped in myth and legend, and full of stories too – so who better to spin a few yarns than storyteller Liz Weir, who lives in Ballyeamon – she'll be joining us live in Cushendall.
School Report on the Giro D'Italia
BBC school Report is also in town for the Giro, and we'll hear from teacher Christina O'Boyle from St Killian's College, and her students Matthew and Shauna. They'll be making a special report about the Giro as it comes to town, and they'll tell us what they're looking forward to most! Plus – can they name the nine Glens of Antrim?  
BBC News School Report gives 11-16 year-old students in the UK the chance to make their own news reports for a real audience. It is a collaborative project run by BBC News and BBC Learning.
Using lesson plans and materials from this website, and with support from BBC staff and partners, teachers help students develop their journalistic skills to become School Reporters.
bbc.co.uk/schoolreport 
For more information visit bbc.co.uk/schoolreport