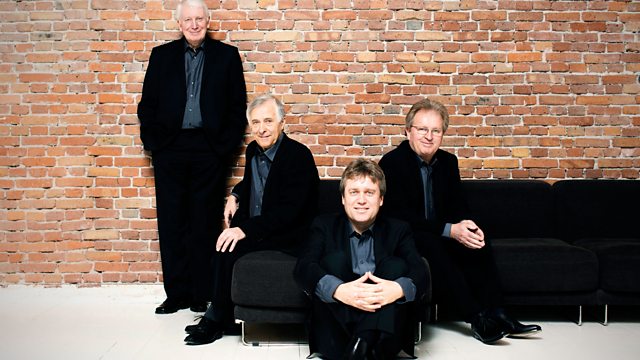 Hilliard Ensemble - 40th Anniversary
Lucie Skeaping talks to members of the Hilliard Ensemble as they celebrate their 40th anniversary, and plays a selection of their many recordings.
The Hilliard Ensemble established a reputation as an early music ensemble with a series of successful recordings in the 1980s, but it was when they began also to focus on new music that the world began to sit up and take notice. The 1988 recording of Arvo Pärt's "Passio" began a fruitful relationship with the Estonian composer, and the group has recently commissioned other composers from the Baltic States, including Veljo Tormis and Erkki-Sven Tüür, adding to a rich repertoire of new music from Gavin Bryars, Heinz Holliger, John Casken, James MacMillan, Elena Firsova and many others. The Hilliard Ensemble's popularity crossed musical boundaries when their collaboration with the Norwegian Saxophonist Jan Garbareck sent their ECM recording "Officium" soaring up both classical and pop charts in several countries. Equally at home with Perotin, Palestrina and Pärt, the four members of the Hilliard Ensemble describe some of the many musical experiences they have had in concert halls and recording studios around the world, and select some of their favourite tracks from their extensive CD catalogue.
Last on