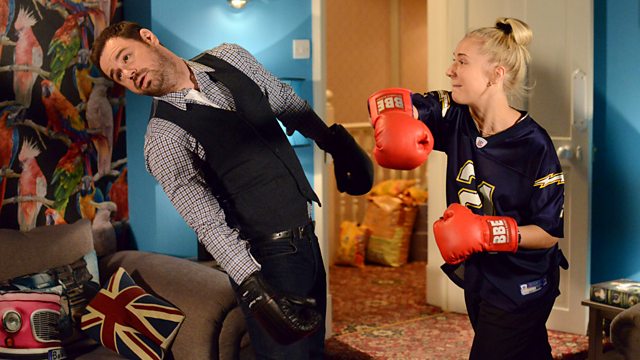 05/05/2014
David urges Whitney to take the kids out for some fun for the bank holiday but with Carol in hospital, Whitney's unsure. David discovers the car lot's been broken into and some CCTV files are missing. Max's gone overboard food shopping, determined that they'll enjoy bank holiday as a family. Lauren's upset that people are pretending everything's normal and takes food to the Beales', but there's no answer. As expected, Tiffany and Morgan just want to see Carol but David refuses.
Liam recovers the car lot CCTV files and realises someone deleted the originals. David comes across the footage of Max and Lucy's row on Good Friday. In the Minute Mart, Cora discovers Lauren staring at a bottle of wine. She gets upset that Lucy's death seems pointless and ponders that if she drank a whole bottle of wine at least death would be her choice. David confronts Max about the deleted footage. Max admits he lied that his fling with Lucy was over, but insists they just argued and then Lucy left. David doesn't believe Max and intends to go to the police.
Max wonders how David will feed his family if the car lot goes under. They're interrupted when Cora arrives with Lauren. As Max comforts Lauren, David slips out. At home, Bianca reports Carol wants to see David. At the hospital, Carol explains she'll be coming home tomorrow but admits she's scared, and knows David hasn't been to see her because he is too. Carol makes David promise to keep the family from falling apart if she doesn't pull through. Meanwhile, a guilty Max is about to make a confession to Lauren when Cora interrupts. Cora informs Max of Lauren's near slip with the wine.
Max fumes when she asks for money. As he throws Cora out, David arrives back on the Square. Max follows David to the car lot. While David packs up the computer and laptop, Max begs David not to go to the police. David merely tells Max to follow him. Meanwhile, Abi presents Lauren with the suit Lucy bought her, suggesting she start the business up again. At the allotments, David throws the computers and CCTV flash-drive into a metal bin. David tells Max he's only doing this for one person, before setting the whole lot on fire.
In hospital, Sonia falters on seeing Carol hooked up to a drip. She blames the oncology nurse for missing the signs of infection. Carol admits she knew her temperature was raised but didn't want a fuss and demands to know what Sonia and Bianca were arguing about. Out of earshot of Carol, Sonia thinks they should face the truth – Carol could have died. Bianca can't imagine life without Carol or Sonia. Sonia hates the thought that someday Rebecca could be in the same position because she can't face facts.
Tina sneaks in after spending the night at Tosh's. Shirley's worried that if Tina moves in with Tosh, history will repeat itself. Tina insists she belongs in the Vic with Shirley. Later, Tosh gives Tina keys - her offer to move in still stands. With Shirley listening in, Tina suggests Tosh check with Jake and Aleks first. Later, Shirley rouses the Carters to plan a 40th birthday party for Tina – Tosh wants them out of the picture.
Cora's upset when Dexter suggests he move in with Jay if they can't afford a deposit on a two bed flat. She calls Tanya for the money with no luck. Dexter and Jay enthuse about the 50" screen TV they'll have in their new place. Jay's amused by Dexter's attempts to flirt with Nancy. Max sends Cora packing when she asks for £500. Desperate, Cora jacks open the change machine in launderette. Later, she lies that Tanya's lending them the deposit for the flat above the doctor's surgery, scuppering Dexter's plans. Stan buys Cora a drink in the Vic.
Nancy's plans with Dexter and Jay are thwarted when she's needed at the Vic. She moans to Shirley that she's treated like plankton. Later, Mick hands her a pair of boxing gloves and insists they settle things like men. He's taken by surprise when Nancy gleefully socks him straight in the jaw.
Stan gets a court letter which he hurriedly conceals.
Last on
Credits
| Role | Contributor |
| --- | --- |
| David Wicks | Michael French |
| Max Branning | Jake Wood |
| Carol Jackson | Lindsey Coulson |
| Sonia Fowler | Natalie Cassidy |
| Bianca Butcher | Patsy Palmer |
| Liam Butcher | James Forde |
| Whitney Dean | Shona McGarty |
| Lucy Beale | Hetti Bywater |
| Lauren Branning | Jacqueline Jossa |
| Abi Branning | Lorna Fitzgerald |
| Jay Brown | Jamie Borthwick |
| Cora Cross | Ann Mitchell |
| Dexter Hartman | Khali Best |
| Jake Stone | Jamie Lomas |
| Aleks Shirovs | Kristian Kiehling |
| Mick Carter | Danny Dyer |
| Linda Carter | Kellie Bright |
| Nancy Carter | Maddy Hill |
| Shirley Carter | Linda Henry |
| Tina Carter | Luisa Bradshaw-White |
| Fiona 'Tosh' Mackintosh | Rebecca Scroggs |
| Stan Carter | Timothy West |
| Nurse Beth | Johanne Murdock |
| Executive Producer | Dominic Treadwell-Collins |
| Director | David Tucker |
| Writer | Katie Douglas |