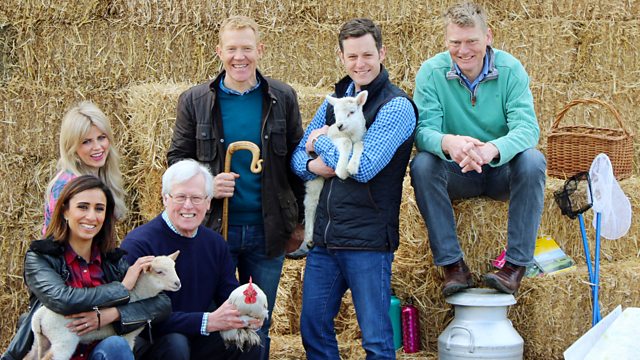 Yorkshire Dales
Matt Baker and Ellie Harrison go in search of the great icons of Yorkshire. A small magazine called The Dalesman is celebrating its 75th anniversary by naming the top 75 icons of Yorkshire as voted for by their readers. Matt and Ellie celebrate with them by marking those icons too.
Matt Baker strides over the Yorkshire Dales whilst a brass band plays. He meets The Dalesman's first editor, Bill Mitchell, to talk about the magazine and some of its famous contributors, including JB Priestly and Alan Bennett. He also takes in Yorkshire music, food and tea.
Ellie Harrison explores the history of Bolton Abbey and why people have been visiting it for hundreds of years. She follows a nature trail which has been there since 1810 and takes in Strid Wood and the Valley of Desolation. She also meets the ladies of the Cappuccino Cycling Club from Harrogate who are being photographed carrying their bikes in their undies to raise money for the Air Ambulance.
Ellie also travels across the North York Moors to get to Whitby, where she goes hunting for Whitby jet with a jet hunter. She learns how unique it is, found only on a short stretch of the Yorkshire coast, and sees how the fortunes of Whitby were built on the jewellery made from it in Victorian times.
Adam Henson meets the three finalists in 2014's prestigious Outstanding Farmer of the Year award. Will it be a vegetable farmer from Scotland, an organic beef farmer from Bristol or a dairy farmer from Somerset?
Tom Heap investigates the claim that the current crisis over abandoned horses could be at least partially solved by eating horse meat. He asks if eating their meat would really increase the value of horses and whether we could export more abroad. Tom also tries a horse meat taste test on the British public.
Last on
Yorkshire icons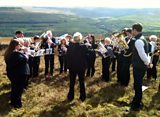 In April 1939, in the front room of a cottage in the village of Clapham, Yorkshire, a magazine about local life was born.  Seventy-five years on, the Dalesman is one of the most popular local publications, selling nearly 30,000 copies worldwide every month.  To celebrate its birthday its readers have been voting for their top 75 Yorkshire icons and Matt Baker and Ellie Harrison are on a mission to tick off as many as possible.  The list is certainly varied featuring everything from historic abbeys, to food delicacies, to local celebs and the ever popular brass band.
The Dalesman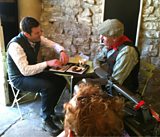 Matt is meeting the Dalesman's second editor, Bill Mitchell, to discover what he thinks makes this particular paper so special.  Poet Ian McMillan and cartoonist Tony Husband – two regular contributors – are also throwing in their twopenn'orth about their Yorkshire highlights.  And, as part of his challenge to tick off as many Yorkshire icons as possible, Matt's sampling a very specific cheese, getting his tongue around some tricky local dialect and enjoying a cup of tasty tea. 
Listen to a lifetime of stories around the Yorkshire Dales recorded by Bill Mitchell
Bolton Abbey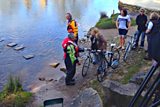 Ellie is visiting number 13 on the list of Yorkshire icons – Bolton Abbey. She discovers the secret and most cherished parts of the estate with managers Moira Smith and Roy Lingard. She also meets the Cappuccino Cycling Club - a group of ladies who love nothing more than a cycle and a piece of cake.  They will be revealing their own secrets around the estate to raise money for charity.
Find out more about Bolton Abbey
Rearing horses for meat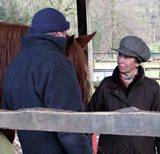 A few weeks ago on Countryfile, Princess Anne repeated her suggestion that eating their meat could be a solution to the current horse welfare crisis. It's estimated that around 8,000 horses have been abandoned or neglected across the UK in the past year. Tom Heap investigates whether eating more horse meat at home – or exporting it abroad – would give these animals more value and less chance of being discarded. As he discovers, it's a controversial idea and by no means a simple solution to the welfare problem.  But a High Street taste test, carried out by Tom, suggests that British people aren't as averse to eating horse as many of us might think.
Whitby jet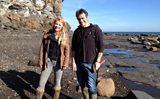 Whitby Abbey, Whitby fish and chips, Captain Cook, Dracula - Whitby is recognised on the list of 75 Yorkshire icons for many things.  Ellie is on the hunt for the highly precious Whitby jet.  This fossilised wood, found only along a 7 mile stretch of coastline around Whitby, gave rise to the town's fame for making highly prized and valuable jewellery during the Victorian era. Men and women risked their lives to gather the raw material, and Ellie is finding out how dangerous that task was, before watching the skill involved in making the dull wood really shine.
Discover more about Whitby jet
Outstanding Farmer of the Year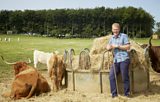 Adam Henson is meeting – and judging - the three finalists in the Outstanding Farmer of the Year category at the BBC's Food and Farming Awards.  Steven Jack is a potato and carrot grower from Inverness-shire, Luke Hassel farms organic rare breed cattle near Bristol and Neil Darwent is a Somerset dairy farmer.  You can find out who Adam chooses as the winner when the results and the full stories of the finalists are broadcast on BBC Radio 4 on Monday 5 May at 3pm.
The big finale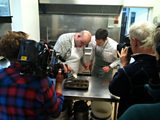 So what did take the top spot in the 75 Great Icons of Yorkshire?  It wasn't whippets, flat caps, fish and chips, tea, the Dales, the Moors, or even Dickie Bird.   But we will give you a clue – it's a foodie favourite and Matt previously lost to Ellie in a contest to cook the perfect one of these.  However, he's having another go at trying to improve his skills – by adding chocolate!
Credits
| Role | Contributor |
| --- | --- |
| Presenter | Matt Baker |
| Presenter | Ellie Harrison |
| Presenter | Adam Henson |
| Presenter | Tom Heap |
| Series Producer | Teresa Bogan |