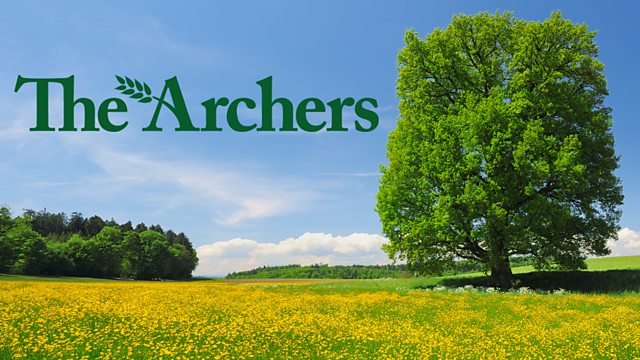 09/05/2014
Eddie and Clarrie reminisce about the 1970s. Clarrie wonders where the years went, as they reflect on being working grandparents.
David's concerned about the new road plan. Susan's keen on the local investment, but Jill's not. Emma sings Jill's praises for being a party food inspiration, with Clarrie's 70s party coming up. Eddie has a fancy dress idea.
Susan and Clarrie gossip about worried Pat. She has been distracted at work, making odd little mistakes.
Shula's worried that Dan is struggling with Army life. The pace is relentless. Dan has made a friend though. Shula feels Alistair isn't bothered. Dan reminds Shula of Mark. She still thinks the Army is an infatuation and hopes it's short-lived.
Tony's pleased to point out their first Aberdeen Angus calf - new life at Bridge Farm. Tony's optimistic that things are going right at last. But Pat's still worried about Tom not coming back.
The organic inspector's coming next week. Tony's up to speed but Tom mustn't leave them in the lurch on his side of things. Pat's relieved to hear from Tom, but he's non-committal. Tony's getting worried about the inspection and the fear of Tom letting his business go down the tubes, on top of everything else.
Last on
Credits
| Role | Contributor |
| --- | --- |
| Writer | Caroline Harrington |
| Director | Kim Greengrass |
| Editor | Sean O'Connor |
| Jill Archer | Patricia Greene |
| David Archer | Timothy Bentinck |
| Jolene Archer | Buffy Davis |
| Tony Archer | David Troughton |
| Pat Archer | Patricia Gallimore |
| Helen Archer | Louiza Patikas |
| Brian Aldridge | Charles Collingwood |
| Jennifer Aldridge | Angela Piper |
| Susan Carter | Charlotte Martin |
| Eddie Grundy | Trevor Harrison |
| Clarrie Grundy | Heather Bell |
| Emma Grundy | Emerald O'Hanrahan |
| Shula Hebden Lloyd | Judy Bennett |
| Daniel Hebden Lloyd | Will Howard |
| Alistair Lloyd | Michael Lumsden |
| Adam Macy | Andrew Wincott |
| Jazzer McCreary | Ryan Kelly |
| Elizabeth Pargetter | Alison Dowling |
| Fallon Rogers | Joanna Van Kampen |
| Lynda Snell | Carole Boyd |
| Roy Tucker | Ian Pepperell |
| Charlie Thomas | Felix Scott |
| Harrison Burns | James Cartwright |