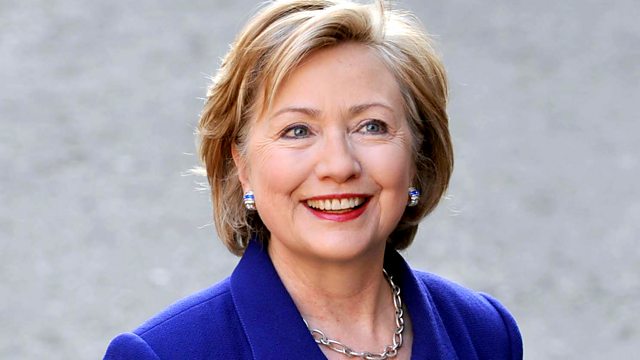 Will Hillary Clinton stand for US President?
Listen in pop-out player
Will Hillary Clinton stand for President? Women and the Indian elections. Remembering Linda Smith, game changing woman of comedy. Childcare policy - social engineering or supporting parents? Recorder quartet I Flautisti play live. With Jenni Murray.
Last on
LINDA SMITH COMEDY- GAMECHANGER?
The comedian Linda Smith died of ovarian cancer in 2006 and this weekend a gala which is now a regular fixture on the comedy calendar will be held in her honour. She was loved by Radio 4 listeners appearing on show like Just a Minute and News Quiz. Jo Brand once described her as the 'only genuinely funny, female, political comedian'. But was she a game changer? And what influence did she have on some of the female comics who will perform at the gala.
INDIA ELECTIONS
India is in the middle of a general election. It started on the 7th April and the polling booths will close on the 12th May with the result being declared on the 16th May.  In the shadow of the Delhi rape, all the political parties have turned their attention to issues affecting women – especially violence against women – and female voter turnout has been higher this year than in previous elections. So just how powerful is the female vote in India? At a regional level, some of India's prominent politicians are women but why are there so few in the national parliament? Jenni is joined by political anthropologist Dr Mukulika Banerjee – the author of Why India Votes – and by BBC Hindi's Delhi Correspondent Rupa Jha.
THE POLITICS OF CHILDCARE
With the next general election one year away the political parties will all have their eyes on the votes of hard-working families and childcare policy will be one of the key battlegrounds. But what do parents and governments want out of childcare? And is it possible to support parents, prepare children for school, tackle social inequality and ensure our children feel loved and secure at the same time with one wave of the political wand? Jenni is joined by Naomi Eisenstadt, Honorary Research Fellow in the Department of Education at the University of Oxford and Samantha Callan, Associate Director for Family, Early Years and Mental Health at the Centre for Social Justice.
HILLARY CLINTON
With widespread speculation that Hillary Clinton may run in the next US elections, a growing supporter network, and a new book ready to hit the shelves, will history repeat itself? Will we see her running for Presidency? Is it time for the first female US President? And now that her daughter Chelsea is pregnant, some say being a grandmother will increase Clinton's voter appeal, while others seem to think a grandmother shouldn't be President.
We hear a 2003 interview from the Woman's Hour Archive Collection, when she talks of life as first lady with husband Bill Clinton, and denies her ambitions even then. And Felicity Spector - Deputy Programme Editor of Channel 4 News - joins us to speculate whether we should prepare ourselves for the first woman President and Bill as Hillary's first man.
I FLAUTISTI
I Flautisti is an all-female recorder quartet who formed in 2009 after meeting at the Royal College of Music. Their performances challenge preconceptions of recorder playing and they combine up to the minute new repertoires with early, folk and non-western music. They will be performing at the Vale of Glamorgan festival on 10th May.
Credits
| Role | Contributor |
| --- | --- |
| Presenter | Jenni Murray |
| Producer | Eleanor Garland |
| Interviewed Guest | Felicity Spector |
| Interviewed Guest | Naomi Eisenstadt |
| Interviewed Guest | Samantha Callan |
| Interviewed Guest | Mukulika Banerjee |
| Interviewed Guest | Rupa Jha |
| Interviewed Guest | Oliver Double |