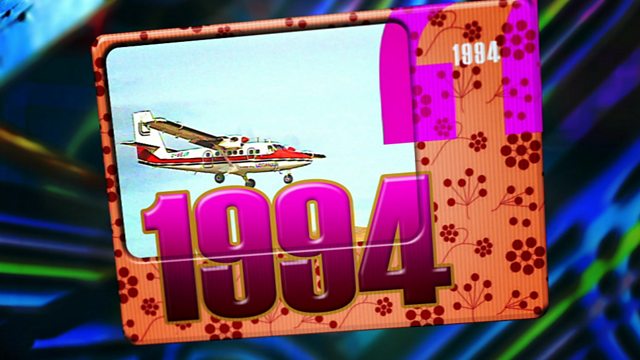 Sealladh air na sgeulachdan a bh' anns na naidheachdan ann an 1994 cuide ri taghadh de cheòl na bliadhna. Am measg na thachair: mì-thoileachas ann am Barraigh nuair a thug Loganair plèana ùr a steach, a' Shorts 360; dà fhilm mòr air an clàradh aig tuath, Rob Roy agus Braveheart; agus leis a' Chrannchur Nàiseanta air a chur air bhog, bha Albannaich air bhioran tigeardan a cheannach gus cothrom fhaighinn air na muilleanan!
Am measg nan taghaidhean ciùil, Aswad le Shine, Wet Wet Wet le Love is All Around agus Reel 2 Reel le I Like to Move It.
Experience some of the stories hitting the headlines in 1994 through archive footage and the year's chart hits: islanders on Barra were unhappy with the introduction of the Shorts 360 plane; Rob Roy and Braveheart were filmed in Scotland; and with the launch of the National Lottery, Scots were queueing at the tills for the chance of a big win.
The year's chart hits include Aswad with Shine, Wet Wet Wet with Love is All Around and Reel 2 Reel with I Like to Move It.
Last on