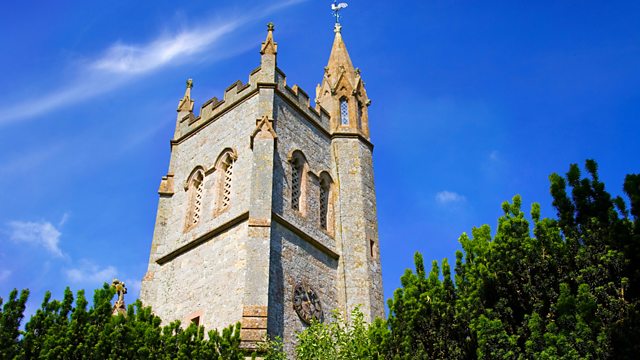 04/05/2014
'Faithful witnesses'.
Live from The Lighthouse Christian Centre, a multi-cultural community church in Salford.
Pastor Alex Robertson and preacher Pastor Paul Hallam explore how those who witnessed the resurrected Jesus were inspired, and look at ways in which the Christian story continues to guide people's lives and work today.
Producer: Simon Vivian.
Last on
The Lighthouse, Salford 04/05/2014
Please note:
This script cannot exactly reflect the transmission, as it was prepared before the service was broadcast. It may include editorial notes prepared by the producer, and minor spelling and other errors that were corrected before the radio broadcast.
It may contain gaps to be filled in at the time so that prayers may reflect the needs of the world, and changes may also be made at the last minute for timing reasons, or to reflect current events.
Radio 4 Opening Announcement:
BBC Radio 4.  It's 10 past 8 and time for this morning's 'Sunday Worship' which comes live from The Lighthouse in Salford.  The service is led by Pastor Alex Robertson and begins with the song: 'I'll stand with arms high and heart abandoned'.

~ Song 1: I'll stand with arms high and heart abandoned
(Stewart/Brown/Weekes)
~ Pastor Alex:
Good morning and welcome to The Lighthouse, an Elim Pentecostal church in Salford.  Situated between the gleaming towers of Media City, the industrial hub of Trafford Park and the residential areas of Eccles and Weaste, we look out on to a diverse landscape.
Our congregation is also diverse, drawn from all over Salford and Manchester, and including over forty different nationalities, reflecting the multi-cultural feel of the two cities.  And that diversity is also reflected in the wide age range and in people from right across the social spectrum, gathered together in one place to witness to one thing we share in common - the life-transforming power of Jesus Christ.
Today our theme is "witnesses of the resurrection".  As we leave the events of Easter behind us, what impact did the resurrection of Jesus Christ make on those who were first affected by it?  And what about today?  What impact is the power of Jesus Christ having in people's lives right now?  Later on, we're going to hear from some people whose lives have been transformed by their experience of Jesus, and our first song is a hymn of praise to the risen, victorious Lord who died for us – Crown him with many crowns.
 
~ Song 2: Crown him with many crowns (Tomlin)

~ Pastor Alex:
Father, thank you that Jesus who died for us is risen, alive and powerfully at work in lives all over the world today.  For all of us who know you, we pray that we may be effective and fruitful witnesses of the risen Christ in our daily lives, through our words, our actions and our attitudes.  We ask in Jesus' name.
ALL: Amen.

~ Reading 1:
A reading from chapter 15 of Paul's first letter to the Christians in Corinth.
Brethren, I declare to you the gospel which I preached to you, which also you received and in which you stand, by which also you are saved, if you hold fast that word which I preached to you — unless you believed in vain.
For I delivered to you first of all that which I also received: that Christ died for our sins according to the Scriptures, and that He was buried, and that He rose again the third day according to the Scriptures, and that He was seen by Cephas – that is, Peter - then by the twelve.  After that He was seen by over five hundred brethren at once, of whom the greater part remain to the present, but some have fallen asleep.  After that He was seen by James, then by all the apostles.  Then last of all He was seen by me also, as by one born out of due time.
For I am the least of the apostles, who am not worthy to be called an apostle, because I persecuted the church of God.  But by the grace of God I am what I am, and His grace toward me was not in vain; but I labored more abundantly than they all, yet not I, but the grace of God which was with me.  Therefore, whether it was I or they, so we preach and so you believed.
[1 Corinthians 15:1-11 NKJV]
~ Pastor Alex:
When you look at a church congregation - or any crowd of people - it's just a sea of faces, but you don't know the stories behind those faces… the backgrounds and the journeys that have brought each of those people to where they are today. Dean came to The Lighthouse a few years ago, and his story is testimony to the power of God working in the lives of people today.

~ Testimony 1: Dean
I had a good upbringing, and I loved drawing at school, so I took art as my subject at college, but drawing wasn't emphasized on the course, so I dropped out of college at 17. Then I got in with the wrong crowd and I was just living for the weekends, which consisted of pubs, clubs, drinking, social drug-taking and sleeping around. After 5 years I was bored, I felt I wasn't being challenged enough, so I decided to join the army.
That was a decision I soon regretted, because, for me, the army didn't turn out as the life of action and adventure I thought it would be.  I'd signed up for 4 years but after a year I couldn't take it anymore and went AWOL. I returned to my home town, changed my name and acquired new documents to evade going back to the army in the event of being captured by the police, and continued to live the only life I knew.
So at the age of 25, after being AWOL for 3 years, I wasn't in a good place, and it dawned on me one day, whilst I lay on my bed, that I had no future.
I was wasting my life.  Drinking and drug-taking were weighing me down and I had a heaviness on my heart.  I'd been broken and bruised through all my relationships  - friends were becoming enemies.  I had no career, no qualifications, no experience, no money, no security for the future, and no way out of the mess that I was in. I hated myself and who I'd become.  I would wake up in the middle of the night mentally beating myself up, I had no rest.  Thinking about all this brought me to the place of desperation, and I began to think that my only way out was suicide.  In my despair I called on God for help.
I remembered that there was a religious category on satellite TV.  There, a man was preaching about Jesus Christ, saying that He had a plan and a purpose for everybody's life, and that I didn't have to end it.  He said a prayer that I could repeat to ask Jesus to come into my life.  Immediately after saying the prayer I felt as if a huge weight was lifted up off my shoulders.  The thoughts of suicide and self-hatred that tormented me disappeared.  The fear, the depression and the anger went and for the first time in my life I had peace.  I broke down in tears and I knew that something had changed.
I met Jesus right there in my bedroom and He set me free.  He gave me a way out.  That was 6 years ago.  It's been a long road and, at times, I've been tested.  But now I'm free from all my destructive habits.
I had to come clean with the Army and face a court-martial, but everything was resolved.  The stability which Christian faith has brought into my life reaches now into all my relationships and work, including overseas missions with my church.  I've got a hope and a steadfastness in my spirit to keep believing and following and praising Jesus's name.  I'm a living witness to the resurrection, because only Jesus could have straightened me out and raised me from the depths of despair to the heights of God's grace.
~ Pastor Alex:
Our next song was written by members of our own worship team here at The Lighthouse, and it celebrates the blessedness that Dean has been talking about, the blessedness of being known by God and finding our strength and hope in him. It's called simply, "Blessed".
~ Song 3 – Blessed
(Worship team, The Lighthouse)
~ Reading 2:
A reading from chapter 1 of John's first letter to the early Christian Church.
That which was from the beginning, which we have heard, which we have seen with our eyes, which we have looked upon, and our hands have handled, concerning the Word of life — the life was manifested, and we have seen, and bear witness, and declare to you that eternal life which was with the Father and was manifested to us — that which we have seen and heard we declare to you, that you also may have fellowship with us; and truly our fellowship is with the Father and with His Son Jesus Christ.  And these things we write to you that your joy may be full.
~ Pastor Alex:
Lisa and her family joined us at The Lighthouse fairly recently, and I can say that she is a person who is full of joy.  In fact, seeing her now, you might not suspect that her history has been less than joyful.  But her story shows how God can bring about dramatic and lasting change in people's lives.

~ Testimony 2: Lisa
My life started so secure.  As a baby I was loved and cherished. But then things started to go wrong, we became a broken family. The effects of that didn't reach my little heart at that time, as my Nana was there for me, picking me up from school and making sure I had white socks and clean vests.
After a while, my Mum met someone new.  Everyone was so pleased - she seemed to be very happy.  My sister and I were little bridesmaids at the wedding.  But as time went on, my new stepfather turned out to be very strict and cruel.
When I was 10 years old he started to abuse me physically and sexually, and that went on for 5 years.  Eventually I confided in a friend at school, and she told one of the teachers.  Everything snowballed from there - social services got involved, I was in care homes with foster parents, got into drugs, got into bad relationships but even during that difficult time had two beautiful little girls.
Unfortunately I didn't manage to stay away from the drugs.  I was addicted to crack cocaine and worked as a prostitute for 7 years.  I was terribly lonely and sad, and now in need of a father to guide me, to lead and to love me.
My heart was broken.  But in that brokenness I found the most perfect, powerful force in the universe – the love of Christ.  I met Jesus.  A student who lived on my street heard about me and invited me to a church service.  The preacher said, "What you've got now is as good as it gets without Jesus".  This was real.  I prayed and asked Jesus to forgive me.  He came into my heart.  I was restored with new life and have had that now for the past 19 years.
God's love and forgiveness has set me free - I've been healed and restored and have my dignity back.  I'm now happily married and, in addition to my beautiful girls, we now have two wonderful boys.  I can't imagine life without Jesus. 

~ Pastor Alex:
"I can't imagine my life without Jesus."  So many other people could echo that sentiment, and our next song says the same thing – Christ is my light, my strength, my song, my comforter, my all in all – In Christ alone my hope is found.

~ Song 4 – In Christ Alone (Keith Getty & Stuart Townend)

~ Pastor Alex:
Pastor Paul Hallam, the lead Pastor here at The Lighthouse, is now going to bring us a message from God's word.

~ Pastor Paul:
We've already heard from Dean and Lisa about their own stories, of how Christ has changed them.  Their present lives now give witness to the resurrection of Christ from the dead.  After all, a dead Jesus can't change people's lives today except He be alive among us as He claimed he would be, when he promised He would be crucified and then rise again from the grave on the third day.
There is another witness to all of us however.  One that we can ALL see clearly for ourselves.  The witness of nature within creation stands out in this particular month more than any other. 
For me, May is my favourite month.  Everything is so fresh and positively bursting with life.  Plants I thought were dead are now springing up into new life.  The ground which seemed so stale and lifeless just a few months ago is now full of growth and vitality.  Many songbirds are building nests and are busy getting ready to give their offspring all they need to provide for their young.  New songs are being sung in the morning and evening, heralding the season of new life that is about to begin. 
All of this helps us to see that even in nature, from the beginning of time itself, God put the footprint of the resurrection into His creation.  For those with eyes to see, this testifies every year to the resurrection from the dead - with it, bringing fresh hope, new life and renewed expectation.
For those with eyes to see, God has not left us without hope and without signals that speak into our lives continually so as to remind us of immortality and life beyond the grave.
The gospels record that, just before Jesus died, He visited one of his favourite places.  A garden called Gethsemane.  Gethsemane was not a garden like we understand it today, but a working olive grove.  Here amongst the olive trees was an incredibly specific and significant reminder of resurrection life to come.
Every olive tree has in itself the capacity to reproduce its own life in the next generation.  Some olive trees are well over 2,000 years old and, even if they die, can be regenerated through the rootstock within the base of the tree.  This sends out new shoots after death, which become new trees which can continue the process again for hundreds, even thousands of years!
What a great snapshot we have here of Christ and His church.  Christ is reproducing His life through each and every one of us down through the ages and down through the generations until this present day and even on this first Sunday of the month of May.
We read earlier from that great chapter in the Bible on the resurrection - 1 Corinthians 15.  It's amazing how many people became 'first hand' witnesses of the risen Christ.  At times we may be tempted to think that only a handful of disciples, including some women, saw Jesus following his resurrection.  In actual fact, according to the Apostle Paul, over 500 people saw Him at the very same time!  Most of these, Paul claims, were still alive at the time of writing.
How incredible that gathering must have been!  How utterly life changing and life shaping that moment in time must have been for those who themselves became witnesses to Jesus's death and His resurrection.
Shortly after the crucifixion and resurrection of Christ, some 120 gathered in an upper room.  They were waiting for the Holy Spirit to be given to them.  Jesus Himself promised this would happen once He'd been raised from the dead and ascended into heaven.
Sure enough The Holy Spirit came at Pentecost and the church was birthed in the life and power of Jesus, right there in that gathering some 50 days after His death and resurrection.  The fact that the Holy Spirit came and was poured out upon the waiting disciples is in itself yet another validation of the resurrection of Jesus from the dead, as Christ himself said He had to die, rise again the third day and ascend into heaven in order for the Spirit to come to the earth and to inaugurate the birth of the church - Christ's Body upon earth today.  So we see the church of Jesus Christ being active as salt and light in the world today - evidence of the Head of the Body being very much alive.
Today, we share in the power and authenticity of those very same witnesses who need no convincing that Jesus is alive, as our second writer John testified to.  So many of us have lives that have been shaped and moulded by the life-giving personal experience of Christ.  We're here today as witnesses of Christ to state and proclaim to the world that He is alive.  That we too can have a first-hand experience of His life living in and through our lives today if we will simply begin to believe.  In fact Christ's resurrection life is available to one and all, to everyone who believe.
On one occasion, following the death of a friend of his, Jesus actually called himself "the Resurrection and the Life".  Most of us will have heard how Jesus then went on to demonstrate this in action when He raised Lazarus from the dead after four days burial. 
Today there are some 2 billion people on the planet who claim to be Christians - nearly one third of the population.  Whether all of us are always true and genuine in our faith is questionable.  And we all know the Church can be a poor witness - as well as a positive witness - to the power of Christ's resurrection.  But nonetheless what it evidently does show is the Church is not dying.  The faith once held by hundreds is now held by millions of people 2000 years on! Faith in the same Jesus who died and rose again. Faith in the same Jesus who walked on water, fed the five thousand and calmed the sea. Faith in the same one who healed the sick, raised the dead and caused the blind to see and deaf to hear.
Today, from our own gathering here at The Lighthouse in Manchester and Salford we count ourselves with the ever-increasing gathering of witnesses down through the ages, across the nations of the world.  Above every political power, over the military might of all empires, kingdoms, thrones and hierarchies we cry: HE IS RISEN - JESUS IS RISEN and HE'S ALIVE FOREVERMORE! AMEN

~ Song 5 – Christ is Enough
~ Pastor Alex:
Pastor Dele Oderinde from the Lighthouse pastoral team will lead us in prayer.
~ Pastor Dele Oderinde:
Let us pray.
Thank you, Lord, that for us there is no turning back; we have decided to follow Jesus, the cross is before us and the world behind us, our old lives are gone and we have a new life in you, a hope, a future, and a heavenly inheritance.  Thank you for the transformation that has happened in our lives because we know you.
We pray for the people we know who are searching for you, those who sense there is something lacking in their lives and are reaching out for more.  Your word says that when we seek, we will find, and so we pray that they will find for themselves the glorious power of the risen Lord Jesus and encounter him in a life-changing way.
And we pray for those who are walking the wrong way, struggling with destructive habits, oppressed and damaged by life, by others, or by their own wrong choices.  Lift them, Lord, out of where they are, lift up their heads to see that there is a hope, a new beginning and a future for them, a God who loves them, a Saviour who died for them and wants to restore peace and purpose to their lives.
Lord, we bring before you the areas of our world torn by conflict and strife. We pray for the people of Syria and Ukraine and for their governments, that justice would be established and peace restored.
We think of the girls kidnapped from their school in Nigeria, that government efforts to locate and rescue them will be successful and that they will be found safe and well.   
And we pray for all who are at this moment suffering in body, mind or spirit, and for those who are grieving the loss of a loved one, thinking particularly this morning of all those affected by the murder of Leeds teacher Ann Maguire and for all those caught up in Friday's landslide in Afghanistan.  God of all grace, comfort them in their distress, and be their very present help in time of need.
Together let's join together in the words of the Lord's Prayer:

ALL:
Our Father, who art in heaven, hallowed be thy name
Thy Kingdom come, thy will be done on earth as it is in heaven
Give us this day our daily bread
And forgive us our trespasses, as we forgive those who trespass against us
And lead us not into temptation, but deliver us from evil
For thine is the kingdom, the power and the glory, for ever and ever. Amen.

Pastor Dele Oderinde:
Let's say the grace together:

ALL:
May the grace of our Lord Jesus Christ, and the love of God, and the fellowship of the Holy Spirit, be with us all, now and evermore. Amen.

~ Pastor Alex:
Our final song takes the famous words of John Newton, the converted slave-trader, who himself experienced a life-changing transformation through an encounter with Christ. "I once was lost, but now am found, was blind, but now I see" – Amazing Grace.

~ Song 6 – Amazing Grace (Tomlin)
~ Playout music – (carrying on with instrumental of chorus of Amazing Grace)