Jay Rayner and the Inheritance Tracks of Julian Lloyd Webber
Richard Coles in London and Suzy Klein in Bristol from the Bristol Food Connections Festival with food writer Jay Rayner, The Inheritance Tracks of Julian Lloyd Webber, Nick Hunt following in the footsteps of Patrick Leigh Fermor on his 2,500 mile walk from Rotterdam to Istanbul, JP Devlin meeting urban gull expert Peter Rock on a Bristol rooftop, poetry from Elvis McGonagall, Vicky Harrison who is knitting Bristol in miniature and Romy Gill, chef and restaurant owner on the immeasurable joys of modern Indian food.
Jay Rayner, food critic, author and jazz pianist joins Richard in the studio. 'Kitchen Cabinet' starts on BBC Radio 4 on 10 May.
Richard Smith aka Elvis McGonagall performs poems on Bristol and food. Elvis McGonagall is on Radio 4 on Wednesday nights at 2300 with a new show 'Elvis McGonagall Looks on the Bright Side'.
Romy Gill runs Romy's kitchen in Thornbury (near Bristol) and is a chef/owner. Brought up in West Bengal she talks to Suzy about her early life, running a small business and why Bristol is so interesting for food.
JP Devlin roams the streets of Bristol to record a crowdscape.
Nick Hunt took Patrick Leigh Fermor's epic walk to Istanbul in the early 1930's to heart and followed, pretty much, in his exact footsteps in about half the time. 'Walking the Woods and the Water: in Patrick Leigh Fermor's footsteps from the Hook of Holland to the Golden Horn' by Nick Hunt (Nicholas Brealey Publishing) is out now.
JP meets Peter Rock, the UK's leading urban gull expert, on a Bristol roof with some breeding pairs.
Vicky Harrison and a team of merry crafters have been knitting the city of Bristol. Vicky talks to Suzy about 'Briswool' and how communities can come together creatively.
Julian Lloyd-Webber's Inheritance Tracks are The March from the Love For Three Oranges by Prokofiev and The Little Beggar Boy by Piazzolla played by Julian and Jiaxin Lloyd-Webber.
Producer: Chris Wilson.
Last on
Knitting Bristol with Vicky Harrison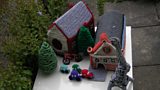 While lots of us are happy to while away the empty hours of the weekend winding the odd bit of whicker, or doing a spot of crochet, not many people decide to devote their time to knitting an entire city. That's what craft queen Vicky Harrison has done – she currently a month away from completing her epic knitted replica of Bristol.
(Pic: The buildings are the mud dock cycle cafe, Watershed and the crane from the docks.)
.
Studio Photo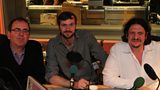 Jay Rayner, Nick Hunt and Richard Coles.
Today's Special - A Recipe
Take one place way out in the mild, mild west
Light the Gas, get out a melting pot
Throw in merchants, Methodists and pirates
Mix Georgian splendour with graffitied squat
Marinade slowly in rum and sugar
Smoke in hand-rolled tobacco by the docks
Sear its past with the scars of slavery
Infuse its soul with the unorthodox
Whisk up a bridge across the Avon Gorge
Steam in the shipshape fashion of Brunel
Blend Wallace and Gromit's cracking ideas
With Concorde's supersonic farewell
Beat drum 'n bass 'n dub into trip-hop
Wallop in a dollop of Banksy's wit
Preserve pride in a People's Republic
Flambe in a riot of colour and grit
Melt Fry's chocolate, stir in Nathan Filer's words
Add Chris and Johnny Morris - a pinch of each
Pour in a blue glass of rich Harvey's Cream
Sprinkle with the stardust of Archibald Leach
Season and spice with DJ Derek's reggae
Braise in cider and anarchic spirit
Drizzle in "Brizzle" a la Julie Burchill
"Awright me old babber, mazen', innit?"
Garnish with the Old Vic's "Salad Days"
Serve chilled out and downtempo, don't rush
A radical dish, full of flavours, yer tiz -
Just a little taste of Bristol - girt lush
by elvis mcgonagall for "saturday live" 3/5/2014
A World of Food
"Are you ready to order?" asked the waiter
"Yes" I said, "Feed me like an epicure                                           
I want to eat my way around the world
Take me on a gastronomic tour
I'd like Arbroath smokies and Parma ham
Worcester sauce, Peking duck, Dover sole
Sardines, Baked Alaska, Dijon mustard
And a California sushi roll
Jerusalem artichokes, Brussels sprouts
French fries, French dressing, French beans
Yorkshire pudding and Turkish delight
Frankfurters, Hamburgers, Tangerines
Greek yoghurt, Scotch bonnets and Bombay mix
'Bolognese-and-a-Gorgonzola-cheese-a'"
"Sir, I'll stop you right there" said the waiter
"That's far too many toppings for one pizza"
by elvis mcgonagall for "saturday live" 3/5/2014
Eating Out
Don't want "pan-fried" gnu in a saffron jus
Dribbled with a foam of unicorn tears
Don't want "hand-foraged" truffles topped with gold dust
Resting on a bed of ridiculous ideas
Don't want food "plated up" by Jackson Pollock
Don't want spuds sculpted like mini Taj Mahals
Don't need a night sky of Michelin stars
Don't need a right load of old Blumenthals
Just give me a taverna on an island
Ouzo and pistachios for starters
Plump purple olives, oil, salt, hunks of bread
Dunked in pale white taramasalata
Barefoot in the sand by the Aegean
Garlic frying in a beachside kantina
Skordalia and golden kalamari
A cold tin mug of pine-scented Retsina
A soft breeze full of thyme and oregano
Tomatoes bursting with sunshine, sharp feta
The warm vanilla glow of Metaxa
A little slice of heaven, none better
by elvis mcgonagall for "saturday live" 3/5/2014
Credits
| Role | Contributor |
| --- | --- |
| Presenter | Richard Coles |
| Presenter | Suzy Klein |
| Interviewed Guest | Jay Rayner |
| Interviewed Guest | Julian Lloyd Webber |
| Interviewed Guest | Nick Hunt |
| Interviewed Guest | JP Devlin |
| Interviewed Guest | Peter Rock |
| Interviewed Guest | Elvis McGonagall |
| Interviewed Guest | Vicky Harrison |
| Interviewed Guest | Romy Gill |
| Producer | Chris Wilson |