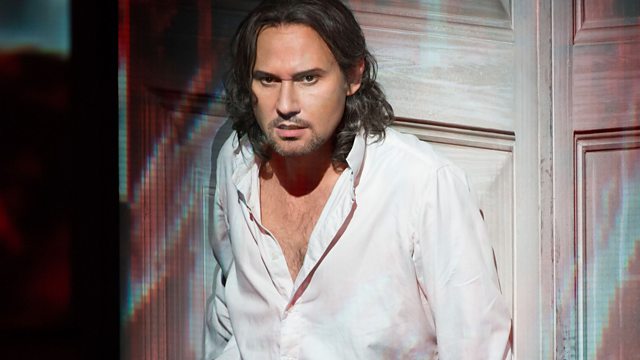 Don Giovanni from the Royal Opera House
Covent Garden present their highly-acclaimed production of Mozart's Don Giovanni, a depiction of the last day and night of the most iconic of seducers, in a thrilling new interpretation directed by the Royal Opera's Kasper Holten.
Womanizing his way through Europe with his hapless manservant Leporello in tow, Don Giovanni uses his imagination and charisma to charm and bed thousands of women in an effort to find inspiration for creative work and to keep at bay his dread of mortality.
After seducing Donna Anna, Don Giovanni is challenged to a duel by her furious father the Commendatore, whom he kills. This immoral act sets in motion a chain of events - some comic, some tragic - which lead to Don Giovanni's worst nightmare - absolute isolation and loneliness. This darkly humorous production both reveals the comedy that runs throughout Mozart's masterpiece and examines the more profound aspects of the opera and its characters.
Acclaimed designer Es Devlin, whose recent work includes the 2012 Olympic closing ceremony, has created a visually innovative universe for this new interpretation. Her sets evoke the complex and volatile puzzle that is Don Giovanni's psyche, and the accompanying video projections produce an intense and powerful display of illusion. Costumes both take us to an elegant 19th-century world and reflect the characters' increasingly troubled psyches. Italian conductor Nicola Luisotti returns to conduct this richly inventive score.
The magnificent cast includes baritone Mariusz Kwiecien in the role of Don Giovanni, with Italian bass-baritone Alex Esposito as his long-suffering and reluctantly admiring servant Leporello. Don Giovanni has been a firm favourite with audiences since its premiere in Prague in 1787, and this new production reflects both the humour and complexity of this great opera.
Credits
| Role | Contributor |
| --- | --- |
| Director | Jonathan Haswell |
| Stage Director | Kasper Holten |
| Stage Designer | Es Devlin |
| Conductor | Nicola Luisotti |
| Don Giovanni | Mariusz Kwiecien |
| Leporello | Alex Esposito |