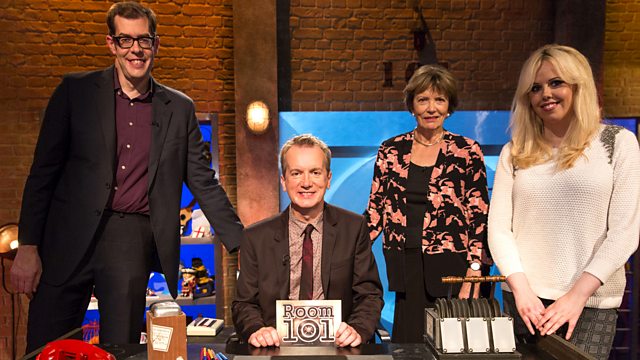 Extended edition of Room 101. Frank Skinner hosts as three celebrities battle to banish their top peeve or worst nightmare to the depths of Room 101. With guests Richard Osman, Joan Bakewell and Roisin Conaty.
Last on
Richard Osman
Richard is the co-host of BBC One's Pointless. In this episode he tried to get the following into Room 101:
Zoo fillers – Richard doesn't like any of the animals that are not part of the main 5 animals you go to see which are the lions, tigers, monkeys, penguins and the meerkats.
Cobblers – He feels that they shouldn't exist in modern life.
People telling him he is tall – he already knows and is reminded of it on a daily life.
Read Richard's post on the BBC TV Blog about how he became co-host of Pointless
Roisin Conaty
Roisin Conaty is a multi-award winning writer and performer. In this episode she tried to get the following into Room 101:
Bambi - Because it was the first cartoon that started off a whole generation of sad cartoons and she hates sad cartoons.
Selfies – Roisin thinks the vain ones are annoying.
Greeting cards with writing already on them.
Read Roisin's profile on the BBC Three Impractical Jokers webpage.

Joan Bakewell
Joan Bakewell is an English journalist and television presenter. Here is what she tried to get into Room 101:
Gardening - She doesn't like gardening as it's housework out of doors and it's hard work.
Customer service surveys – Because there aren't enough options, at least not the ones that we want.
Chewing Gum – It loses its flavour very quickly and you then have a mouth full of rubber that doesn't do anything.
Find out more about Joan Bakewell on her Wikipedia profile.
Credits
| Role | Contributor |
| --- | --- |
| Presenter | Frank Skinner |
| Panellist | Richard Osman |
| Panellist | Joan Bakewell |
| Panellist | Roisin Conaty |
| Producer | Adam Copeland |
| Director | Ian Lorimer |
Richard Osman: "People telling me I'm tall"