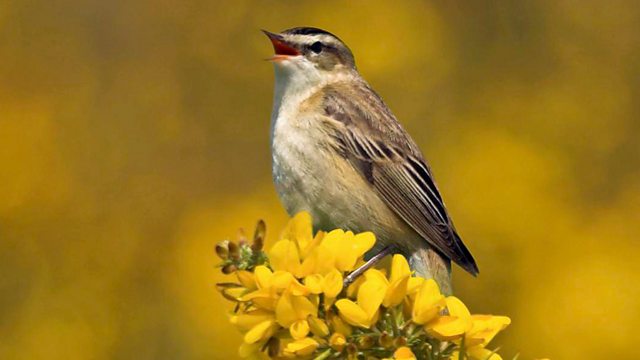 Wetland Dawn Chorus
Listen in pop-out player
Tweet of the Day is a series of fascinating stories about British birds inspired by their calls and songs.
David Attenborough celebrates International Day Chorus Day with the third of four recordings marking this event. In this programme, we hear a dawn chorus from the marshes of North Warren in Suffolk. On clear moonlit nights the chorus can be an almost continuous chatter and includes reed and sedge warblers, reed bunting and even a bittern, with its booming, foghorn-like call.
Last on
Sedge Warbler (Acrocephalus schoenobaenus)
The image shows a Sedge Warbler which can be heard in the Wetland Dawn Chorus.  Image courtesy of RSPB (rspb-images.com).
Hear the nominees in the vote for Britain's national bird