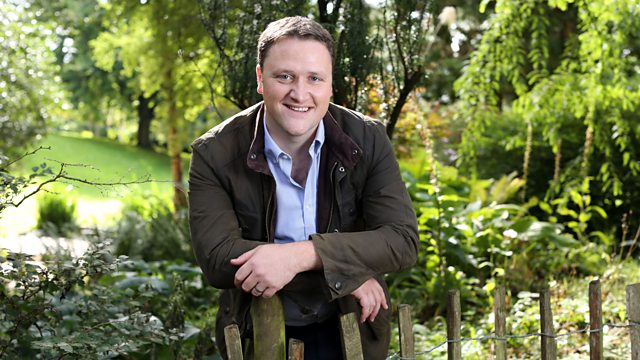 26/04/2014
Cherrie McIlwaine presents the weekly programme for keen gardeners with the latest advice, news and visits to gardens large and small around the province.
Last on
Cherrie's Garden Notes
I first met the members of Castlecaulfield Horticutural Society last August, when they were kind enough to invite me down to Parkenore House to present the prizes at their annual summer show.
The day could not have been better and the setting was perfect too. The sun shone, every room in the house was packed with exhibits and people. There were quilts, jams, cakes, photographs and handicrafts and there were people everywhere. The tea room was all a-sparkle with sunlight dancing through the big windows and the floral tea cups and cake stands were absolutely a la mode.
Outside a brass band played as onlookers blinked and listened and ate ice cream and a baby donkey trotted meekly behind her mum as she carried panniers of sweet smelling turf.
And the marquees were festooned with plants and produce, all displayed to perfection, the lucky ones bearing rosettes.
For those of you who aren't familiar with the area, Parkenore House is just outside Castlecaulfield and the old walled garden in the grounds is where the horticultural society call home. A couple of years ago they rescued it from the weeds, the briars and the brambles and you can see what they've achieved on their website ... all done with hard work and bucket-loads of good will. You can see the restoration unfold on their website at www.castlecaulfieldhs.org
There is something magical about walled gardens anyway, but somehow "rescued" walled gardens are even more special. So it was lovely to be back again for this week's programme.
The sun was shining once more as Harold Armstrong, who is vice-chair alongside Bernie McKenna, came to guide us through the trees towards the old stone walls, and inside the walls, the allotments ... planted or waiting to be planted with potatoes and onions and carrots and all manner of home-grown fruit and vegetables and the poly-tunnels, busy with people potting on seedlings for summer.
The seedlings, once big enough, will be re-potted into tubs, containers and hanging baskets to sell locally and also to transform the streets and walls and gardens of Castlecaulfield for this year's Ulster in Bloom.
After a chat with everybody and a walk around the allotments it was confirmed that poly-tunnels aren't just for gardening, as Bernie and Jean appeared from without the walls carrying trays laden with coffee, sandwiches, scones with jam and cream and pretty little cup- cakes.
It's hard life, but somebody's got to do it.
Hospitality and gardening, as you might have gathered by now, go hand in hand and we were warmly welcomed and spoiled once more this week when we visited Kilcoan Gardens just outside Islandmagee.
Cherry Townsend gardens here, in a beautiful hillside setting which was once a working farm run by her mum and dad. Today the fields are given over to garden rooms and raised beds and more plant-packed poly-tunnels.
I know envy is a sin.
An astonishing 10,000 trees have been planted in and around the farm and in 2012 Kilcoan was awarded the title of Britain's Bee-Friendliest Garden by the Bumblebee Conservation Society.
Cut flowers are Cherry's livestock and the plants she grows reflect the seasons, the local landscape and the well-being of the wider environment.
She grows lots of lovelies in a range of colours and forms, creating seasonal bouquets for special occasions and she also runs diy courses in creating beautiful bouquets.
You can read her blog too at www.kilcoanagardens.co.uk and hear all about Kilcoan and Castlecaulfield on this week's Gardeners' Corner.
Here's hoping the weekend skies are thunder and lightning free and till next time, good gardening.