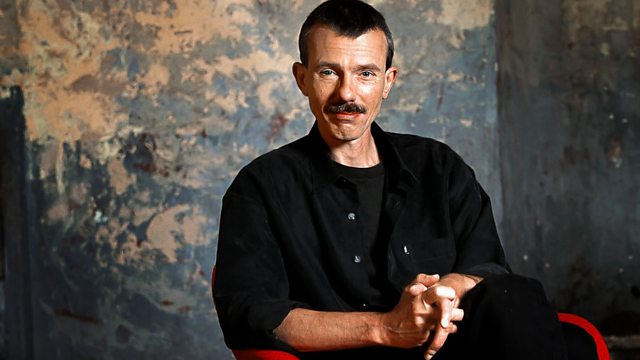 28/04/2014
Archive performances from the 1950s and '60s by Yehudi Menuhin from Hungarian and Dutch Radio. With Jonathan Swain.
12:31 AM
Brahms, Johannes (1833-1897)
Sonata No.3 in D minor for violin and piano (Op.108) MONO - 1964
Yehudi Menuhin (violin), Hephzibah Menuhin (piano)
12:52 AM
Bartók, Béla (1881-1945)
Violin Concerto No 1 (Sz36) MONO - 1966
Yehudi Menuhin (violin), Royal Concertgebouw Orchestra, conductor Pierre Boulez
1:14 AM
Bartók, Béla (1881-1945)
Sonata for violin and piano no.1 (Sz.75) MONO - 1964
Yehudi Menuhin (violin), Hephzibah Menuhin (piano)
1:46 AM
Mozart, Wolfgang Amadeus (1756-1791)
Violin Concerto No 4 in D (K218) ] MONO - 1956
Yehudi Menuhin (violin), Concertgebouw Orchestra, conductor Eduard van Beinum
2:10 AM
Ysaÿe, Eugène (1858-1931)
Sonata No.3 in D minor (Ballade)
Ana Savicka (violin)
2:17 AM
Enescu, George (1881-1955)
Romanian Rhapsody No.1 in A major (Op.11 no.1)
Romanian National Radio Orchestra, Horia Andreescu (cond)
2:31 AM
Schubert, Franz [1797-1828]
Quintet for piano, violin, viola, cello & double bass (D.667) in A major "Trout"
Aronowitz Ensemble
3:05 AM
Weber, Carl Maria von (1786-1826)
Missa sancta No.1 in E flat major, (J.224) 'Freischutzmesse' for soli, chorus & orchestra
Norwegian Soloist Choir, Norwegian Radio Orchestra, Grete Pedersen Helgerød (conductor)
3:39 AM
Telemann, Georg Philipp (1681-1767)
Trio No.2 from Essercizii Musici, for Viola da gamba, Harpsichord obligato and continuo
Camerata Köln
3:49 AM
Tailleferre, Germaine (1892-1983)
Sonata for harp
Godelieve Schrama (harp)
4:00 AM
Françaix, Jean (1912-1997)
Gai Paris for wind ensemble
The Wind Ensemble of the Hungarian Radio Orchestra
4:10 AM
Stainov, Petko (1896-1977)
A fir tree is bending
Vassil Arnaudov Sofia Chamber Choir, Theodora Pavlovitch (conductor)
4:14 AM
Wirén, Dag (1905-1986)
Serenade for Strings (Op.11)
Swedish Radio Symphony Orchestra, Niklas Willén (conductor)
4:31 AM
Platti, Giovanni Benedetto (1697-1763)
Trio in C minor for oboe, bassoon and continuo
Ensemble Zefiro
4:40 AM
Czerny, Carl (1791-1857)
Fantasie in F minor for piano four hands (Op. 226)
Stefan Lindgren and Daniel Propper (piano)
4:50 AM
Vivaldi, Antonio (1678-1741)
Kyrie eleison in G minor for double choir and orchestra (RV.587)
Choir of Latvian Radio, Riga Chamber Players, Sigvards Klava (conductor)
5:01 AM
Mozart, Wolfgang Amadeus (1756-1791), arranged by Franz Danzi
Duos from 'Cosí fan tutte', arranged for 2 cellos
Duo Fouquet
5:10 AM
Beethoven, Ludwig van (1770-1827)
Egmont, incidental music: Overture (Op.84)
Bergen Philharmonic Orchestra, Arthur Fagan (conductor)
5:19 AM
Wieniawski, Henryk (1835-1880)
Polonaise in A major for violin & piano (Op.21)
Piotr Plawner (violin), Andrzej Guz (piano)
5:29 AM
Rosenmuller, Johann (c.1619-1684)
Sinfonia Quinta
Tafelmusik Baroque Soloists
5:39 AM
Beethoven, Ludwig van (1770-1827)
Sonata for piano No.18 (Op.31 No.3) in E flat major
Shai Wosner (piano)
6:02 AM
Mendelssohn, Felix (1809-1847)
Sextet for piano and strings in D major, Op.110
Elise Båtnes (violin), Lars Anders Tomter & Johannes Gustavsson (violas); Ernst Simon Glaser (cello), Katrine Öigaard (bass), Enrico Pace (piano).
Last on