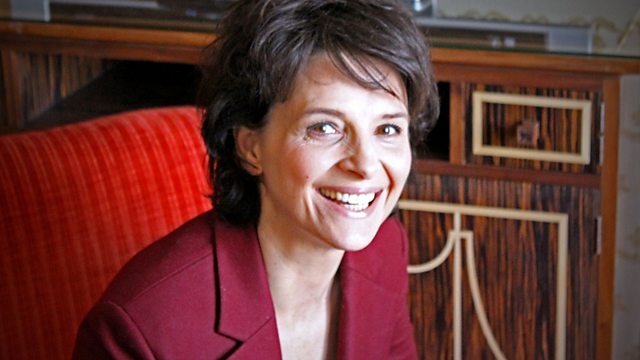 Weekend Woman's Hour: Juliette Binoche; Midwives; Victoria Coren
Listen in pop-out player
Juliette Binoche - star of The English Patient and Chocolat on her latest film 'A Thousand Times Goodnight' in which she plays a war photographer torn between her job and a family worried for her safety.
At the Liverpool Women's Hospital we discuss midwife shortages in England with Cathy Warwick from the Royal College of Midwives, Head of Midwifery at the hospital Cathy Atherton and Dr Dan Poulter, the health minister with responsibility for maternity.
Victoria Coren Mitchell on why her latest European Poker Tour victory is even more significant to her than her first.
One of the Woman's Hour Game Changers, Julie Bailey on her Cure the NHS campaign.
Textile designer and fashion icon, Celia Birtwell on what clothes and fashion have meant to her during a long career. And we discuss the origins of an enduring wardrobe staple, the Breton stripe with fashion editor Melanie Rickey and fashion historian Amber Butchart.
Ben Harper and his mother Ellen tell us why they've collaborated on an album for the first time and sing Learn It All Again Tomorrow.
Presented by Jane Garvey
Produced by Jane Thurlow.
Last on
Juliette Binoche
The Award winning French actress, nicknamed "La Binoche" by the French Press, talks to Jane Garvey about her new film, 'A Thousand Times Goodnight' where she plays one of the world's top female photographers who has to choose between her job and family. She explains to Jane Garvey why she was interested in this latest role, how her rebellious spirit has shaped her working life and the love-hate relationship between Britain and France.
A Thousand Times Goodnight is on general release from 2nd May.
Midwives Special
A midwives special - live from the Liverpool Women's Hospital presented by Jenni Murray.
We'll be unveiling the findings of a Freedom of Information request submitted to NHS Trusts in England which looked at vacancy rates for midwives, and get reaction from the health minister and the Royal College of Midwives. We'll discuss the impact of these figures on staff moral, recruitment and the number of people leaving the profession. We'll talk to midwives about what their job actually involves, what patients now expect from them and the pressures they face delivering a first class service for all women no matter what their needs. Plus what do mum's think about maternity services - what are their priorities? And what might maternity care in the future look like?
Victoria Coren Mitchell
Victoria Coren Mitchell has made history by becoming the first two-time winner of one of poker's most prestigious tournaments – the European Poker Tour, one of the three biggest tournaments in the world. A member of the elite Team PokerStars Pro, Coren Mitchell rose from relative unknown to poker superstar in 2006 when she became the first female winner of the EPT. And now in her second victory, on Sunday night, she beat 555 competitors to win a cash prize of £391,932, and a watch worth more than £4,000, taking her lifetime winnings to £1.43million and putting her in the all-time top ten of female poker players. So what does it take to be a great poker player, and what's it like to be a female player at the table? Victoria speaks to Jenni between tournaments to offer her views on the game.
When did the Breton stripe become a wardrobe staple?
As the Barbican launch the first ever exhibition devoted to the work of the fashion designer Jean Paul Gaultier, we look at his enduring motif – the Breton stripe – and ask how this piece of French sailor kit ended up as a wardrobe staple for everyone from the Duchess of Cambridge to Kate Moss.  Fashion historian Amber Butchart and fashion editor Melanie Rickey discuss the timeless appeal of the nautical stripe.
Julie Bailey
In 2007, after Julie Bailey's mother Bella died at Stafford Hospital, appalled at what her mother went through, Julie went on to expose the failings at the hospital and set up Cure The NHS. Her 'whistleblowing' led to a public inquiry by Robert Francis QC which uncovered cases of neglect and abuse at Stafford Hospital. This eventually resulted in new rules and regulations being introduced into the NHS to ensure higher standards of care. But she faced a torrent of personal and online abuse, and last year was forced to sell her business and move away from Stafford. On Woman's Hour two weeks ago Julie Bailey was chosen as the second of the ten most significant of Woman's Hour Game Changers for her courage and resilience in daring to speak out, and because she has "changed the game for the care of older people".
Celia Birtwell
Celia Birtwell joins Jenni to talk about her life as a leading textile designer in the late 60s and early 70s, in partnership with her then husband, the iconic fashion designer Ossie Clark, up to designing special ranges for high street retailers today. She shares her views on the impact of print, fabric, and colour on how we dress, and how now in her seventies, she sees a need for more stylish yet practical clothes for the modern older woman.
Ben and Ellen Harper
Blues musician Ben Harper has teamed with his mum, Ellen Harper, to record a duet album "Childhood Home." The album addresses different aspects of love, the duality of love and human nature.  As the title implies, the project traces its roots to Ben Harper's childhood: his grandparents in 1958 opened a folk music centre in Claremont, California, which Ellen Harper still runs. Because she was a single mother, Ben Harper used to spend time there after school and on weekends, which both have credited with shaping his own musical path.  Ben Harper wrote six of the songs on the album, and Ellen wrote the other four. "Childhood Home" is due May 6 on Concord Records. They join Jenni in the studio.
Credits
| Role | Contributor |
| --- | --- |
| Presenter | Jane Garvey |
| Producer | Jane Thurlow |
| Interviewed Guest | Cathy Atherton |
| Interviewed Guest | Cathy Warwick |
| Interviewed Guest | Dan Poulter |
| Interviewed Guest | Juliette Binoche |
| Interviewed Guest | Victoria Coren Mitchell |
| Interviewed Guest | Melanie Rickey |
| Interviewed Guest | Amber Butchart |
| Interviewed Guest | Julie Bailey |
| Interviewed Guest | Celia Birtwell |
| Interviewed Guest | Ben Harper |
| Interviewed Guest | Ellen Harper |