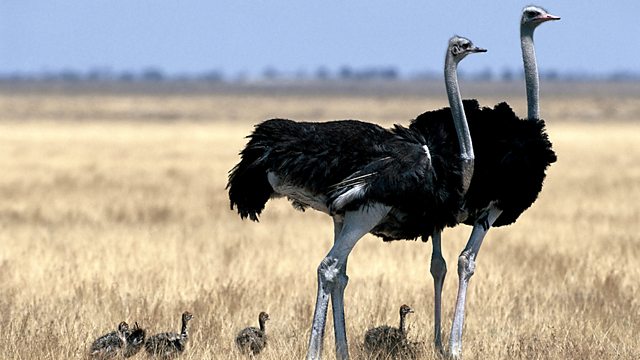 Seoc an Struth/Ollie the Ostrich
Sreath a tha a' toirt thugainn fiosrachadh a tha inntinneach agus iongantach mu chuid de na h-ainmhidhean as fheàrr leinn. An-diugh tha sinn a' coinneachadh ri Seoc, struth a tha a' fuireach ann am Pàirce Nàiseanta Etosha.
Thàinig e às an ugh as motha air an t-saoghal - uimhir ri 24 uighean circe. Ann an seo, tha e tric os cionn 40 puingean de theòthachd agus bha aig mam ris na h-uighean a ghur gus an cumail fuar. Chuidich dad ge-tà. Tha esan mòr, mu 2.74 meatair a dh'àirde.
Rug màthraichean eile an uighean san aon nead agus faodaidh aon mhàthair a bhith coimhead às dèidh suas ri 60 isean. Tha sùilean nan struthan nas motha na an eanchainnean: chì iad air an cùlaibh gun an ceann a thionndadh. Ach nuair a dh'fhàsas e suas, ruithidh Seoc aig 70 cilemeatair san uair is thèid e 8 meatairean le aon cheum.
Investigative guides which reveal amazing facts about members of the animal kingdom. Today's location is Etosha National Park and the focus is on Ollie, an ostrich who emerged from the largest egg in the world.
In this part of Africa, the temperature is often over 40 Celsius and Mum had to brood the eggs to keep them cool. Dad helped out too. He is an impressive 2.74 metres tall. Other mothers laid their eggs in the shared nest and one mother could end up caring for as many as 60 chicks.
Creches of chicks may get to be as big as 300. Ostrich eyeballs are bigger than their brains; they can see behind themselves without turning their heads. Their feathers do not have the little barbs that join them together, like normal flight feathers.
That is why they look so light and fluffy. But when full-grown, Ollie will run at 70 kilometres an hour and cover over 8 metres in a single stride.
Last on